I took a break from goal updates while I slowed WAY DOWN for the summer. Now that the kids are back in school, it's time to re-group. Let's see where things stand. If you'd like to read more about how I decided on these goals, check out my 2017 S.M.A.R.T. Goals post from January. 
I'm glad I took the summer mostly off from blogging and enjoyed the time with my kids. These years are flying by way too quickly. Here are some of the things the kids and I did this summer:
A trip to Chicago to visit my niece and see the sites.
Swim lessons, where both kids made wonderful progress.
Celebrated my dad's 70th birthday.
Visited an out-of-state friend.
Celebrated my 15th anniversary (see below!)
Dropped the kids off for a full week of sleep-away camp. (My important job was to worry constantly about them! They were fine and had an amazing time.)
Laid around and played too many video games.
Generally had a blast.
2017 Goals for the Smart Family Money Blog
My slow down in work decreased blog traffic at the beginning of the summer, but then traffic increased significantly in July and August. Several of my posts from last spring were bringing in quite a bit of traffic from search engines. In fact, I had only one new post in August, but had my best month in traffic ever! I think it was a combination of hard work paying off and a lot of luck.
Increase Blog Traffic to 10,000 Monthly Page Views
December 2016 Goal: 1,500, Actual: 3,201
January 2017 Goal: 1,800, Actual: 3,931
February 2017 Goal: 2,100, Stretch Goal: 4,000, Actual: 7,473
March 2017 Goal: 2,500, Stretch Goal: 8,220, Actual: 7,626
April 2017 Goal: 2,900, Stretch Goal: 8,388, Actual: 10,446
May 2017 Goal: 3,400, Stretch Goal: 10,446, Actual: 7,900
June 2017 Goal: 3,900, Actual: 6615
July 2017 Goal: 4,600, Actual: 10,379
August 2017 Goal: 5,400, Actual: 11,555
September 2017 Goal: 6,300
October 2017 Goal: 7,300
November 2017 Goal: 8,500
December 2017 Goal: 10,000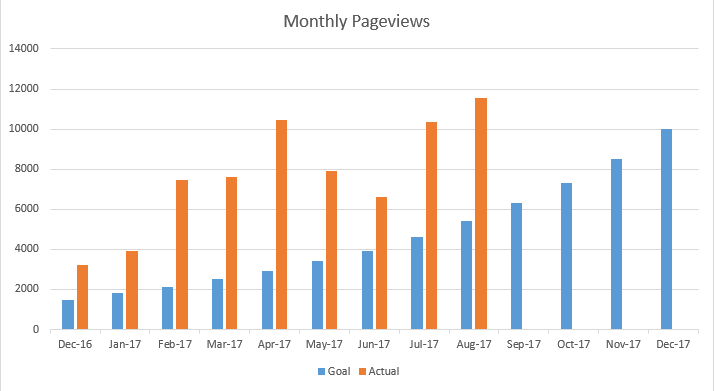 Email List: 200 Subscribers
If you're interested, sign up here for my email list.
December 2016: 37
January 2017: 60
February 2017: 97
March 2017: 114
April 2017: 128
May 2017: 135
August 2017: 187 Getting really close!
Facebook Likes: 350
If you'd like to help me reach this goal, please like my Facebook page.
December 2016: 115
January 2017: 136 (370 group members)
February 2017: 245 (395 group members)
March 2017: 250 (412 group members)
April 2017: 270 (408 group members)
May 2017: 277
August 2017: 312 (archived the FB group due to inactivity)
Pinterest Followers: 5,000
If you'd like to help me reach this goal, please follow me on Pinterest.
December 2016: 1,626
January 2017: 1,761
February 2017: 1,834
March 2017: 1,950
April 2017: 1,881
May 2017: 1,923
August 2017: 1,992
Guest post: Publish At Least 6 Guest Posts
January 2017: No progress.
February 2017: No progress yet.
March 2017: While it's not a full guest post, I was featured in a post called Life Skills for Ladies on the Feminine Pilgrimage.
April 2017: I wrote and submitted a guest post that got rejected.
May 2017: No progress.
August 2017: No progress.
Videos: Publish At Least 1 Video Per Month
I've completely slacked on the goals of guest posting and creating videos, but those were really sub-goals to the main goal of increasing traffic. Since my traffic is doing better than I expected, I'm not too concerned. I do still want to do more with videos, so I'm going to try to get back to that goal. I'd like to create a YouTube presence, partly because my kids would think I was the coolest. Every kid today wants to grow up to be a YouTube star, right?
Networking: Attend FinCon Financial Blogger Conference in October 2017
December 2016: Bought my conference pass and reserved a hotel room. Working on earning some travel rewards to help pay for the trip!
January 2017: Continuing to work on my travel rewards. I have enough airline miles for a free flight to the conference.
February 2017: I'm enjoying getting to know other financial bloggers through the online FinCon group.
March 2017: Booked my plane ticket to Dallas with free airline miles! I can't wait!
April 2017: Went to a local FinCon meet-up.
May 2017: Ready to go!
August 2017: Spending money is almost all saved up. Very excited!
Personal 2017 Goals
Take 15th Wedding Anniversary Trip
January 2017: No progress on this except for working on my travel rewards.
February 2017: No update.
March 2017: Lots of discussion and disagreements about where we should go!
April 2017: We finally decided on a trip to Northern Michigan! We booked a beautiful, romantic Airbnb in June.
May 2017: Everything is ready and the budget is fully funded!
June 2017: We took our trip to Michigan and it was exactly what we needed. We did a lot of resting and reconnecting. I only took a few pictures, but here's one from our day trip to Mackinac Island:
Monthly Parent/Child One-On-One "Date"
January 2017: We kicked this one off with a bang! I took my daughter on a 5-day trip to NYC alone. We visited friends, saw the Statue of Liberty, visited the 9/11 memorial, and went to the top of the Empire State Building! It was incredible and something that neither of us will ever forget. My husband and son stayed home for an epic boys' weekend, including laser tag, bowling, and a movie. We will not be doing kid dates as big as this in the future, but it was a fun start to the year.
February 2017: I took my son to the USAF Museum and my husband took our daughter on a fun Pokémon GO adventure downtown. I posted a picture in my post about the ways I saved in February.
March 2017: My son wanted to take a turn with the Pokémon GO adventure downtown with Dad. My daughter and I did something new and went to a paint-your-own-pottery place. I made a mug for myself and she made a mug for Grandma.
April 2017: We had the same partners as last month because the guys had big plans! My daughter and I returned to paint some more pottery while the guys went to Monter Jam.
May 2017: We skipped our kid date in favor of a fun family weekend trip. We went to Chicago to see the city and visit my niece.
June 2017: My son and I went duckpin bowling. My daughter and husband went to a family fun center, with mini golf and go-carts.
July 2017: We swapped and did a repeat, as I took my daughter duckpin bowling, while the boys went to the family fun center.
August 2017: We had our final summer kid date on the last day before school started. It was a fun way to end the summer. My son and I went creek-walking, while my daughter and husband went to the zoo.
Replace Upstairs Carpet
January 2017: We actually took a step backward on this one. Our basement TV (the one used for video games) died this month. We decided to spend part of our home improvement money on a new TV since we didn't want to do the carpet until the nicer weather anyway. We have to rebuild our sinking fund again. It's a small setback, but we can roll with the punches!
February 2017: We have started organizing and cleaning out to get ready for the new carpet in the next few months.
March 2017: No progress.
April 2017: We've continued the cleaning out process, but we've put the carpet plans on hold for now.
May 2017: Fully funded but on hold.
August 2017: No change.
How are your goals coming along? Did you make some progress this summer? Are you ready to get serious again?
Cindy is a number-loving, money-saving expert. She pulled her own family out of debt. Now, she cuts through the nonsense and crunches numbers to find you the greatest value. When you
join the Smart Family Money community
, you'll get the tools you need to take control of your money. You will gain confidence in your financial future and freedom to spend your time on the things that matter most to you today.
Latest posts by Cindy Scott (see all)