Note: This post may contains affiliate links. That means that if you click on them and buy anything at all, I'll get a small commission from the sale (at no additional cost to you). For more information, read my disclosure policy.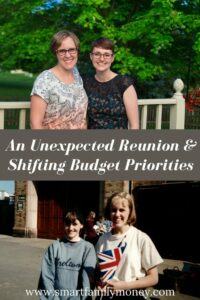 I love the YNAB (You Need A Budget) software for budgeting and I'm sure I'll talk more about the nuts and bolts of that in the future, but today I'd like to write a bit more philosophically.
The folks at YNAB suggest following their four rules to make budgeting work smoothly and rule #3 is "Roll with the Punches", which means that when you overspend in one category, it's OK to shift money around to cover it. This is not a failure, but just evidence that humans are not very good predictors of the future. Even if we diligently put $100/month into our car maintenance category, it can be hard to see when that large repair bill might pop up and it's OK to cover the overage with some money from the eating out category or the home improvement category. Roll with the punches and move on.
I'd like to suggest that it's also OK to shift our budget priorities when something unexpected comes along. My husband and I like to focus on one or two budget goals at a time. For the last year, our priorities have been saving up for a big vacation to Universal Studios (because we have some big Harry Potter fans in the house) and building up our emergency funds so that we can be more prepared for large home repairs, medical bills, or job loss. We've now completed both of those goals and had decided that our next goals would be saving up for new carpet and some improvements to our bathrooms. Our house is 24 years old and the original upstairs carpet has seen better days and the bathrooms are looking worn and dated.
We were all set with our new goals when something unexpected happened. It wasn't a "punch" like a big car repair bill, but a wonderful thing that might cause us to reconsider our priorities. First, a little history:
When I was 15 years old, I participated in a student exchange program through my high school. I got to stay with a family in England for 3 weeks and the following year, my host sister came to the U.S. to stay with my family for 3 weeks. Most students did not do the exchange in both directions with the same person, but my host sister and I had become good friends and loved spending time together. We saw each other once more about 5 years later and then lost touch for the last 15 years or so as both of us went on with our adult lives. This past fall, she moved from London to NYC with her husband because of a temporary job transfer and this spring, she found me again! She sent a letter to my parents because she remembered their address and didn't know my married name. We've been emailing and getting reacquainted since then.
We were delighted that she and her husband were able to come stay with us in Ohio for Memorial Day weekend. We had so much fun together and even the husbands enjoyed each other's company (it's funny how similar they are, actually!). The kids loved them too and my son even cried when they left. We talked about seeing each other again, with us taking a trip to NYC and possibly meeting up in other locations in the U.S. since they'd like to explore their temporary home country. These ideas are great, but they all cost money.
What about the new carpet and updated bathrooms? Well, which is more important to us? That's the wonderful thing about a budget. It's not about restrictions, but about making your money work for you to get you closer to your personal goals. For us, traveling and spending time with our British friends is more important than new carpet and updated bathrooms. The home improvements can wait. We could also pull money out of our fund for our next car or pay less in additional payments on our mortgage, but that would be stealing from our big goals to fund an immediate want. For now, the choice is traveling or home improvements… and we choose traveling. When my kids are grown and I'm an old lady, we'll be glad we did.
No one will remember the carpet.
Cindy is a number-loving, money-saving expert. She pulled her own family out of debt. Now, she cuts through the nonsense and crunches numbers to find you the greatest value. When you
join the Smart Family Money community
, you'll get the tools you need to take control of your money. You will gain confidence in your financial future and freedom to spend your time on the things that matter most to you today.
Latest posts by Cindy Scott (see all)