Note: This post may contain affiliate links. That means that if you click on them and buy anything at all, I'll get a small commission from the sale (at no additional cost). As an Amazon Associate, I earn from qualifying purchases. For more information, read my disclosure policy.
Are you trying to buy a flute for your young student and have no idea where to begin? What's a reasonable price to pay? Are the bargain flutes worth it? What about renting vs buying a flute?
I recently purchased a flute for my daughter to prepare her for the school band. I had no idea what to look for in a beginner flute!
To learn about flutes, I consulted with a friend who is a professional flutist and flute teacher. She helped me navigate the complex world of flutes and answered all my questions. I put together this post to help other clueless parents purchase a beginner flute with confidence.
I'll tell you how it turned out for us at the end of the post!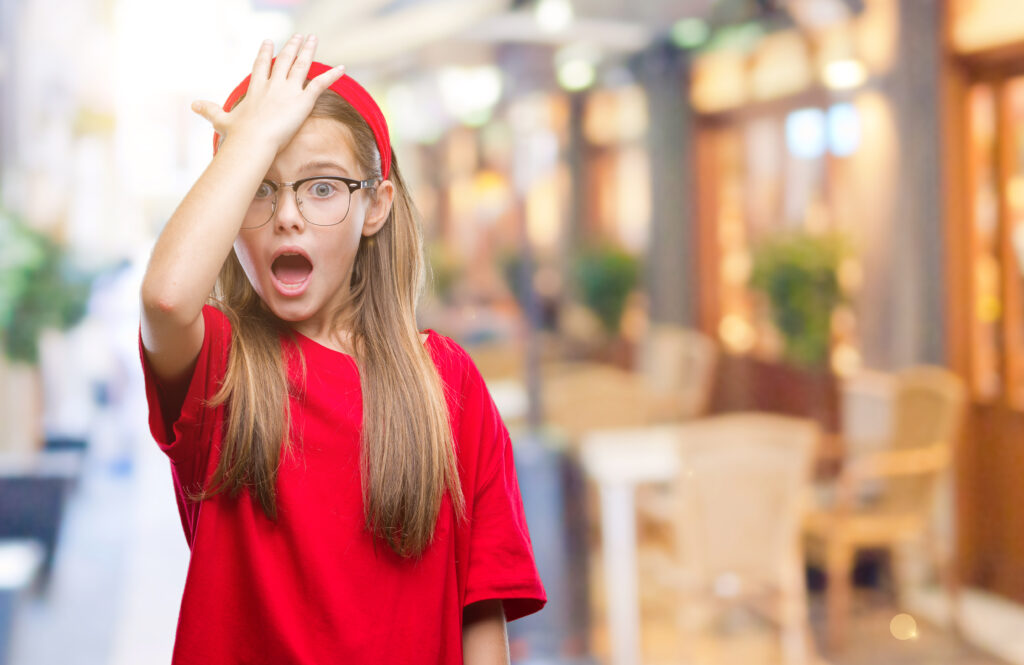 What are the Different Types of Flutes?
The main types of flutes are:
C Flute: Most common and the standard for beginners.
Piccolo: Smaller and higher pitched than the C Flute. Used commonly in orchestras and marching bands.
Alto Flute: Less common. Used in solo play, chamber music, and sometimes in orchestras.
Bass Flute: Most rare. Generally only seen in flute ensembles.
What Should I Look For in a Beginner Flute?
Flutes come in a wide range of types and it can be very confusing for someone who doesn't know what the terms mean. To simplify, here are the features you should look for in a beginner flute for a student:
C Flute aka "Concert Flute": This is a flute in the key of C and is the type of flute that is played by beginners in school bands.
Closed Hole: This means that the keys do not have a hole in the center of them. This makes it easier for a new player. Open hole flutes are for more advanced musicians.
C Foot: A C foot flute is slightly shorter and has 2 keys on the foot piece, compared with 3 keys on a B foot flute. A C foot flute is simpler for a beginner.
Offset G: An offset G means that the G key is closer to the hand than with an Inline G. This makes it easier to reach the G key. You can identify these by noticing that 2 of the keys in the middle of the body do not line up with the rest.

How Much Does it Cost to Buy a Flute?
New flutes range in price from $100 for a cheap Chinese-made flute to $10,000+ for professional models. For a high-quality brand new beginner flute, you should expect to pay around $400 or more.
As a general rule, if someone is selling a new flute for less than about $350, it's probably not high quality.
Why Not Buy a Very Cheap Beginner Flute?
While you can buy new flutes on Amazon or at a warehouse club for around $100, they will likely not be what your child's band director would like them to have. They won't sound very good and are made of very cheap materials.
A low-quality instrument can make a student not want to continue playing in the band because it is frustrating to play.
If you're looking to save money, it's better to buy a quality used flute instead of an ultra-cheap new flute.
What is the Best Brand of Beginner Flute?
There are a number of good brands of flutes. By far the most common good quality brands of student flutes are Yamaha and Gemeinhardt. While you will see other brands, the majority of beginner flutes are one of these two.
If you are considering another brand of flute, make sure that reputable music stores are selling it or check with a music professional.

Which Is the Best Beginner Flute?
There are two models of student flutes that are considered the standards:
The Gemeinhardt 2sp has been the standard beginner flute for decades. It's a solid workhorse and well-respected by band directors everywhere. You'll also notice that about 80-90% of used flutes available are this exact model. Because of its popularity, it's also likely to have very good resale value.
How Much Does It Cost to Buy a Used Beginner Flute?
A good-quality used student beginner flute will cost somewhere in the range of $100-400. Here are the approximate prices I saw:
Private sellers on Craigslist, eBay and Facebook Marketplace: $100-200
Local music store with guaranteed reconditioned student flutes: $250-300
What Should I Avoid in a Used Flute?
If you can't have a music professional inspect a flute for sale, be sure to check out the condition of the flute. Watch out for these potential issues:
Very worn pads. Look on the underside of the keys to see if the pads look very worn or tattered. Pads can be replaced but can add significantly to the cost of repairs.
Dents. Most dents can be repaired, but again, they add to the repair costs.
Severe finish damage, especially to the head. If there is major finish damage to the head, pass on the flute. Minor scratches on the finish are normal for a used flute and not cause for concern.
Broken or missing keys. If there are any missing keys, pass on the flute. A broken (wobbly) key might be able to be repaired but tread cautiously.
Damaged or missing case. You can always buy a replacement case, but that adds cost.
For more details, this video has a good demonstration of what to look for and avoid in a used flute.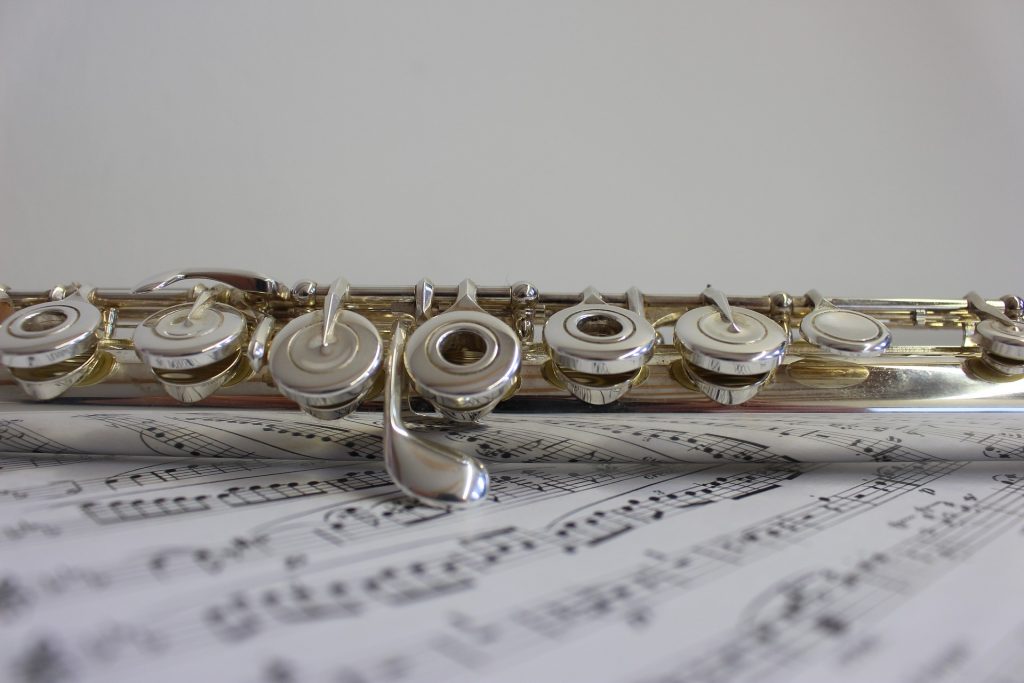 How Much Does It Cost to Repair a Flute?
If you buy a used flute, you'll need to take it to a professional instrument repair shop for an adjustment and repairs. My local shop told me that most woodwinds usually require less than $80 of work. For a flute that requires replacement of all the pads, repairs could cost $150+.
Should I Buy a Beginner Flute on eBay?
I would use a lot of caution buying a flute on eBay. There are many counterfeit flutes. It's also hard to tell the true condition of a used flute from pictures only.
If possible, I would instead buy from a local individual or music store before eBay. Then you can check out the flute in person before purchasing it and know that you're less likely to buy a counterfeit instrument.
How Much Does It Cost to Rent a Flute?
Rental costs on a flute will vary based on whether it is new or used and which model you're renting. My local shop rents Yamaha YFL-222 flutes for $31/month, which seems to be around the average. Prices range from around $20-40/month for a flute rental.
Should I Buy Or Rent a Beginner Flute?
Considering the fact that a high-quality fully reconditioned flute only costs around $250, I think it makes sense to buy a used flute instead of renting one.
If you spend $250 on a flute and rental would cost $30/month, your child would only need to play 8 months to break even. You can then recoup most (or all) of the initial cost by reselling it when you're finished (or ready to upgrade), which would make your total costs close to zero.
Also, note that many rent-to-own agreements for musical instruments are generally a terrible value. Usually, only a portion of your monthly rental payment goes towards the purchase.
Additionally, the rent-to-own purchase price is full retail. Almost no one pays the full retail price for an instrument, with most instruments going for 25-40% off list price. While renting an instrument might be a quick way to get started on an instrument, it's generally not a good financial move.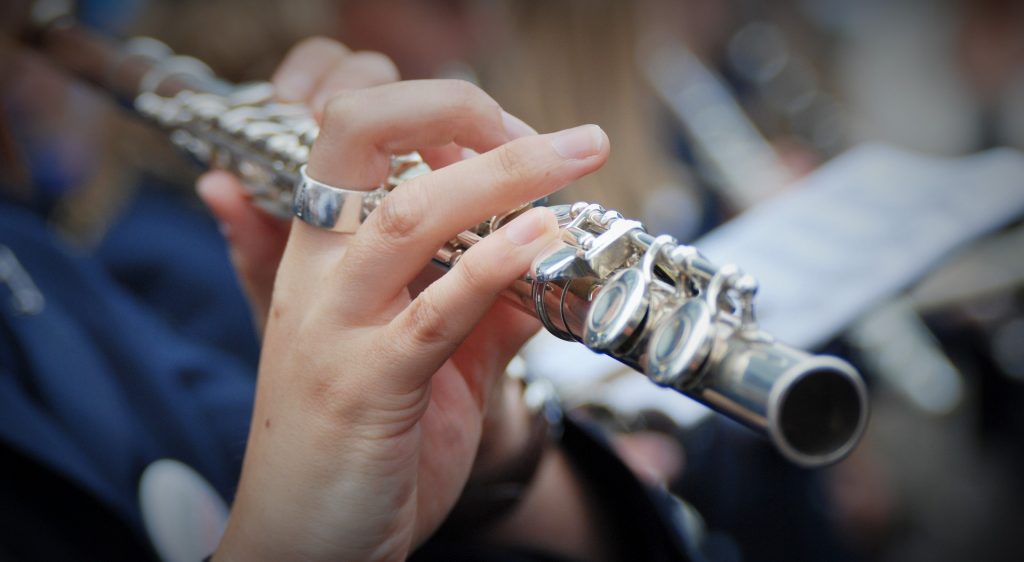 What Accessories Do I Need For a Flute?
There are only a few things you need for a flute:
A protective case. If your flute didn't come with a case, you can buy a replacement one. Or you might consider upgrading to a more secure style of case instead.
A cleaning rod for swabbing out the inside.
A cotton or microfiber cloth for swabbing with the cleaning rod. An ideal cloth is actually an old t-shirt cut into a 12″ by 12″ square.
A polishing cloth to shine up the outside. My flutist friend recommends you avoid chemically treated polishing cloths. They can leave black residue on your face and hands. She recommends instead going for a general-purpose untreated polishing cloth like this one.
Some things that are nice to have, but not necessary:
An upgraded zippered case is much safer than the original cases. It prevents accidental falls from unlatched cases. You might want to consider using this style case instead of the original. A bonus is that it comes in a variety of colors and helps your student's case look different from all the other identical ones. It also offers some additional storage pockets for accessories.
Pad savers are an easy way to swab out your flute. Caution: They should NOT be stored inside the instrument as they can keep moisture inside, damaging the pads.
To make practicing a little easier, your new flutist would also appreciate a music stand.
Accessories to avoid:
Do not buy a flute "maintenance kit" or "care kit". They include many items that a beginning flutist will never use and are generally a waste of money.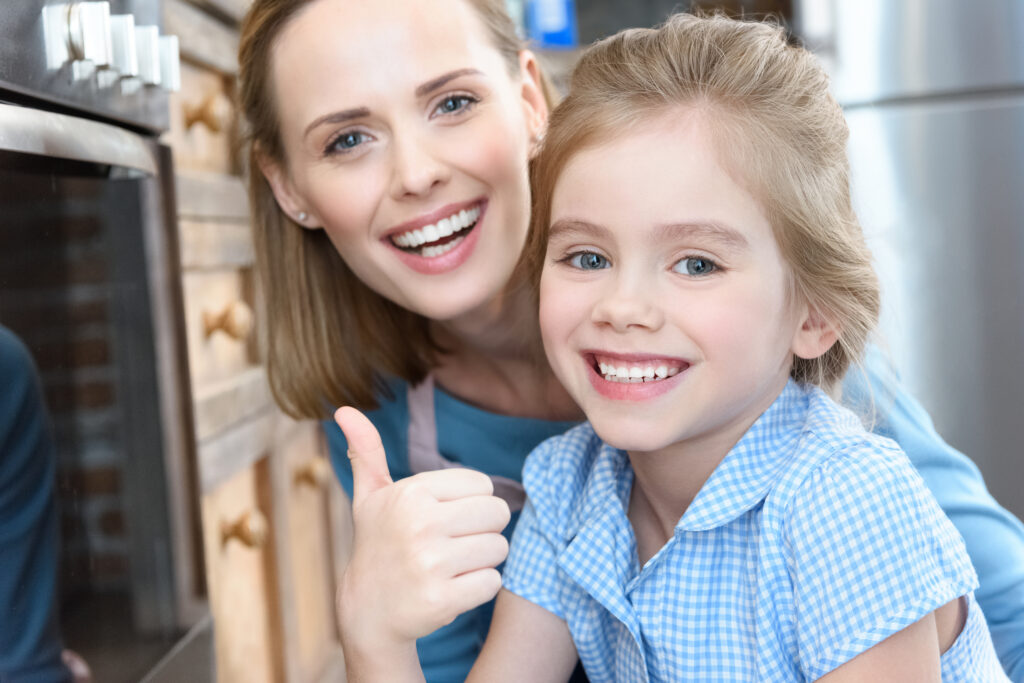 What Was Our Beginner Flute Buying Experience?
After checking out our options at the local music store, I decided to search for a used flute. I found a newer Gemeinhardt 2sp flute on Craigslist for only $100.
While my flutist friend wasn't able to check it out beforehand, $100 seemed worth a gamble. I checked it out with my untrained eye. It had one pad that looked bad and a very small dent. Otherwise, it looked very nice.
I took it to my local music store for repairs. They replaced a couple of pads, adjusted it, and fixed some keys that had a lot of "play" in them (moved back and forth). The repair total was $83. I also got her a $6 cleaning rod and she'll use cleaning cloths that we already had. She's all set for school band!
Grand Total for a Quality Beginner Flute & Accessories: $189