Note: This post contains affiliate links. That means that if you click on them and buy anything at all, I'll get a small commission from the sale (at no additional cost to you). For more information, read my disclosure policy.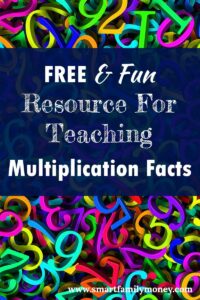 My kids are heading back to school in exactly one week. I'm going through the end-of-summer panic, where I realize I didn't accomplish all the things I meant to during the summer. One of the big plans was helping my daughter memorize her multiplication facts. At the end of last year, her teacher stressed that it was important that she learn them before next school year. In June, I thought, "That will be easy. We have all summer!" Go ahead. You can laugh.
My daughter really struggles with things that require memorization. I'm not sure if it's difficult for her or she simply hates it, but either way, it's tough. I know we're not alone in this battle. I had printed some resources months ago but we haven't put much focus on it… because… you know… summer.
The good news is that I found something that really helps and it's FREE! It's a method that teaches the facts using pictures and funny stories. It's great for all types of learners and makes the memorizing process a lot more fun. Both of my kids are really enjoying it and my daughter knows almost all of her facts after just a short time.
If your kids struggle with multiplication facts, check out the free student workbooks on multiplication.com. We liked the "new revised student book" the best. The resources section of multiplication.com also has lots of other free things like flashcards and worksheets. It worked for us and made the process quick and fun!
Cindy is a number-loving, money-saving expert. She pulled her own family out of debt. Now, she cuts through the nonsense and crunches numbers to find you the greatest value.
Join her email list
and receive savvy savings straight to your inbox!
Latest posts by Cindy Scott (see all)