Note: This post contains affiliate links. That means that if you click on them and buy anything at all, I'll get a small commission from the sale (at no additional cost to you). For more information, read my disclosure policy.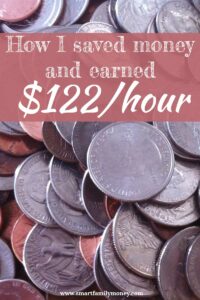 One small way that I saved money this week was by avoiding the online processing fees for my kids' school lunch accounts.  They had spent all of their lunch money for the year and we needed to add more.  Our school system offers a convenient online payment system that is free for school fees but charges a 3.99% processing fee to add money to lunch accounts.  I love convenience as much as anyone and happily use the system to pay school and activity fees without the processing fee, but is it worth the processing fee for lunch accounts?  Let's take a look at the numbers for our family.
My 2 kids buy lunch 2x/week each at $2.50/meal so that works out to a total of $10/week that we spend on school lunches (not the most frugal choice in itself, but that's another discussion!).  $10/week times about 36 weeks in a school year equals $360/year our family spends on school lunches.  The processing fee would cost us 3.99% of $360 which is $14.36/year.
$14.36/year may not sound like a lot of money, but let's look at how much effort it takes to avoid that.  To avoid the fee, I wrote a check to the school food service for each child and had them take it with them to school.  I'm still using my first free book of checks from the bank so there was no cost other than time.  It took less than 5 minutes, I would estimate, but let's assume I do this about twice per year, so we'll call it 10 minutes of work.  Ten minutes of work to save $14.36 equals an hourly rate of $86/hour.  Keep in mind that ever dollar you save is a full dollar that your family gets to keep.  If you earn a dollar at a job there are taxes taken out, often at around 30% when you add all the federal, state, and local taxes together.  Looking at it that way, saving $86/hour is equivalent to earning $122/hour at a job.
My math may seem a little absurd, but the truth is that there are so many of these little things we can do which add up to big savings in the long run.  Calculating your hourly rate for various activities can help you decide which money saving activities are worth your time and which are not.  If something would take me an hour's worth of effort and only save me $1, I probably won't chose to do it.  If something takes me 10 minutes of effort to save $14 or $86/hour, I most definitely will!
Cindy is a number-loving, money-saving expert. She pulled her own family out of debt. Now, she cuts through the nonsense and crunches numbers to find you the greatest value.
Join her email list
and receive savvy savings straight to your inbox!
Latest posts by Cindy Scott (see all)