Note: This post may contains affiliate links. That means that if you click on them and buy anything at all, I'll get a small commission from the sale (at no additional cost to you). For more information, read my disclosure policy.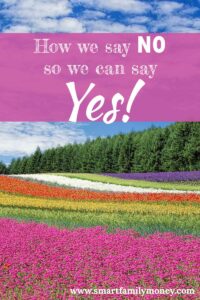 You may have heard the expression, "Show me your checkbook, and I'll show you your priorities." It's been said in a variety of ways by a variety of people. We can all nod our heads and agree that makes sense… but putting it into practice in real life, day in and day out, is no easy task. I think the real challenge is that we have to remember that every single time we do anything with money (save it, spend it, or give it), we're making a choice. We're choosing to say YES to that thing and choosing to say NO to a whole lot of other things.
In order to say YES to the right things for our family, my husband and I try to keep our priorities in mind when we make money decisions. Here are the things our family values the most and we try to make our top priority:
Time together as a family.
A strong marriage and time to work on it (because good marriages require hard work!).
A wonderful childhood for our children, filled with great memories and a good education.
Good health for the whole family.
Being charitable.
Financial preparedness (which is really the thing that allows all of the above to happen!).
So how does that translate into a real-life budget? Here's a quick look at the major parts of our budget:
House
A very large percentage of our budget goes towards our home in the form of mortgage, insurance, maintenance, repairs, utilities, and even furnishings and decorations. Our house is not extravagant for our area, but we could certainly live somewhere much cheaper. Our real estate taxes are exceptionally high, but a good portion of that pays for our excellent school system. Since we value education, we have chosen to live in a higher cost-of-living area because of the schools. I know there are other options for a good education if we lived in a cheaper area including private schools and homeschooling, but I also feel there are other benefits to living in a nice area. Our high-tax area also allows us to live in a friendly, safe neighborhood within walking distance to schools, a library, and a cute downtown. It's hard to put a price on things like a friendly neighborhood, but it is something we all need to think about when we're making money decisions. Is it worth it? To us, at this stage in our lives, it is, but this is a question we've asked ourselves many times.
Other than the location, our house is also our home. It's where we spend most of our time and make most of our memories. Having a home that allows us to live a comfortable lifestyle is important to us, as it allows us a good place for spending time together and creating a great childhood for our kids. My husband and I will likely sell this house and downsize to something smaller in a cheaper area after our kids have left the nest, and we have less need for the space and the schools.
Cars
Our second largest expenditure after housing is transportation. We have two cars, even though we could function with one, since only my husband commutes to work and the kids walk to school. Living in the suburbs with very few public transportation options makes a second car a very desirable item, even if it's not a complete necessity for our family. Part of the reason we spend the money for a second car is that it helps facilitate giving our kids a great childhood (because I am able to take them places when my husband is at work) and maintaining our health (since it would be pretty tricky to get to doctors otherwise). While the two cars are a large chunk of our budget, we have still worked to keep the amount under control. My minivan is 9 years old and my husband's sedan is 5 years old, and we own both, debt-free. Older cars may mean slightly higher repair costs, but that's much cheaper than the cost of a new car. Older cars also mean much cheaper car insurance rates!
Health & Food
Our next largest expenses are healthcare and food. While I do my best to keep our food budget reasonable, I do spend more than is necessary to simply keep us alive. I purchase plenty of produce (including some organic) and fresh, all-natural meats from a butcher. I also buy some convenience foods because I don't want to spend all of my day in the kitchen. Could this portion of my budget be smaller? Of course, but I think our health and nutrition is worth it. We also probably spend more than the average family on healthcare because we tend to be proactive about our health and try to deal with any problems before they get worse. If a person doesn't have good health, it's hard to enjoy anything else in life, so this is a top priority.
All the other important stuff!
The rest of our budget is mostly made up of charitable giving, kids activities (including school expenses, extracurricular activities, a weekly allowance, and summer camps), savings (to prepare for the future!), life insurance, extra principle payments on our mortgage (to help us be totally and completely free of debt), dog expenses, and entertainment. About $100/month of our entertainment budget is used for a monthly date night with a sitter. We prioritize our date nights because we feel it helps our marriage. We also pay our sitter well because our kids adore her and she's reliable. And we have dog expenses… because, really, what's the point of life without a dog?
Since money is certainly not an unlimited resource around here, by choosing to do these things, we have chosen to say NO to many other things. Here are just a few of the things that we say NO to:
A larger house. I just used one of the mortgage calculators on a real estate web site to see how big of a mortgage we can "afford" and it told me we could buy a house worth MORE THAN DOUBLE what ours is worth. I can't even imagine how tight our budget would feel if we had a mortgage that large! We choose to stay in a moderately sized house so that we can afford to live a good life and not be house-poor.
Upscale home renovations.  Our home is about 25 years old and much of the home is still original.  While I do value a nice, comfortable home, I don't worry too much about trendy upgrades.  We have no hardwood, stainless appliances, or crown molding here.
Fancier cars. While I feel that our second car is a bit of a luxury, most people at our income level would have two fancy cars instead of two older ones (with two fancy car loans or leases to go with them!)
Expensive extracurricular activities. While I do want my kids to have a fun childhood with lots of memorable experiences, I do not think that needs to cost $500/month in extracurricular activities. There are so many free or inexpensive activities available that I think the expensive ones are just not necessary.
New, expensive clothes. I buy the majority of my kids' clothes and a fair amount of my own clothes second-hand. My husband and I also try to stick with classic clothing that doesn't go out of style so it can last longer. Constantly buying new, trendy clothes and shoes is something we do not value. I do buy new high-quality shoes but I consider that more of a health expense because I know supportive shoes are good for healthy joints.
Disposable household items. I try very hard to have as few disposable products around the house as possible, and this can have a surprisingly large impact on the budget. We use very few paper towels, paper plates, disposable cups, disposable cleaning items (avoiding things like Swiffers and disposable toilet cleaning pads), sandwich/snack bags, and so on. This is not only good for the budget, but also much better for the environment.
Private K-12 schools. As discussed above, living in an area with good public schools costs us more, but it's still much less than the cost of high-quality private schools.
Overusing utilities. While we still use much more electricity, natural gas, and water than I would like to, we've made a conscious effort to reduce our consumption by doing things like switching to LED and CFL light bulbs, installing low-flow toilets, using an HE washing machine, and installing water-saving shower heads. We also do these things because we believe in conserving our natural resources.
Expensive entertainment. We value family time but most of that is spent playing games at home, going to free parks or festivals, watching movies at home, or hanging out with friends. While things like professional sporting events or concerts are fun, they can be pretty expensive and we'd rather spend our money elsewhere. I've written before about frugal activities the whole family can enjoy.
Overpaying on insurance. Health, car, home, and life insurance can all be expensive but they are necessary for financial security. We shop around frequently to make sure we have the best deals possible, while maintaining the coverage that we need.
Eating out frequently. We do enjoy eating out, but we try to keep it to a minimum and stick to mostly inexpensive restaurants. Even better if we have a coupon!
Working towards early financial independence / retirement. Many financial bloggers talk about working towards FIRE (Financial Independence Retire Early) and being able to quit working in their 30's or 40's. If we had started this journey in our early 20's during our DINK (double income no kids) days, maybe we would have tried for that, but at this point in our lives, it's not our priority. If we continue down our current path (with no change income over the years), we'll be mortgage-free by age 45, be able to get our kids through college with no debt, retire comfortably around age 60 or so, and live a great life along the way! That's good enough for us. To retire earlier, we'd have to cut out too many things that we value for our lives and our children's.
There are plenty of other things we say NO to so that we can say YES to the things that are most important to us. I'm sure others will disagree with me on our priorities and that's OK*, because values and priorities are personal. We all just need to work on aligning our budget to our own values and goals. If you have a budget, take a look at it and see if your spending aligns with your priorities. If you don't have a budget yet, take a look at your bank statement or credit card statement. What would someone say about your values based on your spending?
Please comment below to tell me what you say NO to and what you say YES to!
*Except for the dog part. You must agree with me that everyone needs a dog!
Cindy is a number-loving, money-saving expert. She pulled her own family out of debt. Now, she cuts through the nonsense and crunches numbers to find you the greatest value. When you
join the Smart Family Money community
, you'll get the tools you need to take control of your money. You will gain confidence in your financial future and freedom to spend your time on the things that matter most to you today.
Latest posts by Cindy Scott (see all)