Note: This post may contains affiliate links. That means that if you click on them and buy anything at all, I'll get a small commission from the sale (at no additional cost to you). For more information, read my disclosure policy.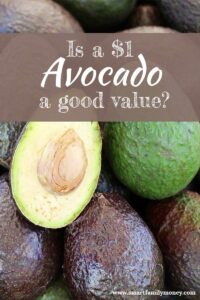 I have a confession to make.  I'm completely obsessed with avocados!  I bought fresh avocados for the very first time a few months ago because I wanted to try making homemade guacamole, which was absolutely delicious.  If you want to try the recipe I used, it's very simple and kid-friendly.  In the process, I realized how amazingly delicious avocados are and I started buying them more often.
I mentioned to a friend that I'd always avoided buying avocados because I felt that spending $1 on a single piece of fruit was absurd.  After all, I'd never pay $1 for a single apple or banana.  She wisely pointed out that while avocados are a fruit, their nutrition is more similar to the nutrition of meat and if you look at the amount of nutrition you're getting from one avocado, it's actually a pretty good value.  I suspected she was right, but I wanted to see proof in the numbers.
So how do we analyze the "value" of a food?  Well, the most obvious way is by looking at how many calories we get for our dollar.  A lot of people think of calories as bad, but the truth is that they are a measure of how much energy a food provides and our bodies need energy to function.  Most of us need around 2,000 calories per day and some foods are much more expensive for those calories than others.  Another cost factor to consider is the amount of protein in food.  Protein is essential to good health and can be one of the more expensive nutrients to get in your diet.
To do some calculating on the value of an avocado, I used the food prices from the Bureau of Labor Statistics for a general idea.  They do not include the price of avocados, but I know that around me, $1 per medium avocado is pretty average.  I used the nutrition data from the USDA foods composition database.  Here's a summary of what I found: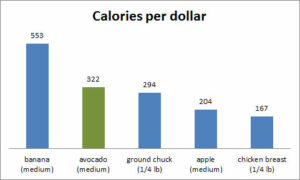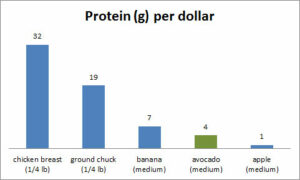 So what should be concluded from this data?  Avocados are a better value in terms of calories per dollar than ground beef, chicken breast, or apples, but not as good of a value as bananas.  In terms of protein per dollar, chicken breast, ground beef, and bananas all beat the avocados.  The only food lower in protein was the apple.  In purely monetary terms, I'd say avocados are a moderate value.  This data certainly shows that paying $1 for an avocado is not outrageous, but it's maybe not the best value for your dollar.
Of course, foods are much more than just calories and protein and part of what appeals to me about avocados is their "superfood" qualities.  They contain high amounts of fiber, many important minerals, and lots of good fats.  Avocados' many benefits include fighting heart disease, reducing inflammation, lowering cholesterol, preventing birth defects, helping vision, improving digestion, improving skin, and fighting cancer.  With qualities like that, I'd gladly pay even more than $1!
Cindy is a number-loving, money-saving expert. She pulled her own family out of debt. Now, she cuts through the nonsense and crunches numbers to find you the greatest value. When you
join the Smart Family Money community
, you'll get the tools you need to take control of your money. You will gain confidence in your financial future and freedom to spend your time on the things that matter most to you today.
Latest posts by Cindy Scott (see all)