Note: This post may contains affiliate links. That means that if you click on them and buy anything at all, I'll get a small commission from the sale (at no additional cost to you). For more information, read my disclosure policy.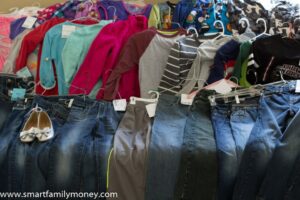 I thought I'd do a quick follow-up post to my post about how to find great deals at consignment sales. Last night was the consignor's pre-sale for the fall sale and I found a lot of great stuff! In about one hour, with searching and carrying assistance from my wonderful mother-in-law, I was able to buy almost everything my kids will need for the fall and winter season. The photo above shows all of my great finds.
For my daughter (girls' size 10), I bought:
6 pairs of jeans
2 t-shirts
2 long sleeve shirts
1 cardigan sweater
1 fleece coat
1 pair of shoes
5 pairs of warm pajamas
For my son (boys' size 8), I bought:
5 pairs of jeans
1 pair of athletic pants
6 long sleeve shirts
5 pairs of warm pajamas
In total, I bought 35 items. How much did I pay? Drum roll please…
$134! That was after a $10 refer-a-friend discount, so without that, I would have paid $144. That averages out to around $4/item. Not bad! Even with sales, there's no way I could buy nearly an entire wardrobe for my kids for that price in regular stores. It could be done cheaper at garage sales, but when you factor in the time and gas that would take, garage sales really aren't much cheaper. I was able to do this in one location in one hour! Any busy parent can appreciate the advantage of that!
Here's the best part: I checked my consignor's report and I made a profit of $139 on my items sold last night! I'm sure I'll make plenty more since only about half of my items have sold, which will give me enough leftover profit to buy the last few things we need (one pair of snowboots, Christmas outfits, and maybe a couple more pairs of pants for my son since he was starting with zero this year).
Also notice that my kids are in "big kid" clothing sizes and I still found a ton of great stuff. A lot of people think that kids' consignment sales are all about baby clothes and gear. While they're awesome for baby stuff, they're also great for big kid clothes! My mother-in-law was especially blown away by the selection in girls' size 10. I was able to be very picky about what I chose, sticking to my daughter's favorites (jeans, fuzzy shirts, sparkles, and animals!). Even boys' size 8 had a good selection, but it wasn't as large as the girls' sections, as usual.
If you've never given kids' consignment sales a try, I hope I've inspired you! It's a lot of work, but it's totally worth it. Are you planning to sell or shop at any consignment sales this fall? Comment below.
Cindy is a number-loving, money-saving expert. She pulled her own family out of debt. Now, she cuts through the nonsense and crunches numbers to find you the greatest value. When you
join the Smart Family Money community
, you'll get the tools you need to take control of your money. You will gain confidence in your financial future and freedom to spend your time on the things that matter most to you today.
Latest posts by Cindy Scott (see all)