DISCLOSURE: This post may contain affiliate links, meaning when you click the links and make a purchase, we receive a commission. Also an Amazon Associate, I earn from qualifying purchases. DISCLAIMER: The information and opinions within this content are for information purposes only. Guidance is based on personal interpretations and in no way, represents legal or financial advice. For more information, read my disclosure policy.
I tested generic versus brand name AA batteries. I expected the results would show they all came out the same, because a battery's just a battery, right? Surprisingly that's not at all what I found!
Pretty much every family has this argument that's been going on for years. On one side, you have the person who says generic batteries are just junk and you're wasting your money buying them.
On the other side, you have someone saying every battery is exactly the same. It does not matter which one you buy so you may as well save some money getting the generic ones.
If you have that argument going on in your family, you can definitely relate to my questions here. I really wondered: Was it worth it to buy those generic batteries or would I actually save money if I bought the brand name batteries that lasted longer… but do they?
So which is the best AA battery?
Kirkland Signature from Costco and Sunbeam from Dollar Tree are the best AA batteries. In testing, they lasted an average of 4.5 hours, compared to 3.5 hours for most brands. With an average cost of $0.33 per battery, they had a cost per hour of $0.07. The best AA battery available on Amazon.com is AC Delco at a cost per hour of $0.08.
To see all my testing in action, check out my YouTube Video or read on for all the details about which is the best AA battery.
Are Expensive Batteries Worth It? I Tested To Find Out!
What Are High Drain Devices?
When I sat down to design a test for AA batteries I started thinking about how in the battery commercials they always talk about "high demand devices" and that would include things like CD players, mp3 players, video game players, or digital cameras.
I realized we don't really have any of those kinds of things that use AA batteries anymore.
I started looking around my house at what actually uses AA and AAA batteries. I found TV remotes, a few toys, flashlights, and lots of clocks. They were all pretty simple devices!
Do Some AA Alkaline Batteries Leak More?
I did not test leakage, because that would take years to test. I have heard some reports that people think certain batteries leak more than others, but all alkaline batteries will eventually leak if you leave them in a device.
Energizer Max does have a no leak guarantee, so if they leak in a device they will repair or replace the device if you have any problems.
Personally, anytime I've had a battery leak it hasn't really been that big of a deal to clean up, so it wouldn't be worth it for me.
Do Some AA Batteries Have a Longer Shelf Life?
As for the shelf life, every brand of alkaline battery I looked at said that it had a shelf life somewhere in the range of 8-10 years for unused batteries, so I don't think it really makes a difference which brand you buy isn't concerned about shelf life.
Heavy Duty vs Alkaline Batteries
I did want to focus on alkaline batteries for this test and I do have another post that explains the difference between heavy-duty vs alkaline batteries.
With the brands I included, I did include one heavy-duty battery so I could compare it to the alkaline ones (e-circuit heavy-duty battery from Dollar Tree).
AA Batteries Included In my Showdown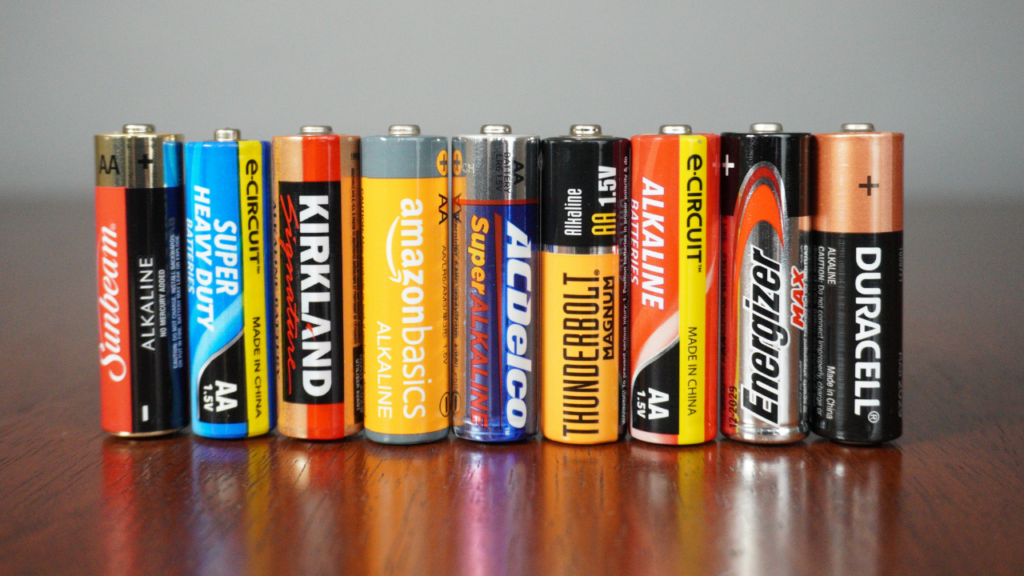 In my AA battery testing, I included:
Sunbeam AA alkaline batteries from Dollar Tree
e-circuit heavy-duty batteries from Dollar Tree
Kirkland Signature alkaline batteries from Costco
AmazonBasics alkaline batteries from Amazon.com
ACDelco alkaline batteries from Amazon.com
Thunderbolt alkaline batteries from Harbor Freight
e-circuit alkaline batteries from Dollar Tree
Energizer Max alkaline batteries
Duracell batteries
How I Tested the AA Batteries
Since most of the things I use AA batteries for around the house involved lights, sounds, or movement, I wanted to find something I could test with that included those things.
I went looking around and I found a candy fan with Cat Boy on top. It's fun. It lights up.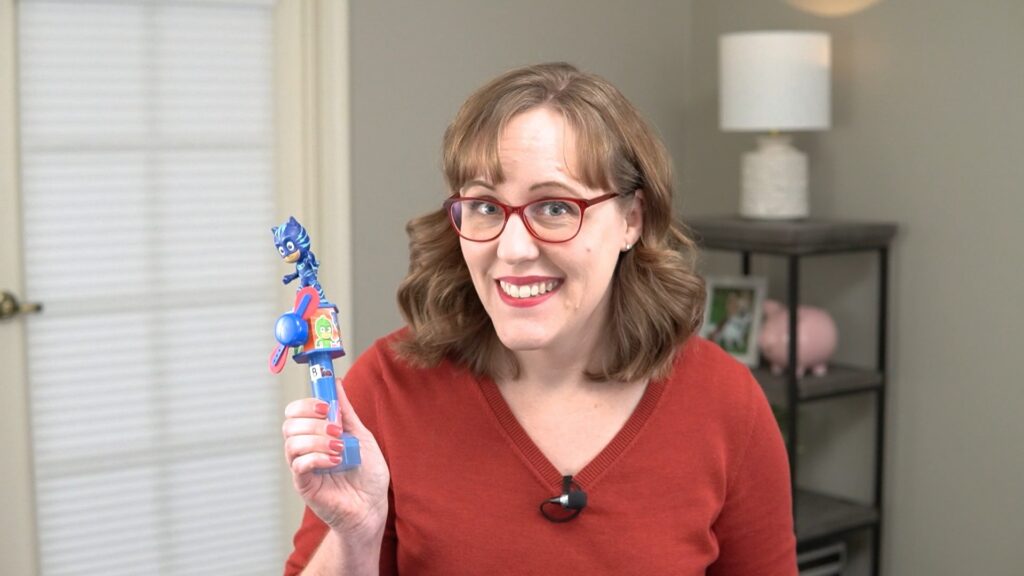 I had nine of these fans and I lined them up with a timer and I filmed them so I could see how long each battery type lasted in the fans. The whole process was pretty fun to watch.
Note: I did re-run the Energizer tests because I appear to have gotten a bad package of batteries on my first round. There's more about that in the video. Stats below include the 2nd round of Energizer only.
Which AA Battery Lasted the Longest?
Here's a table of how long each brand of battery lasted on average:
| Brand | Average Run Time (Hours) |
| --- | --- |
| e-circuit (HD) | 1.77 |
| AmazonBasics | 2.33 |
| Duracell | 3.38 |
| e-circuit | 3.38 |
| Thunderbolt | 3.47 |
| ACDelco | 3.78 |
| Energizer Max | 4.08 |
| Kirkland | 4.50 |
| Sunbeam | 4.63 |
Below is a graph showing the same data: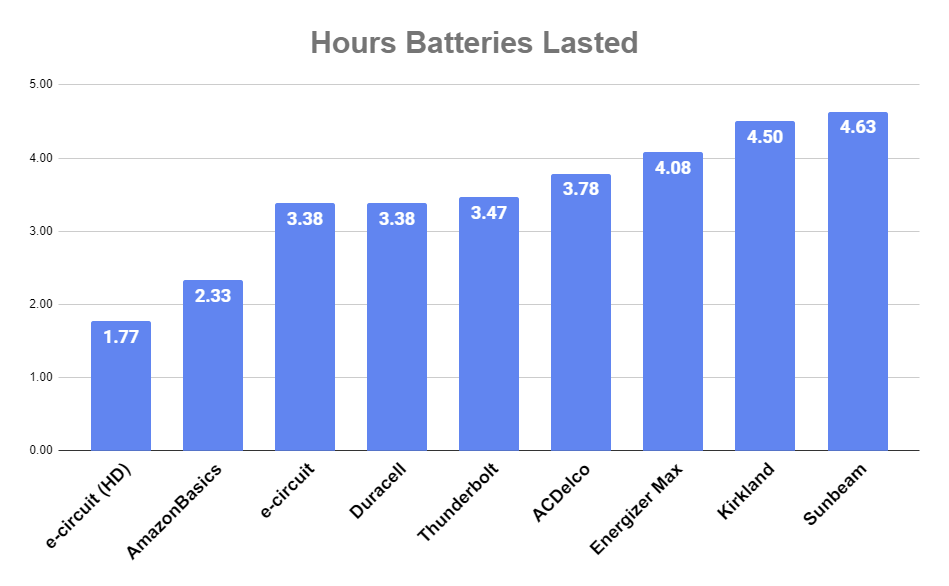 Unsurprisingly the heavy-duty battery did die first. It lasted under two hours. A lot of the batteries lasted about the same. they were around three and a half hours to die. But there were two brands that lasted way longer than all the other batteries. They lasted around four and a half hours. An hour longer than most of the rest. You know what those brands were? Sunbeam from Dollar Tree and Kirkland Signature from Costco. It was not the brand names. It was two of the generics outlasted everything else. I had two brands that did considerably worse than the rest. One was Amazon Basics, which based on the reviews was not too surprising. The other one though was Energizer. I was like, what? I was about ready to do a video that talked about how like the Energizer bunny has been lying to us all these years but before I got too worked up I decided I better retest that so I went out and bought another pack of Energizer batteries and I did another test with three of the new pack of batteries and three of the Kirkland ones just to compare them well with that second pack of Energizer batteries. The Energizer ones lasted almost as long as the Kirkland Signature. The Kirkland ones still won though but it was surprising how much longer that second pack of Energizer batteries lasted compared to the first ones, so I think the first pack I got was probably just some duds and but it was kind of surprising that the Energizer batteries had that bad of quality control. Both batteries were only a few months old. I checked the manufacturer dates on both of them so it wasn't that they were too old. I think they were just bad batteries. Now I did not retest the Amazon Basics batteries that did so much worse than others and I do wonder if they might have done better on a second round but as I said there were a lot of reviews of people talking about Amazon Basic batteries not lasting as long as others so I suspect Amazon Basics either they just don't last as long as others or they seem to have a bit of a quality control problem, so I'm probably going to stay away from Amazon Basics batteries in the future.
Cost Per Hour of Runtime
So after I got all these results about how long the batteries lasted I wanted to look at which was the best value for the money.
Where Can You Buy the Cheapest AA Batteries? Costco? Amazon? Dollar Tree?
I had made another video about where you can buy the cheapest AA batteries so I took those numbers for how much each battery cost. Below is a quick table with the average cost for each brand of battery (non-sale prices, larger packages):
| Brand | Cost per Battery ($) |
| --- | --- |
| e-circuit (Heavy-Duty) | 0.17 |
| e-circuit | 0.25 |
| Thunderbolt | 0.28 |
| AmazonBasics | 0.32 |
| ACDelco | 0.32 |
| Kirkland | 0.33 |
| Sunbeam | 0.33 |
| Duracell | 0.42 |
| Energizer Max | 0.42 |
Then I put that together with how many hours they lasted to try to get a cost per hour for each battery.
| Brand | Cost ($) / Hour |
| --- | --- |
| AmazonBasics | 0.14 |
| Duracell | 0.12 |
| Energizer Max | 0.10 |
| e-circuit (HD) | 0.10 |
| ACDelco | 0.08 |
| Thunderbolt | 0.08 |
| e-circuit | 0.07 |
| Kirkland | 0.07 |
| Sunbeam | 0.07 |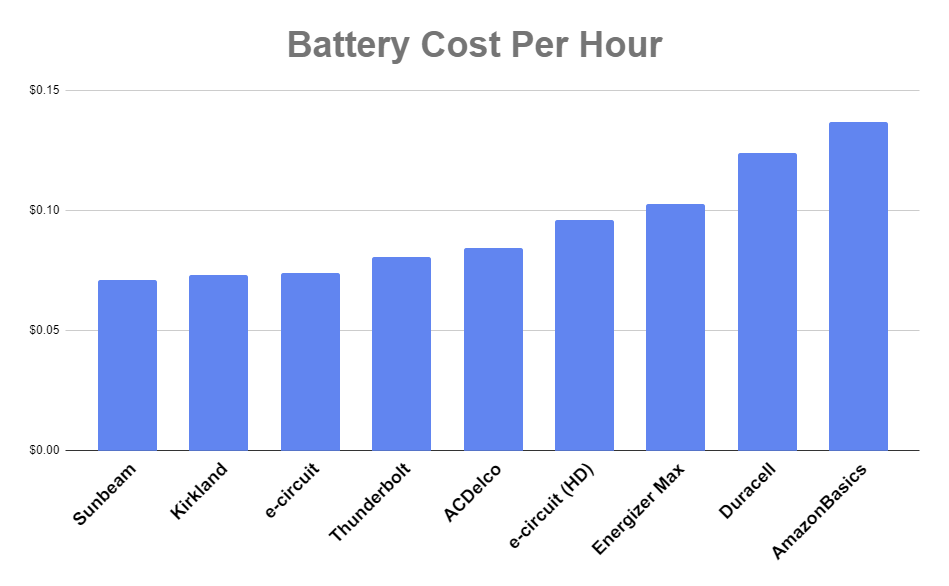 Because the generic batteries lasted as long, if not longer, than the brand name batteries, it wasn't surprising that their cost per hour was lower than the brand name batteries.
It was surprising that the cost per hour on the heavy-duty batteries was better than the brand name alkaline batteries. You would have to use two or three of the heavy-duty batteries to get the same run time as the brand name batteries.
I don't know about you but I'm a little too busy to be changing my batteries that often. Besides, the generic alkaline batteries were overall a better deal than the heavy-duty batteries, so I would still recommend not buying the heavy-duty batteries. Go with the quality generic alkaline batteries.
Best AA Batteries: Conclusion
So what do I take from all this? Overall, the generic alkaline batteries lasted the same or longer than the brand name batteries so they're definitely not junk.
When you look at the cost per running time there's no doubt the generic alkaline batteries are a better deal than the brand-name batteries. The only exception to that rule was the AmazonBasics ones, which really didn't do well in my test.
Personally, I'm going to stick with buying either Kirkland Signature from Costco or ACDelco from Amazon. I don't think you can go wrong with either of those!