DISCLOSURE: This post may contain affiliate links, meaning when you click the links and make a purchase, we receive a commission. Also an Amazon Associate, I earn from qualifying purchases. DISCLAIMER: The information and opinions within this content are for information purposes only. Guidance is based on personal interpretations and in no way, represents legal or financial advice. For more information, read my disclosure policy.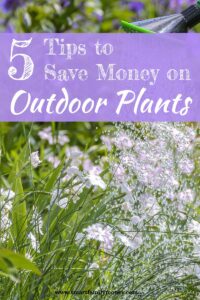 It's that time of year when many of us are working on our yards and buying flowers and plants. I love how warm and beautiful flowers can make a yard feel. I also love having a backyard vegetable garden where I can just pluck a few items for dinner each night. And trees… who doesn't love beautiful trees? The only problem is that all of these things can be pretty expensive!
Here are some tips I've used to save a bit of money on the plants for my yard.
Bigger is not always better: You will generally pay more for a larger plant than a smaller one, but small plants will become big plants naturally with time. The question is just how much time and is it worth it to you? In the case of a tomato plant, I don't think paying $10 for a large tomato plant makes much sense when a small one is $2 and they grow so quickly that you won't notice the difference within a week or so. In the case of something large like a tree, though, you may be talking about a difference of years between the small and large tree. A few years ago, we made the choice to plant some small trees that we got at a home improvement store for $25 each instead of spending $300+ on a large one from the nursery. We did not have $300 to spend and the large tree would have also required professional installation. Instead, we spent a small amount of money, did a little work with a shovel, and waited a few years. Now our tiny trees are bigger than the $300 ones and starting to provide some shade. The point is to consider the growing time of the plant you're looking at and decide if the money spent on the larger plant is worth it to you or if you'd rather spend that money on something else, like maybe more plants!
For vegetable plants, look for bonus "twins": For vegetable plants sold in single pots, look for pots with two plants instead of one. It's pretty easy to get a two-for-one deal this way. Today I bought two pots of green pepper plants and both contained two plants each.
Hanging pots don't always have to hang: Sometimes you can find good deals on hanging pots of flowers for only a few dollars. Remember that there is generally nothing special about the flowers in a hanging pot and they can also be used in the ground or in a pot on a porch. If you see some cheap hanging pots, think outside the box… or hanger!
Consider seeds instead of plants: Some plants like tomatoes must be started indoors and can be a little time consuming to start from seed. Others, like zucchini or cucumber, can be planted directly in the ground and are very simple to start from seed. Before spending $3-5/plant on vegetable plants, consider if it's easy to start from seed instead. Choosing seed packets generally opens up a lot more variety too as many stores carry a much larger selection of seeds than live plants.
Split perennials instead of buying: Whatever perennial plant you want to buy, odds are pretty good that someone you know has some that are overgrown or maybe you have some yourself. If you do have perennials that can be split, consider offering a trade. Neighbors are often very open to this because they can see it's doing well in your yard so of course it will do well in theirs next door or down the street! It's a win for everyone.