DISCLOSURE: This post may contain affiliate links, meaning when you click the links and make a purchase, we receive a commission. Also an Amazon Associate, I earn from qualifying purchases. DISCLAIMER: The information and opinions within this content are for information purposes only. Guidance is based on personal interpretations and in no way, represents legal or financial advice. For more information, read my disclosure policy.
Are you wondering if the Winix 5300-2 air purifier might be the right air purifier for your family? My family owns several Winix air purifiers. We've had them for over a year and I can tell you some pros and cons in this Winix 5300-2 review.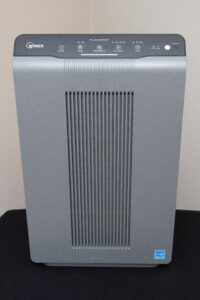 Unfortunately, I and the majority of my family have pretty bad environmental allergies. My allergist recommended that we have air purifiers in our bedrooms to help purify the air when we sleep.
We've recently gotten the Winix 5300-2 air purifier. Overall what's my review of the Winix 5300-2 air purifier? The Winix 5300-2 air purifier is well-built, quiet, and very reasonably priced. It offers true HEPA and carbon filtration. It's easy to use and has convenient auto modes.
I would recommend the Winix 5300-2 air purifier. If you're interested, check out the Winix 5300-2 air purifier at Amazon.com.
Winix 5300-2 Air Purifier Review: Pros, Cons, Cost, Features
The Winix 5300-2 is a very nice, high-quality filter. I think it does a great job filtering the air but there are some pros and cons to it. I'll give you a rundown of all of its features as well as what I like and don't like about it. You may also want to read my Winix 5500-2 review to compare the two popular models. I also have a complete Winix model comparison that compares all the popular models.
Winix 5300-2 Air Purifier: Stages of Filtration
First of all, let's talk about the stages of air filtration that it offers. When I first started looking at air purifiers I was very confused about how different purifiers had a three-stage, four-stage, or five-stage air filtration system. What does that even mean? It just refers to the different levels of filtration inside of that air purifier.
Air Filtration One: Pre-filter
The Winix 5300-2 is a four-stage filter. The first stage is what's called a pre-filter. It's essentially a screen that catches large particles. This filter catches things like pet hair or large balls of dust and prevents them from getting into the other filters.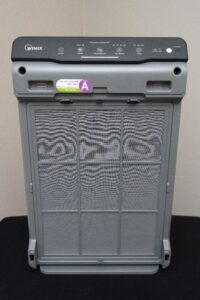 For this air purifier system, the manual recommends that you vacuum that pre-filter about every fourteen days. However, this can be dependant on the quality of air in your home. If you have a dog that sheds constantly you might want to vacuum it more often. If you have fairly clean air in your house you're not going to need to clean it very often.
Ait Filtration Two: Carbon Filter
The second stage of filtration is a carbon filter. This particular model has a replaceable/disposable sponge-like carbon filter. The carbon filter is mostly for removing odors from the air.
The type of carbon filter is the main difference between the Winix 5300-2 and the Winix 5500-2. The Winix 5500-2 has the more advanced carbon filter with granules of carbon. Check out my Winix 5500-2 review for more information.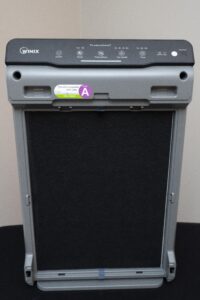 Air Filtration Three: HEPA Filter
The third stage of filtration in the Winix 5300-2 is a HEPA filter. The Winix filtration systems do have true HEPA filters which is important when you're talking about removing allergens from the air.
This is the filter that's most important for those allergies. The HEPA is going to catch those small particles like pollen, dander, dust, and mold.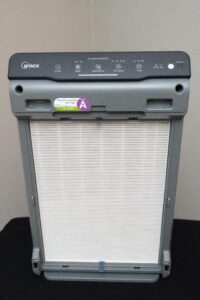 Air Filtration Four: Plasmawave Filter
The fourth stage of filtration is what Winix calls Plasmawave technology. People have a lot of questions about this one. What does Plasmawave technology mean? Is it safe?
Plasmawave is Winix's branded name for hydroxyl radical filtration and if you look up information about hydroxyl radicals it's a very real thing used by restoration companies. Plasmawave is used for removing odors like smoke. This has been shown to be safe around people and animals.
A lot of people wonder if Plasmawave releases ozone into the air. Ozone is a type of filtration that is not safe for humans to be around. However, this filtration is releasing unstable charged particles of hydrogen and oxygen into the air where they connect with compounds, breaking them apart and making them into safe particles.
Winix claims that this is how nature filters the air. So far it has been proven to be safe.
The other question many ask is does it release ozone? Because there are free oxygen atoms flying around, it is possible that ozone could be formed in the air. The filtration system is not releasing ozone but it is possible that some ozone could be formed in the process.
After testing this filtration system it has been shown to produce a safe ozone level. Still, they have not proven that it produces zero ozone.
If that's something that really concerns you, especially if you are an owner of birds who are particularly sensitive to ozone you might want to consider turning the Plasmawave feature off. This won't affect the function of the other three stages of filtration.
Winix 5300-2 Air Purifier: Buttons & Functions
Let's take a look at the buttons on the front of the air purifier to see what they do.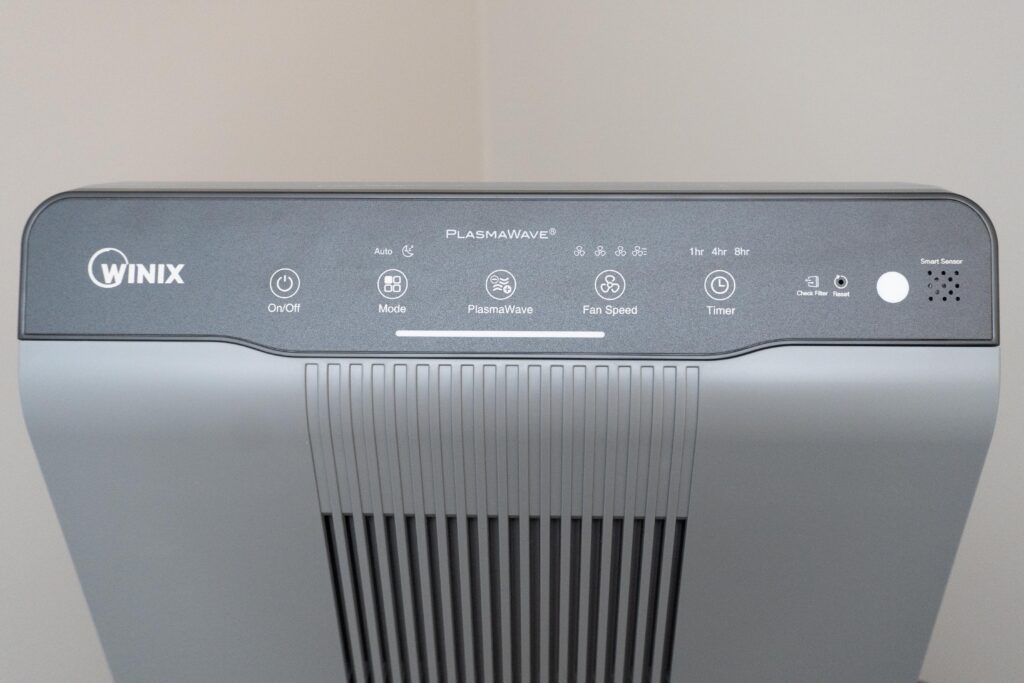 Power Button
The first button is the obvious one. This button is your power or on.
Mode Button: Auto & Night
The second button on this Winix is the mode button. This button can switch from auto mode to night mode.
Auto mode is where it'll stay on the low fan setting unless it detects that there's some kind of odor in the air. Then it'll automatically bump up the fan and the light on the front will change from:
Blue: clean air and it runs on speed 1
Orange: dirty air and it runs on speed 2
Red: very dirty air and it runs on speed 3
It also has a light sensor that will notice if the room is dark and it'll automatically turn to night mode. Night mode is even quieter than auto mode. Night mode is so quiet I wasn't even sure it was working, but you can feel the air flow.
Plasmawave Button
The next button is the Plasmawave button that you can use to turn the Plasmawave feature on or off, depending on your preference.
Fan Speed Button
The next button is the fan speed button. You can press it to manually change the fan speed from high to low and all the way up to turbo.
The turbo mode does a great job of clearing out the air but it is very loud. This mode can be really handy if you have very dirty air as in a situation where you were sanding drywall.
Timer Button
Next is the timer button. You can press this to turn on for:
One of the things I don't love about this feature is that it will play its little song when it turns off. I think this could be really inconvenient if you wanted to turn it on at a higher mode before bed and have it turn off as you're sleeping. Who wants it playing a little song in the room?
Check Filter Indicator
The next thing on the front is the filter indicator. This will let you know when it's time to change the filter. It doesn't actually measure whether the filter is clean or dirty. It just measures the length of time since you've changed the HEPA filter.
When you do replace the filter you can hit the reset button to let it know that you've changed the filter. It took me a while to figure out that the reset button is actually recessed and you have to use a paper clip or a pin to press that button to get it to reset.
Light & Odor Sensor
The last thing on the front is the light sensor and the odor sensor. The light sensor allows the purifier to sense when there is no light so it can switch to night mode. The odor sensor allows the purifier to sense when there's an odor in the room and automatically turns the fan up to get rid of that odor.
Winix 5300-2 Costs
Let's talk about the cost of this filter. The Winix 5300-2 retails for a really fair price, especially when you consider the low upkeep cost. To see the current price check out Winix 5300-2 air purifier at Amazon.com.
The Carbon filters are supposed to be replaced every three months, while the HEPA filters should be replaced every twelve months. This is why when you buy the filters you get a pack of one HEPA filter and four carbon filters. If you wanted to save a little extra money there are quite a few third-party filters that can be used in the Winix 5300-2 purifier.
Pros and Cons
There are pros and cons to this air purifier but I find that overall it has a lot of pros.
Winix 5300-2 Pros:
Built well
Inexpensive
Easy to use and maintain
Simple auto & night modes
Winix 5300-2 Cons:
Bright lights when not in night mode
Too many sounds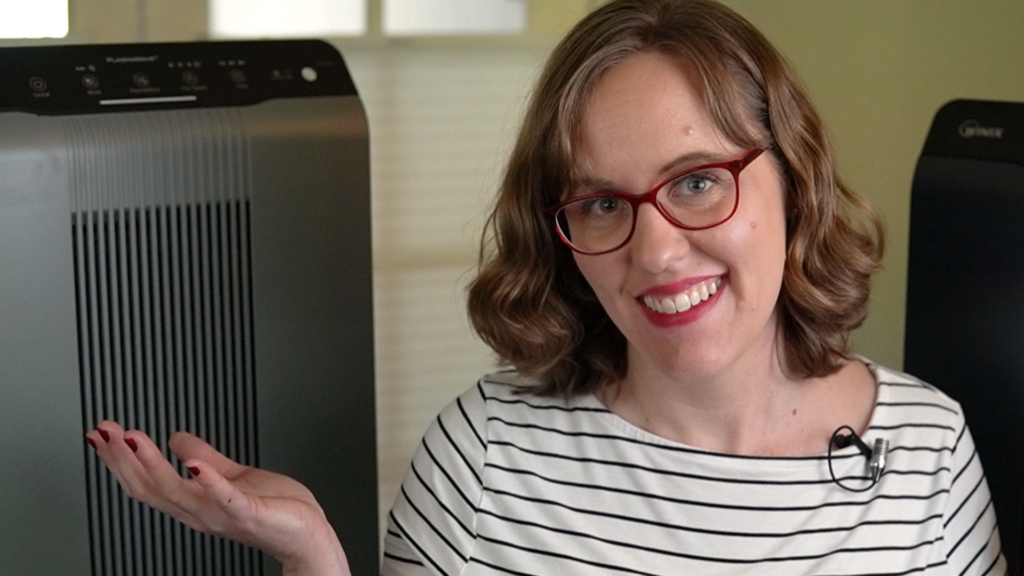 Winix 5300-2 Air Purifier Review: Summary
This Winix Air Purifier is really easy to use. Overall I would recommend this air purifier but are you convinced it's the right purifier for your family?
With the Winix 5300-2 being one of the least expensive Winix air purifiers you might be wondering if spending a little bit more for the next model up is the right choice for you. Check out my post with my Winix 5500-2 review for more about that model.
If you're wondering about all the differences between the Winix models, I've compared all of the most common Winix air purifier models for you, so go check out my comparison post to help you make the right choice!