Note: This post may contain affiliate links. That means that if you click on them and buy anything at all, I'll get a small commission from the sale (at no additional cost to you). For more information, read my disclosure policy.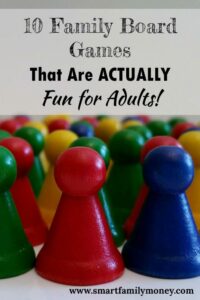 As a fun, frugal, family activity, we recently decided to start a weekly family game night with our kids, ages 7 and 8. There was just one problem… A lot of "family board games" are really boring for the adults! Some of the old classics also took too long to hold everyone's attention or involved too much reading for the kids. After a lot of trial and error, we found some that the whole family can all really enjoy!
Our family game time really brings us together and I'm glad that we've found games that we all enjoy. Do you have a regular family game night? What are your favorite games? I'd love to hear in the comments below!
Cindy is a number-loving, money-saving expert. She pulled her own family out of debt. Now, she cuts through the nonsense and crunches numbers to find you the greatest value. When you
join the Smart Family Money community
, you'll get the tools you need to take control of your money. You will gain confidence in your financial future and freedom to spend your time on the things that matter most to you today.
Latest posts by Cindy Scott (see all)