Note: This post may contain affiliate links. That means that if you click on them and buy anything at all, I'll get a small commission from the sale (at no additional cost to you). For more information, read my disclosure policy.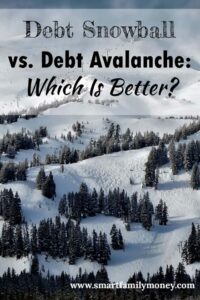 If you need to get out of debt, you're going to need a plan. You may have heard about the debt snowball and debt avalanche method, but which is better? And which one is right for you?
Let's imagine a family has the following debts:
Credit card #1: $1,000 balance, 10% interest, $100 min. payment
Credit card #2: $5,000 balance, 15% interest, $200 min. payment
Student loan: $10,000 balance, 5% interest, $150 min. payment
Car loan: $20,000 balance, 12% interest, $400 min. payment
Which should they pay off first? I like to use a handy free online tool called undebt.it to look at the options. Here are the hypothetical debts in the undebt.it calculator:
Debt Snowball
The debt snowball means that you will pay off the smallest debt first, regardless of interest rate. You apply any extra monthly money you have available towards that first debt, while only paying the minimum payments on all other debts. Once the first debt is paid off, you take the amount you were paying on the first debt to pay an even bigger amount on the second debt. As you go along, you're "picking up more snow" or "snowballing". The online calculator will help you plan the payments to make on each debt every month.
In our example above, I entered a monthly amount available budget of $1,500. Since the total minimum payments add up to $850, that means that the initial "snowball" amount will be $650 ($1500-$850). After the first credit card is paid off, the snowball will increase to $750 ($650 plus the $100 minimum payment from the paid-off credit card). Each time a debt is paid off, the snowball amount increases again.
The idea of the debt snowball is that paying off the smallest debt will lead to quicker psychological gains. When you are first starting out with paying off debt, it can be very disheartening to pound away at a large debt month after month and feel that you're not making any progress. By paying off smaller amounts first, you can get quick gains and feel more motivated.
The downside to the debt snowball is that you can end up paying more interest and possibly taking longer to pay off the debt than if you paid the highest interest rate debts first.
Here's how the results of the debt snowball for our example looks:
Debt Avalanche
The debt avalanche method works exactly the same way as the Debt Snowball, except that the highest interest debts are paid first, regardless of the amount owed. In the example, you would start with the 2nd credit card and then move on to the large car loan and it would take you almost 2 years to finish paying off that car loan.
Here are the final results for the debt avalanche:
In our example, the debt avalanche is one month faster overall (27 months vs. 28 months), and you'd pay $684 less in interest. Does paying less in interest matter, though, if you lose steam halfway through and quit?
Debt Snowball vs Debt Avalanche: Which Should You Choose?
Honestly, I think either method is fine. As long as you're making significant progress on tackling your debt, I don't think a small difference in interest matters that much.
Many folks will argue that the debt snowball is better because of the psychological benefits. If you were perfectly diligent and logical with money, you wouldn't have ended up in debt in the first place, so you will probably need the psychological boost of the quicker payoffs to help keep up the motivation. In our first year of paying off debt, I don't think we would have made much progress if we'd be working on paying something off that would take years. We definitely needed those quick wins and the debt snowball was the right choice for us.
The debt avalanche is mathematically better because it will allow you to pay the least amount of interest and possibly speed up your payoff timeline. It's definitely the more logical move, but people don't always handle money in the most logical way (because we're human!).
Depending on your personal situation, I'd probably do a combination of the two methods. I'd do the snowball method for the first 6 months to a year, until you have some experience and you've gained some momentum. When you feel like old pros, switch to the avalanche method.
The choice also depends on your own list of debts and what makes sense. In the example above, I'd definitely tackle the $1,000 credit card first because it would only take a couple months and it would feel great to cross that one off the list. Then move on the second credit card because it would be the lowest balance and the highest interest rate. Third, I'd tackle the car loan because its rate is so much higher than the student loan.
Personally, our debts lined up the same with both payoff methods, so it didn't really matter. We're just so glad they're gone now!
What method of debt payoff have you used? Comment below!
Cindy is a number-loving, money-saving expert. She pulled her own family out of debt. Now, she cuts through the nonsense and crunches numbers to find you the greatest value. When you
join the Smart Family Money community
, you'll get the tools you need to take control of your money. You will gain confidence in your financial future and freedom to spend your time on the things that matter most to you today.
Latest posts by Cindy Scott (see all)