Note: This post may contains affiliate links. That means that if you click on them and buy anything at all, I'll get a small commission from the sale (at no additional cost to you). For more information, read my disclosure policy.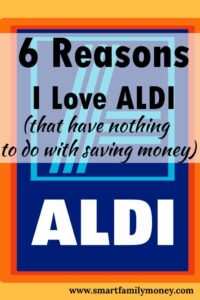 If you have been trying to trim your grocery budget, you have probably tried Aldi or at least heard about their amazingly cheap grocery prices. I plan to do a post comparing Aldi prices to other stores soon, but first I wanted to write about some of the non-financial reasons I love Aldi.
Clear parking lots. Because of their deposit system in their carts, there are never carts sitting around the lot that can bash into cars when the wind picks up.
Small stores and small selection. This may seem like a negative, but I think it is wonderful. It makes getting in and out so quick and easy. Need milk? There is one brand and it will take you 2 minutes to walk to it. They do have all the typical options of conventional, organic, lactose free, almond milk, and soy.
Well-paid staff. For moral reasons, I like the fact that they pay their staff better than most because I

feel employers should pay a livable wage. I also like it for selfish reasons, though. They tend to attract a higher quality of staff and have low turnover so this makes for a very pleasant checkout experience with employees who remember my family through the years.

Delicious products. Really! Some of the Aldi brands are actually my favorite and I will go out of my way to buy them. Their pepperoni is my kids' favorite brand and I adore their chocolates. My husband prefers their spaghetti sauce over any other too.
Less "junk" ingredients. Aldi now offers a number of natural and organic products but even before those started, I noticed that many of their products have a shorter ingredient list with more things that sound like real foods instead of science experiments. For example, we love their brats and they are one of the few brands I have found without MSG in them.
Environmentally friendly. Aldi stores are built to run on less energy and they try to waste less on packaging and display materials. Also, the fact that you have to pay for grocery bags forces me (and everyone else) to be a lot better about remembering to bring my reusable ones.
Have you shopped at Aldi lately? Did you find any reasons to love Aldi in addition to saving money?
Cindy is a number-loving, money-saving expert. She pulled her own family out of debt. Now, she cuts through the nonsense and crunches numbers to find you the greatest value. When you
join the Smart Family Money community
, you'll get the tools you need to take control of your money. You will gain confidence in your financial future and freedom to spend your time on the things that matter most to you today.
Latest posts by Cindy Scott (see all)