DISCLOSURE: This post may contain affiliate links, meaning when you click the links and make a purchase, we receive a commission. Also an Amazon Associate, I earn from qualifying purchases. DISCLAIMER: The information and opinions within this content are for information purposes only. Guidance is based on personal interpretations and in no way, represents legal or financial advice. For more information, read my disclosure policy.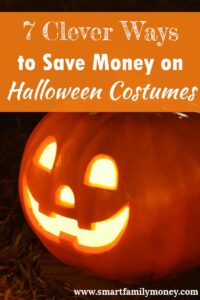 I really enjoy Halloween and I think great costumes are a big part of the fun. It's hard to believe this will be my 9th Halloween with kids, and I've put together 17 different kids' Halloween costumes! I've learned a lot along the way, and while I love good costumes, I try hard to keep the costs as low as possible. I want to share some ways I've learned to save on Halloween costumes, so you can have fun without breaking the bank.
Make your own. You don't have to be a master seamstress to make a great Halloween costume. There are plenty of ideas out there using paper or cardboard boxes. When my daughter was going through her cowgirl phase, she had most of a costume by putting together her dress-up clothes. To complete the costume, I made her a felt cowgirl vest from instructions I found on Pinterest. It took about 20 minutes and it was her prized possession for years.
Trade with friends or take advantage of hand-me-downs. Did your son have a great Superman costume last year and the neighbor boy was Batman? Sounds like this year might be a great time for a swap! Or did you get a huge box of baby hand-me-downs with a costume hiding in the bottom? If you ask around, I bet you'll find other parents willing to hand down or trade their old costumes. Be sure to pass along the favor when your little pumpkin outgrows the costume too.
Find a used costume. Our local children's resale shop tends to be overflowing with costumes this time of year and you can find some great deals. The only problem is that you might not find a specific costume in your child's size, but if your child is not picky about what their costume is, you're likely to find something nice. Children's consignment sales are also a great source of costumes, so be sure to keep an eye out, even if it's not the right season.
Buy something reusable. Last year, I bought my kids character hooded sweatshirts that could be used as costumes and then worn all fall and winter. They loved it because they got to enjoy their costumes all year long. My daughter loved this one and my son was the envy of his friends in this sweatshirt. I spent about as much as I would have on regular costumes, but we got a whole season of use out of them instead of one day.
Accessorize regular clothes. A fancy Easter dress an easily become a princess costume by adding a crown and a sparkly wand. Some overalls could become a farmer costume or maybe a Minion with the right accessories. Buying accessories to complement clothes you already have can make a high quality costume for a low cost.
Go for homemade horror. Do you have some pants with holes? Now they can be ripped zombie pants! Have a fancy dress with a stain on it? Your daughter can be a zombie prom queen! To make horror costumes, you just need old clothes, some scissors, and some face paint or fake blood. It's a fun, inexpensive costume, and it's recycling!
Shop around for pre-made costumes. If your child is set on a certain character costume, it can be hard to avoid buying a commercial costume. We went through a Power Rangers phase in our house, so I shopped around for the best deal online and used a coupon code. There are only a few manufacturers of costumes, so you'll find the same exact costumes at many different stores. Search online for the exact costume name to comparison shop.
This year I bought the kids' costumes early because they had very specific requests… They want to be a Charmander and a Pikachu from Pokémon Go and they've suggested that I dress up as a Pokémon trainer. I'm not sure if that means I need to chase them around the neighborhood throwing balls at them all night, but I'm game!
How have you saved on Halloween costumes? Comment below.