Note: This post may contains affiliate links. That means that if you click on them and buy anything at all, I'll get a small commission from the sale (at no additional cost to you). For more information, read my disclosure policy.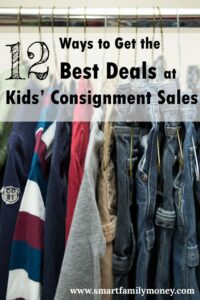 I wrote last week about how to make money selling used kids' clothing and gear at consignment sales. This week I want to talk about how to get the most out of shopping at kids' consignment sales. I love shopping consignment sales because I can get the majority of what my kids need for the upcoming season at one time and at great prices. Garage sales might be a bit cheaper, but I don't have time to run all over town hoping to find my kids' current sizes. I'd rather get my shopping done in one place.
Over the years of shopping consignment sales, I've learned some tricks to getting the best bargains:
Take advantage of any early entry offers. Most sales have early entry offers for certain groups like expecting mothers, military families, or those who bring a canned food donation. If you can take advantage of these, do it! In consignment shopping, it definitely pays to shop as early as possible because the best deals are scooped up first!
Consign so you can shop early. As I discussed in last week's post, selling your used kids stuff at consignment sales can be a great way to make some extra money. It also allows you to shop before anyone from the public gets to shop! Even if you don't have a lot to sell, it may be worth it to sign up as a consignor and just sell a few items so that you can get access to the early shopping time.
Volunteer at the sale so you can shop even earlier. Are you noticing a theme here? Do everything you can to get in earlier! If you're registered as a consignor, you can sign up as a volunteer to work at the sale and get into the sale before the consignors who don't volunteer. Usually volunteering earns you other benefits too like lower consignor fees or higher earnings.
Leave the kids at home. Consignment sales are usually huge, crowded, and overwhelming events. The last thing you need is kids running around your feet or getting lost in the racks. Some sales also do not allow strollers, which makes it even trickier to bring young ones. If you must bring them, you can, but try your hardest to leave them with family or a sitter.
Take measurements of the kids. If you're leaving the kids at home, how do you know what sizes to buy? Every brand is a little different so you can't always trust the clothing sizes. I usually cut ribbons for each kids' waist and inseam length so I can quickly measure pants. You could also bring a fabric tape measure instead of ribbons, but remembering all those numbers makes my head hurt. For shoes, trace the kids' feet on cardboard (like a cereal box) and cut it out. Then you can slip the cardboard inside the shoe to see if it fits.
Make a list. Since consignment sales can be so big, it's very easy to lose focus on what you came for. Before you leave home, make a detailed list of what you need and how many.
Bring a basket or bag. Consignment sales don't generally have shopping carts, although some do provide shopping bags. You may want to bring something to carry your mountain of great finds. You can bring a large tote bag, laundry basket, or wheeled shopping cart. You could also bring an empty stroller if your sale allows them.
Use your time wisely. Search first for the items that are most important to you or most likely to be in high demand. I would look first for any large or expensive items that you need.
Use claim tickets on large items. The large items that are too big for a shopping bag probably have claim tickets on them. If you want to buy the item, you should fill out the ticket and take the bottom portion with you for checkout. Of course, this means that if a claim ticket is already torn off when you spot it, the item is already sold and you should move along.
Pick out everything you like and then sort. If you're looking for 5 pairs of girls' pants, go down the aisle and find all the pants that look nice and take them to the side. Maybe you can find 10-15 pairs that you like, but then you can take your time to measure them and inspect them for holes or stains. When you decide which ones you don't want, neatly return them to the proper rack or hand them to a sales volunteer. Please don't make a mess by leaving them on the side of the room or on the wrong rack!
Shop for boys before girls. I have a boy and a girl and love them equally, but I always shop for my boy first at consignment sales. Why? Because boys' clothes are much harder to find secondhand. If you notice the signs on the racks at consignment sales, you'll see that about 75% of the clothing is for girls. People just buy more clothes for girls and boys are generally harder on their clothes and shoes.
Be sensible about prices. At consignment sales, the prices are set by the individual sellers so you can often find identical items with vastly different prices. You have to decide if the price is reasonable. A good rule of thumb is to aim for paying 25-50% of the original retail price and paying 50% only for items in perfect condition. I also try not to allow myself to be "too cheap" at consignment sales. If there are lots of shirts for $2, a $5 shirt can seem expensive… but if it's something I love or a high-quality brand, then $5 is a great price. I try to keep the perspective that $5 for a nice shirt in a retail store would be a bargain. For expensive items, I take the time to search for a retail price on my phone before deciding to purchase it at the consignment sale.
Have you shopped at kids' consignment sales? Please share your shopping tips in the comments below.
UPDATE ON 8/31/16: Check out my follow-up post showing what I found at the Fall 2016 sale.
Cindy is a number-loving, money-saving expert. She pulled her own family out of debt. Now, she cuts through the nonsense and crunches numbers to find you the greatest value. When you
join the Smart Family Money community
, you'll get the tools you need to take control of your money. You will gain confidence in your financial future and freedom to spend your time on the things that matter most to you today.
Latest posts by Cindy Scott (see all)