DISCLOSURE: This post may contain affiliate links, meaning when you click the links and make a purchase, we receive a commission. Also an Amazon Associate, I earn from qualifying purchases. DISCLAIMER: The information and opinions within this content are for information purposes only. Guidance is based on personal interpretations and in no way, represents legal or financial advice. For more information, read my disclosure policy.
Do you find it hard to find the time to cook at home? Freezer meals are a great solution, but it can be a lot of work to make a variety of meals. One solution can be a freezer meal swap with friends! Here's how to make it happen:
Freezer Meal Swap: Find Your Group
The first step to setting up a freezer meal swap will be finding the people for your swap. You can do it with any size, but a group of at least 5 is best. If you have special dietary concerns, you probably want to find people with similar cooking styles. A freezer meal swap is a great activity for a group that is already established like:
Book club
Play group
Mom's club
Church group
Neighborhood club
School parent group
A health-related group would be ideal. For example, a weight-loss support group following the same eating plan would be great for a meal swap.
Establish a Required Number of Meals to Cook
Each person should bring a certain number of portions of the same meal to the meal swap. I have done meal swaps with a mom's club and we had around 15 moms who wanted to participate. It is NOT practical to cook 15 family-sized meals, but that doesn't mean that a meal swap is impossible with a large group.
Just choose a number of meals that everyone will bring and that's the same number they will take home.
We found that 5 or 6 meals was a reasonable number to cook. Also, remind people to cook at least one more portion of the meal to keep for their own freezer.
When I participated in a meal swap that required 6 portions, I actually cooked 8 portions. That way, my family could eat one on the night I cooked it, freeze one for later, and take 6 to the meal swap.
Talk About the Meals You Will Cook
The group should discuss what everyone is going to cook before the swap. You don't want to end up with nothing but chili!
To keep it simple in a large group, you can pass around a sign up sheet. If the leader sees too many of the same thing, they can suggest someone switches meals.
There will also be undecided folks who can choose to make something different from the rest. If you have a large group, it is okay to have some duplication because participants will not be taking home all of the meals.
Discuss Allergies or Special Food Requirements
If someone with special dietary requirements wants to participate in the meal swap, make sure that there will be enough meals for them to take home.
If there are not enough meals on the suggested list, see if some participants would be willing to make a special portion that meets the requirements. It may not always be possible to accommodate every dietary restriction, but it's often not too difficult.
Determine the Portion Size for the Meal Swap
Are most of the participants in your swap single people, couples, or families with kids? In my swap, we were all families with at least one child. We decided that a portion for 2 adults and 2 children made sense for us.
Some swaps use a standard package so that all meals are the same size. For example, everyone could fill a quart-size freezer bag, but I don't feel that's practical for all types of meals.
Chili works very well in a freezer bag, but lasagna does not! Giving the group general guidelines is helpful, though. For our group, we suggested a full quart-size bag or a square or round aluminum pan. A full 13×9 lasagna or a gallon bag is probably too large and would be more than a single meal.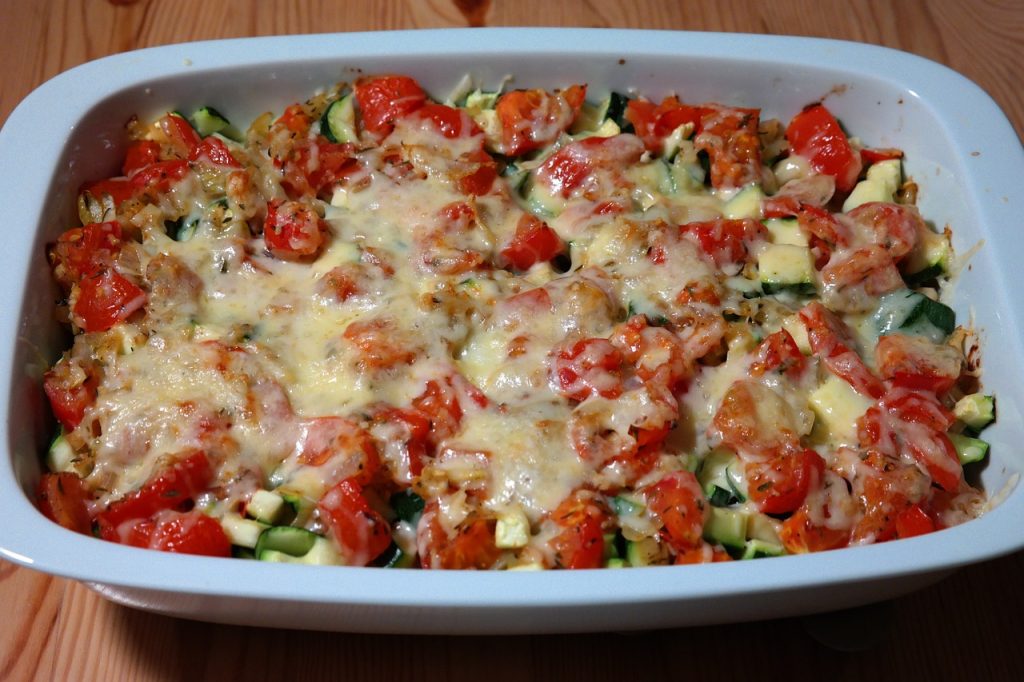 Label the Meals with Name and Instructions
Instruct everyone to label their meals with the date, what it is, and how to heat it up. Reheating soup probably doesn't require instructions, but a casserole might need to say something like "350 degrees for 40 minutes".
Share the Recipes
Odds are good that you will love some of the meals that you get from the meal swap! If you don't have the recipe, you won't be able to make it again for yourself, though. Either have everyone bring printed copies of their recipes to the swap or establish an electronic way of sharing (group email, posting to group message board, etc).
Another benefit of sharing recipes is that it helps those with food restrictions to see what is in the meal.
Bring Cooler For Transporting Meals
You will need to remind everyone involved in the swap that they should bring something to transport their meals in. It's best if everyone brings a cooler or insulated bag. You want to keep all the food at safe temperatures!
Maintaining food temperatures is also why it's a great idea to do a freezer meal swap in the winter. If the temperature outside is lower than 40 degrees, you can put the meals on a patio or porch during your event. Otherwise, it's best to keep the event very short so the food isn't thawing while you chit-chat.
Plan Your Freezer Meal Swap Event
Once you have all the meals planned out, it's time to plan the event! It's a good idea to make an invitation or flyer with all of the information. You will want to specify:
Date
Time
Location
Number of meals to bring
Size of meals
Labels on meals
Any restrictions on ingredients
Instructions for sharing recipes
Reminder to bring a cooler
How to Freezer Meal Swap with a Large Group
If everyone is bringing 6 meals, but you have 15 people, how do you handle that? I guarantee there will be a few "wow" meals that everyone will want! If there are only 6 of each, everyone can't have it! Here is how I've handled it:
If there is someone with dietary restrictions, let them choose all their meals first. Otherwise, they may run out of options that fit their requirements.
For everyone else, put their names on slips of paper and draw them out of a bowl. That determines their order in the swap (like a draft order).
Go through the list of participants, in order, and each person gets to choose one meal.
Repeat the process until everyone has their full number of meals. We just made a line and circled around the table.
Once everyone is done swapping, don't hang around too long because you don't want the food to get too warm.
There are a lot of advantages to doing it this way:
If there is one meal everyone wants, it gets fairly distributed.
Everyone gets at least one of their top choices.
People can choose what works for their own family. For example, if they know their kids won't eat spicy things, they can skip the spicy meals.
Why You Should Give a Freezer Meal Swap a Try
If you've never participated in a freezer meal swap, you should give it a try! You need to cook one time and you'll end up with a week (or more) worth of meals for your family.
I loved having a well-stocked freezer. I saved the freezer meals for busy nights when I didn't have time to cook.
Have you ever participated in a freezer meal swap? Comment below with your experiences!