Note: This post may contain affiliate links. As an Amazon Associate, I earn from qualifying purchases. For more information, read my disclosure policy.
Smart Family Money is on YouTube!

Why you need a car box
I mentioned in my post about baby supplies that I feel a diaper bag is unnecessary, especially if you mostly travel in your car. If you're in a car, you can keep a box full of supplies available without having to carry them everywhere. Although a car box is especially useful when you have babies & toddlers, I feel they're useful for all families. A car box can help you:
Handle minor emergencies.
Clean up the inevitable messes.
Be more comfortable.
Save money by avoiding buying supplies on the road.
Have more fun!
What to put in your car box
You can probably put together a good car box without spending any money at all, by using the things you already have around your house. If you don't have a sturdy box, you could always use a zippered bag (or a diaper bag). What you decide to put in your car box depends completely on your family's needs. Think about what you would keep in a diaper bag or what you've needed when you were out of the house. Remember the things that you've spent money on that you could have brought from home (like socks at a play land). Keep in mind the particular needs of your family and the weather in your area. A family with bigger kids prone to motion sickness (like mine) might need different supplies than a family with babies or a family with a potty-training child. I'm a big proponent of using reusable items whenever possible, but I think a car box is a place where some disposable items are practical. Also, keep in mind that a car gets extremely hot when left in the sun, so anything that can dry out or melt should be left out or sealed in a Ziploc to preserve moisture and prevent leakage messes. I once cleaned up a huge mess from melted deodorant in my car… oh, what a mess!
Although water is very important, I don't recommend storing water bottles in the car because they can leak and the plastics will leach into the water with the extreme heat. Instead of leaving water in the car, I try to bring along a filled reusable water bottle with us on most car rides in the summer.
Here is a list of ideas of things to include in your car box.
For cold weather
Blankets
Hats, gloves, scarves
Additional warm clothes
Instant hand warmers
Car brush / scraper
Fold-able shovel (for digging out of snow)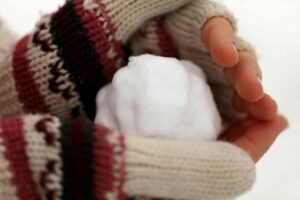 For hot weather
Sunscreen
Sunglasses
Hats
Insect repellent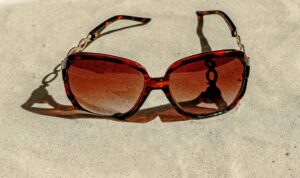 For wet weather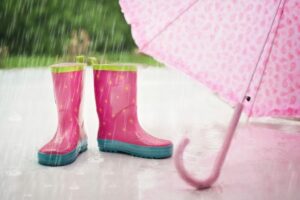 For emergencies
First aid kit
Road flares
Jumper cables
Bungee cords
Tools
Swiss Army knife
Paper and pen for writing down information after a car accident
GPS device that doesn't require an internet connection (for rural driving)
Paper maps
Clean-up supplies
Towels (can be used for a huge variety of purposes)
Paper napkins (save some from a fast food trip)
Paper towels
Trash bags
Ziploc bags
Deodorizing spray for the car (believe me… you may NEED this)
Spare clothes
Baby wipes sealed tightly in a Ziploc to avoid drying out (handy for all ages!)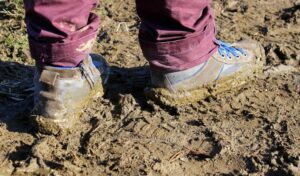 Baby / toddler supplies
Diapers
Diaper disposal bags
Small potty chair (soak up liquids with paper towels and dispose in a bag)
Spare kids' underwear
Snacks (dry snacks like Cheerios or puffs are best)
Bottle or sippy cup
Placemats for restaurants
Toys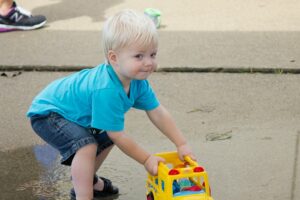 Pet supplies
Leash
Pet waste bags
Water bowl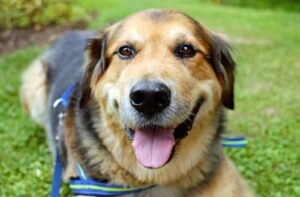 Personal care
Hairbrush or comb
Feminine supplies
Tissues
Nail clippers or file
Tweezers (for pulling splinters)
Medications you might need (antacids, allergy, motion sickness, pain reliever, etc)
Electronics
Car chargers for phones or tablets
External battery for electronics
Headphones
Audio jack splitter (so two kids can listen to the same device)
Fun
Toys that are good in the car like Etch-a-Sketch, Magnadoodle, travel board games, car bingo, etc
Pencils & notebooks for drawing (Note: crayons melt and markers dry out)
Socks (for play lands and bounce houses)
Sand toys
Picnic blanket
Scissors for removing tags from new items or cutting strings off clothes
Coupons or passes for fun places
A bag for carrying things (if you don't already have reusable shopping bags in your car)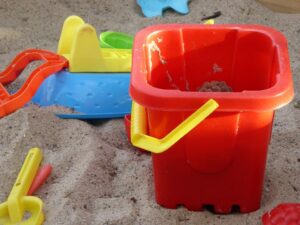 Our personal car box essentials
We've been using a car box for about 5 years now (with kids growing from toddlers to school-age) and I've figured out the essentials for us. If you're wondering where to start, maybe our family's list of essentials will help. Our box is a Sterlite 30-quart latch box, which has held up very well to all the abuse we've put it through.
Our most-used car box items are:
Tissues
Paper napkins
Plastic bags of any type (for trash, wet things, dirty things, etc)
Towels (for cleaning up, drying off, wiping off muddy shoes, using as a blanket, sitting on, etc)
Swiss Army knife (for cutting packaging, removing tags, trimming nails or hangnails, pulling splinters, etc)
Socks (for play lands)
Hat for my husband (his bald head is easily sunburned)
Baby wipes (for cleaning up car messes, sticky hands, etc)
I would also add that a basic first-aid kit is essential, even though we haven't thankfully needed ours yet!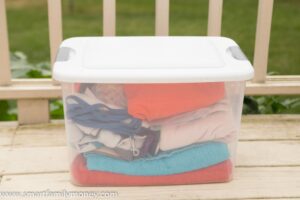 Car box maintenance
I got inspired to write this post when I realized I hadn't maintained our car box in quite some time. I actually dumped our box out to use the box itself for a vomit bucket (gross, but another great use for a car box!). When I looked at the contents of our box, I realized we had used up many of the disposable items and the spare clothes were WAY too small. I'm going to just include a couple adult-sized t-shirts now instead of trying to keep up with kids' changing sizes.
I would recommend refreshing your car box at least once per year, preferably twice, so it can change with the weather. A good time to check the supplies in your car box is when you're cleaning out your car.
Keep in mind that not all items in the car need to be stored in the actual car box. For example, if you're going to keep the box in the trunk, it probably makes more sense to keep the umbrella in the glove compartment, so you can reach it when it's raining.
I hope I've inspired you to create your own car box and that it helps you to be prepared, save some money, and have more fun!
Want to share about what you're putting in your car box? Comment below!