Note: This post may contain affiliate links. That means that if you click on them and buy anything at all, I'll get a small commission from the sale (at no additional cost). As an Amazon Associate, I earn from qualifying purchases. For more information, read my disclosure policy.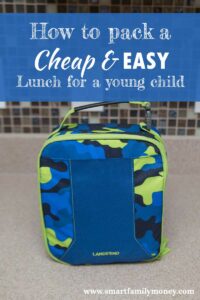 It costs $2.50/day to buy lunch at our school, so for 2 kids, I'm looking at $5/day if they both buy. I do allow my kids to buy lunch 1-2 times/week for my convenience, but it can be much less expensive to pack lunches (and probably healthier at the same time!). It is also easy to spend MORE on a packed lunch if you buy all prepackaged items like little bags of cookies, pretzels, and juice boxes. If you have easy-to-use containers, you can avoid the expensive prepackaged items while also making it easier for your young student to manage their lunch independently. How many times have you sent pretzels flying across the room when you attempted to open those little bags, even as an adult? Or squirted yourself in the face with juice boxes? I also care about the fact that it is better on the environment to avoid disposable food packaging.
A lunch kit for a young student
When my kids started full-day school, I struggled to find a way to pack their lunches in reusable containers that would be simple enough for a 5 or 6-year-old to use without assistance. I didn't want them to have to wait for the teacher on lunch duty to open their containers. I also didn't want multiple containers with multiple pieces that would be easy to lose. If I sent 3 containers for a sandwich, fruit, and vegetable, that is 6 pieces, including lids. Add in a 2-piece water bottle (and some are as many as 4 pieces), and there are now 8-10 pieces that a young kid has to keep track of and bring home every day! Not to mention I would have to wash that many pieces each day!
A multi-section, bento-style box is the obvious solution to the problem of too many pieces, but most of them are too large for a lunch box. Since I wanted to also send a water bottle, I wanted a whole kit that would fit together inside a lunch box with a cold pack.
Here is my criteria for our lunch kit:
Easy enough for a young child to handle without adult help
Easy to clean and all dishwasher safe
Reasonably economical to purchase (and maybe repurchase if the whole thing gets lost)
Durable enough to last at least a whole school year, preferably longer
A single container to fit all the food with as few pieces as possible
A water bottle that is easy to open and completely leak proof when closed
An ice pack to keep it all cold
A lunch box to fit all of it in
I checked out all kinds of containers, water bottles, and lunch boxes to find a combination that would work for our needs. Honestly, I am surprised there is not a pre-made system that meets the criteria I was looking for!
Without further ado, here is the lunch kit I've put together:
Total kit cost (assuming you get the lunchbox on sale for $12): $34.98
This may seem like a lot, but everything except the cube has lasted us multiple school years.  Assuming none of the lunch kit items would be reused another year, the cost of $35 divided by 180 school days equals about $0.19/day for the lunch kit.
Sample lunches & food costs
Here are our lunch kits in action with some sample lunches: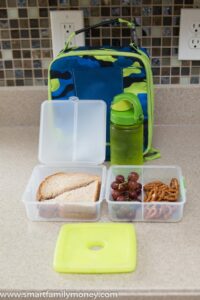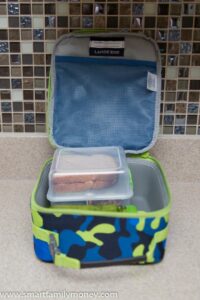 Cost of lunch (using current Aldi prices):
Whole wheat bread: $0.11
All-natural peanut butter: $0.10
Grape jelly: $0.03
Grapes: $0.30
Pretzels:  $0.08
Water: Free
Total food cost:  $0.62
Total cost including lunch kit (assuming it only lasts one school year):  $0.81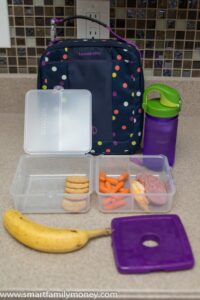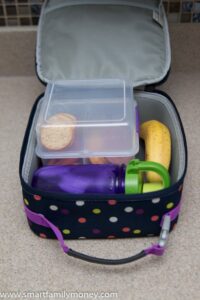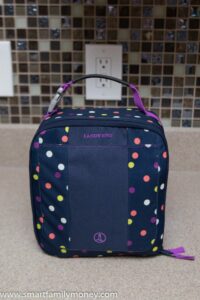 Cost of lunch (using current Aldi prices):
Colby jack cheese: $0.21
Summer sausage: $0.47
Wheat crackers: $0.06
Baby carrots: $0.13
Banana: $0.15
Total food cost: $1.02
Total cost including lunch kit (assuming it only lasts one school year): $1.21
As you can see, these lunches come in at less than half the cost of school lunches, even if you include the cost of buying the entire lunch kit and assume all of it would only last one year.
How has it worked out for us?
We love it! This will be the 3rd year using this set-up for my daughter and 2nd for my son. I'd call it a major success.
The only downside is the lunch cube is not watertight so I can't include wet foods (like applesauce, yogurt, or canned fruit) unless I include a separate container. This hasn't really been an issue as there are plenty of dry foods that my kids enjoy. Occasionally, I'll buy squeezie applesauce packs, pudding cups, or yogurt tubes as a fun splurge, while still keeping the total lunch cost under the $2.50 cost of a purchased lunch.
The lunch cubes seem to last about one year before they start to get worn out, but since I've been able to find them for about $4-5, I think they are a decent value. The water bottles and lunch boxes have lasted over 2 years.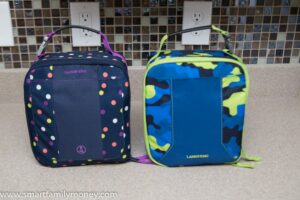 My family chooses to save money by packing lunches most days. How does your family manage lunch costs? Please comment below with your ideas.