Note: This post may contain affiliate links. That means that if you click on them and buy anything at all, I'll get a small commission from the sale (at no additional cost). As an Amazon Associate, I earn from qualifying purchases. For more information, read my disclosure policy.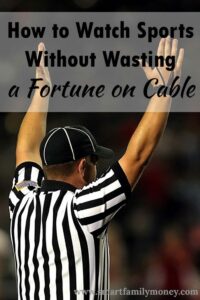 When I talk about "cutting the cord" of cable TV, the most common objection I hear is sports. How can someone possibly watch sports without spending a small fortune on cable TV service? There are a number of ways:
Free over-the-air HDTV. As I discussed in my first post about cutting the cord, you probably already have high-quality, free TV programming whizzing past your head right now (if you live close to an urban area). You just need an HD antenna and you'll be all set! If you'd like to record, rewind, or fast forward through commercials, there are also ways to set up a DVR for over-the-air TV, but most people watch sports live anyway. You'll probably be surprised to see that the picture quality of over-the-air HDTV is actually BETTER than what you were paying for with cable.
Sling TV. Not every game is on free network TV, so if you want more, you can subscribe to a live TV streaming service like Sling TV for around $20-25/month. Sling's sports offerings include ESPN, Fox Sports, regional sports networks, the NFL network, and more. You need a streaming device to use this service, but Sling currently offers a deal for a free Roku with 3 months of prepaid service. One of the great things about services like this is that you can just subscribe for a few months, so you can spend around $100 for the whole football season instead of well over $100/month all year-long for cable or satellite TV.
Playstation Vue. Playstation Vue is another TV streaming service, similar to Sling, that offers additional channels, some DVR features, and some local networks. The downside is that it does cost more, starting around $30/month (and goes up from there). It also requires a streaming device (like a Roku or Amazon Fire TV) or a Playstation 3 or Playstation 4. Although it's a bit more expensive, if you are looking for a more full-featured TV service, or you do not have access to local network channels over-the-air, Playstation Vue is a great option. Like Sling, Vue requires no contract, so you can cancel any time.
Sports bars. Going to a sports bar is a viable alternative to paying for cable TV. If you were previously paying $200/month for a huge cable sports package, that's equivalent to about $50/week. Could you go to sports bars for less than $50/week? Definitely! Sports bars offers camaraderie that you can't find in your own living room and servers that will bring you food and drink whenever you want. That $50/week could buy you a lot of wings and beer!
Friends' houses. Do you have a friend who would never let go of his expensive cable sports package? Maybe you could offer to bring some pizza over every week and join him for the game. Saving money AND spending more time with friends? That's a win in my book!
Being a sports fan is no excuse to continue to pay for overpriced cable TV. There are plenty of great alternatives out there! Do you have a sports fan in your house? How are you getting your sports programming? Comment below.