DISCLOSURE: This post may contain affiliate links, meaning when you click the links and make a purchase, we receive a commission. Also an Amazon Associate, I earn from qualifying purchases. DISCLAIMER: The information and opinions within this content are for information purposes only. Guidance is based on personal interpretations and in no way, represents legal or financial advice. For more information, read my disclosure policy.
I've been stuck in the house with my family for over two months now and we're all getting very stir-crazy. Our summer travel plans have been canceled. We've been wondering if RV travel might be a safe and practical way for us to change our scenery while continuing to practice social distancing.
I interviewed Matt and Diana from Adventurous Way to ask ALL of my newbie questions about RV travel. I outline their answers in this post or you can watch the interview on YouTube.
Diana and Matt have a YouTube channel and a website called Adventurous Way. They left their full-time jobs in the Bay Area in 2018. Since then, they've been living in their RV full-time and traveling all around the United States. Their goal is to visit all of the national parks!
I met Diana at a blogging conference last year and we've all become friends. They've been wonderful support to me as I've started my new YouTube channel. It was wonderful to have a conversation with them to ask ALL my questions about RVing!
Is RV Travel During a Pandemic Legal?
Is RV Travel Allowed in 2020 in the USA?
The short answer is "sort of". Some areas are still under stay at home orders, which mean that people are expected to not leave their home unless they are doing essential errands like getting food or taking care of their health. Non-essential RV travel would then be discouraged.
Other areas have travel bans which discourage non-essential travel of any kind. They also often require self-quarantine for 14 days after crossing state lines.
Note
We are absolutely not encouraging anyone to break their local orders related to staying at home or traveling. Listen to your local officials!
Is RV Traveled Considered Essential Travel?
Again, this varies greatly depending on the area, but in general:
Travel to get home to your place of permanent residence is considered essential.
Travel for recreation is not considered essential and would go against travel bans.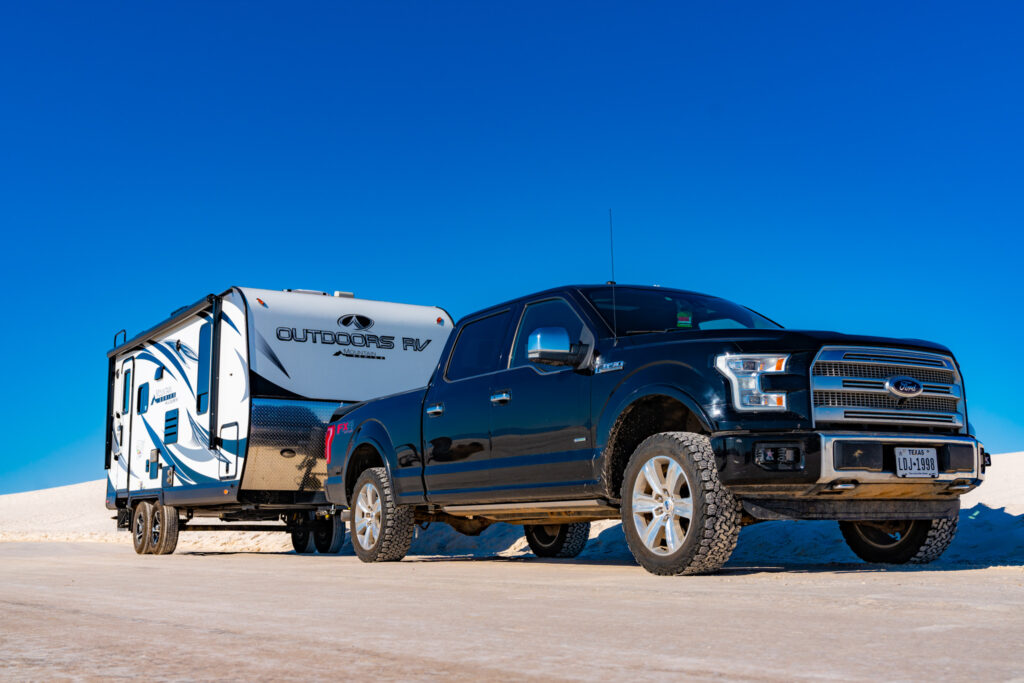 Are RV Parks and Campgrounds Open During the COVID19 Pandemic?
What is open and closed varies by state and by area. The best way to know for sure is to check with the place you want to stay and ask them directly.
It's expected that most RV parks and campgrounds will open in stages that will look something like this:
Stage 1: Permanent residents only
Stage 2: Full season renters allowed
Stage 3: Short term campers allowed, but with communal areas closed or with modified rules (shower houses, laundry facilities, playgrounds, pools, etc)
Stage 4: Fully re-opened
Another change that may be possible at some parks is only allowing camping at every other site to put more distance between campers.
Are National & State Parks Open During the Pandemic?
It varies wildly state by state. Some areas have closed public parks and some have not. These closures are also literally changing daily, so check with your local parks.
What Are the Types of RVs?
If you want a full rundown of all the types of RVs, check out this awesome guide to RV types from Matt & Diana's friends at Camp Addict. We'll give you a quick overview here.
What are the Main Types of Campers?
Motorhomes: has its own engine
RV Trailers: pulled behind a truck or SUV
Truck Campers: camper inside a truck bed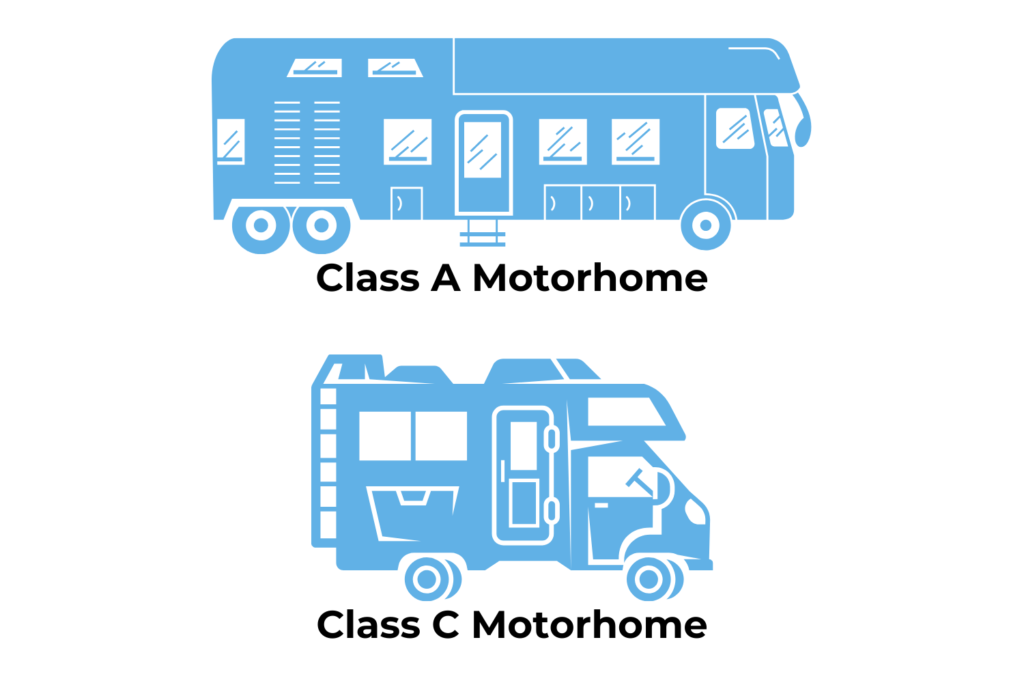 Motorhomes can be divided into 3 classes:
Class A: classic "box on wheels" type
Class B: converted vans, aka "camper vans"
Class C: box with a van front end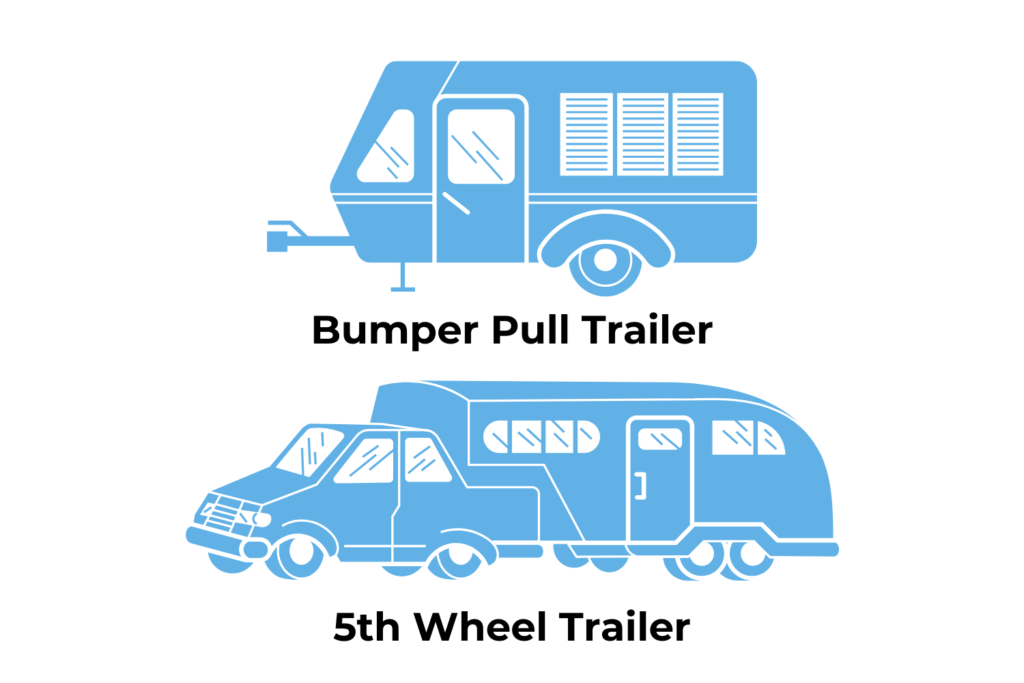 RV Trailers can be divided into 2 main types:
Bumper pull trailers (pull with a hitch)
5th wheel trailers (trailer attaches inside a truck bed)
The majority of recreational RVers use RV travel trailers because then you don't have a separate vehicle to maintain.
Do I need a special driver's license to drive an RV?
Most RV types do not require a special driver's license, so that's something that most RVers don't need to worry about. Some extra-large RVs do, though, so check your local laws.
Is It Possible to Tow an RV with a Larger SUV or Minivan (instead of a truck)?
Yes, it is certainly possible to tow an RV with a smaller vehicle. It all depends on the weight of the trailer and towing capacity of the vehicle.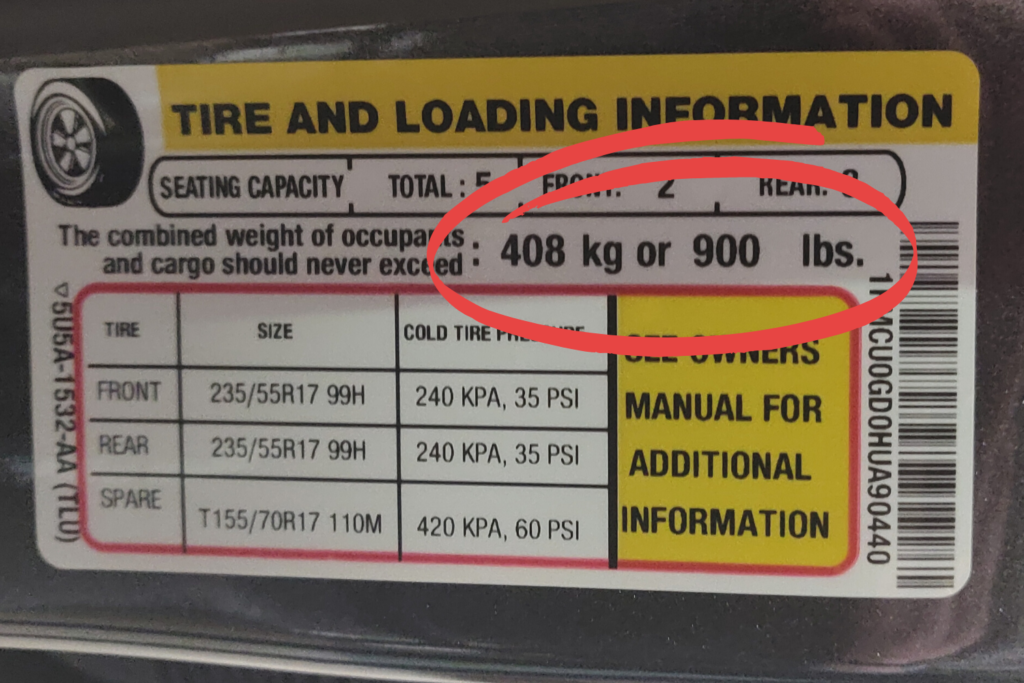 Just be cautious to check the detailed specs of your vehicle and keep in mind the total weight the vehicle will be carrying, including all the passengers and gear.
With a Motor Home, Can I Tow a Car Behind?
Absolutely! Check the towing capacity of your RV. Of course, smaller vehicles are easier to tow.
If you are considering towing a vehicle, check whether it can be towed flat, with all 4 wheels on the ground. Not all vehicles are able to do this so you might need to tow it on a trailer instead.
How Much Driving Skill is Required for Towing an RV trailer?
With a little practice, anyone can learn to tow an RV. If the RV trailer is comparable in size to your vehicle, you may not even notice it. The trailer just follows along with the vehicle.
It is best to have two people who can drive the RV, in case the main driver is unable to drive. It also helps to have a person who can act as a spotter outside the vehicle when backing up or getting into a camping spot.
RVer Pro Tip
If you're not comfortable driving an RV, you can often have a rented RV delivered to the campground where you want to stay. This is especially true with peer-to-peer RV rentals. The owners would rather deliver the RV than have it driven by a nervous first-timer!
What Types of Bathrooms are in RVs?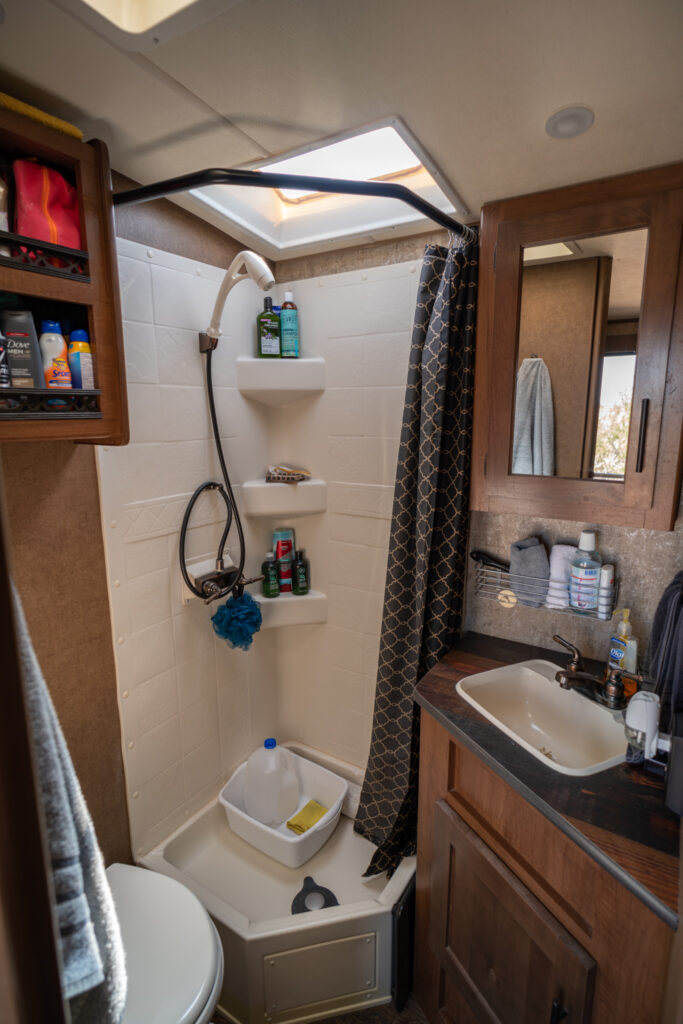 RV Bathrooms are divided into two main categories:
Wet bath: When someone showers, the entire room gets wet, including the toilet and sink.
Dry bath: Has a separate shower, so only the shower gets wet. Dry baths are just like a typical bathroom in a house.
A dry bath is obviously a lot more pleasant to use. Wet baths have to be dried off anytime someone showers and can be rather cramped if you have to stand around the toilet when you're showering.
RV toilets use less water than a house toilet. They are similar to airplane toilets.
How big of a camper do I need to get a bathroom inside?
The majority of RVs do have some kind of bathroom facilities inside. Only the very smallest do not. Smaller RVs are more likely to have wet baths than dry baths.
Is It Gross to Deal With Sewage from an RV?
The short answer is that it's not nearly as gross as you think! Diana was worried about this before they started RVing, but found that the process isn't that bad.
RVs Are Generally Equipped With 3 Water Tanks:
Fresh water: Clean water waiting to be used.
Gray water: Water that comes from the sinks or shower
Black water: Toilet waste
The process for them to empty the tanks looks like this:
Wear gloves & connect the hose to the drain on the RV.
Release some gray water first to make sure the hook-up isn't leaking.
Close the gray water and release the black water.
Finish with the last of the gray water (to thoroughly wash everything through)
Disconnect.
You don't have to see any sewage and there's rarely any smell at all!
What Does "Full Hookups" Mean?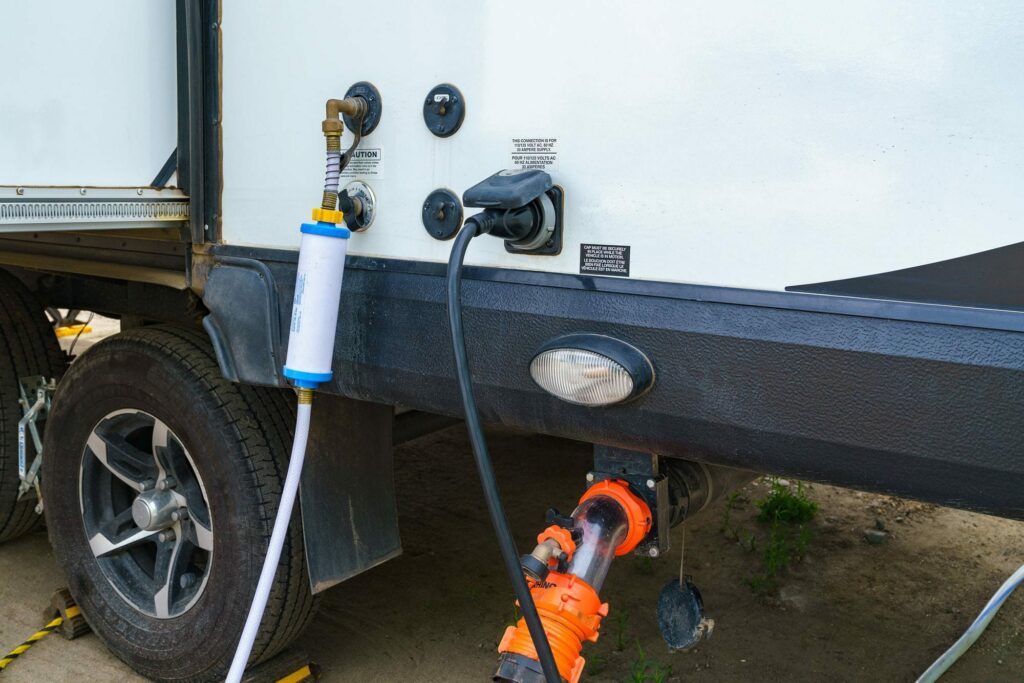 When an RV Park says "full hookups", it means that at every site there is:
Hookup to get fresh water
Hookup to dump black and gray water
Electricity hookup
If you're looking to maybe buy an RV or a trailer for recreational and you plan to stay in mostly RV parks or campgrounds with full hookups, you don't need to worry too much about the size of your holding tanks.
What about camping without hook-ups? How long could a family of 4 last?

Camping without hook-ups, usually somewhere on public land, is called boondocking.
Water is usually the limiting factor for RVers without hook-ups. As an example, Matt & Diana's RV holds 78 gallons (which is pretty large for an RV), but the average US household uses 300 gallons/day at home. Obviously, while RVing, you wouldn't be doing things like watering a lawn, but water is still a big constraint.
Matt & Diana are able to make it up to 14 days on their water tanks now, but they could only make it about 5 days when they first started. They've learned a lot about how to conserve water over their time as full-time RVers.
A typical recreational RV family of 4-5 people could expect to be able to last 2-3 days on their RV water tanks. They could extend this by using public restrooms for toilets or showers, if available.
RV Sleeping Arrangements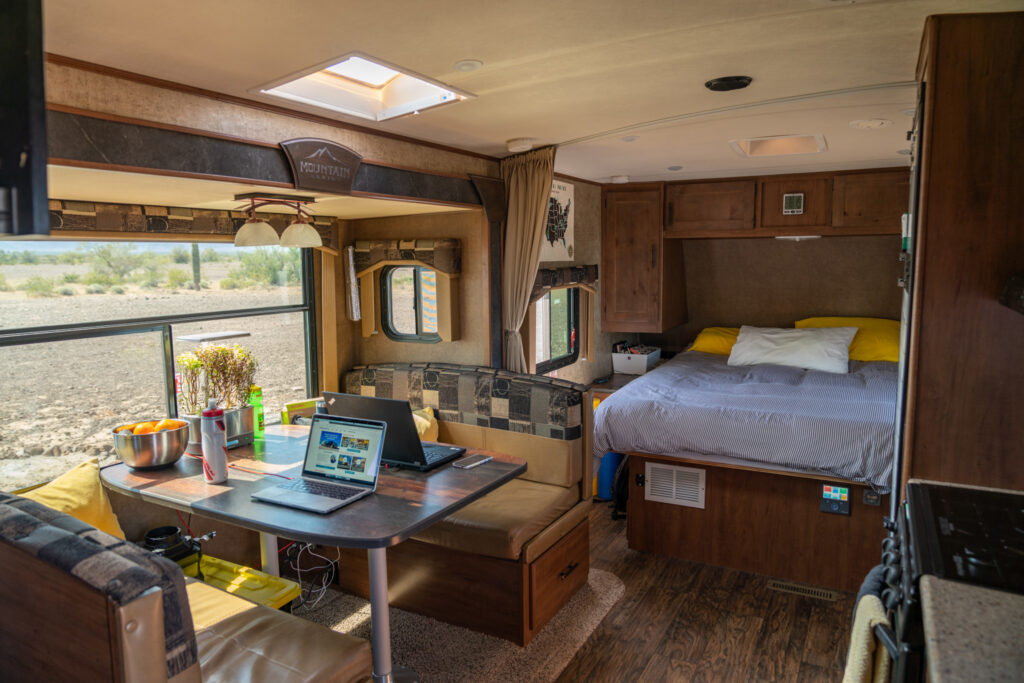 How many people can reasonably sleep in an RV?
RVs are often designed with families in mind and it's not unusual to find one that can sleep 7 or more. Often, RVs that are meant to sleep a larger number have bunk beds.
What sizes of beds are in an RV?
RVs can have any size bed, but be aware that the master bed is often an "RV Queen" bed. RV Queens are the same width as a residential queen, but have a shorter length. This means that regular queen sheets won't fit correctly. It also means that taller people may have their feet hanging off!
Can adults or large teenagers fit in convertible RV beds?
The beds that convert from a dinette vary in size, but they are usually plenty big enough for one adult or two smaller children.
Are the convertible beds actually comfortable?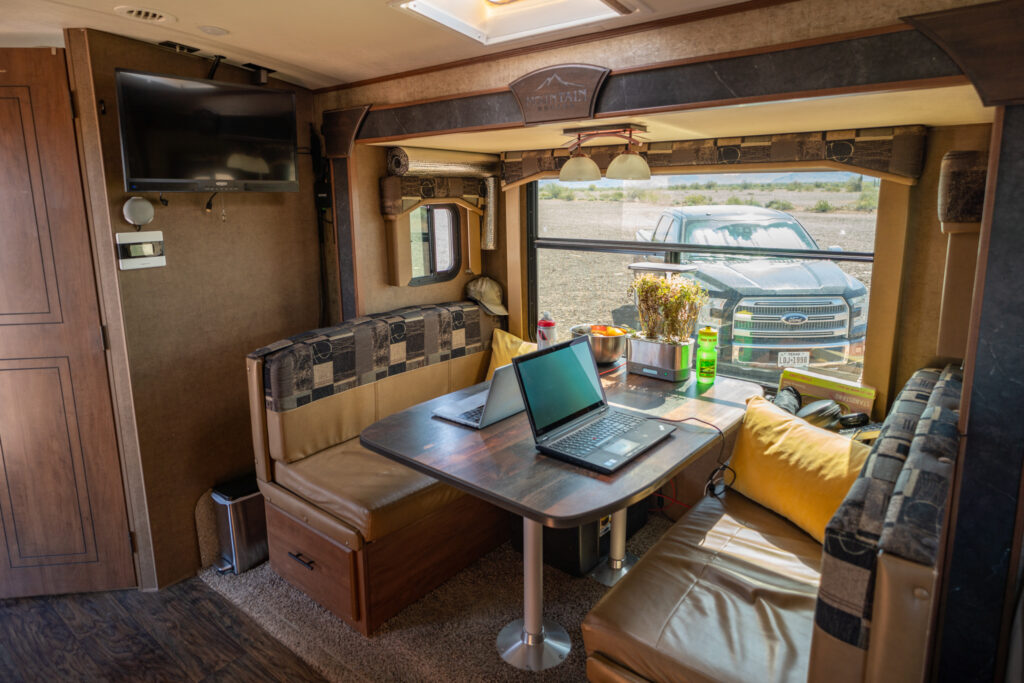 The one in Diana and Matt's RV was plenty comfortable when Diana's 6'4″ brother stayed with them for 2 weeks, so they're not all bad!
Some RV beds only have thin foam cushions on them, so full-time RVers often replace them with thicker mattresses. For a child on a short trip, the thinner cushions are likely fine though.
If I had to convert an RV bed back and forth daily, is it difficult?
The convertible beds are usually quite easy to use. Moving the cushions and flipping the table is all that's required. The most difficult part is often figuring out where to put the items that were sitting on the table!
If you're not moving the RV and the weather is good, it may be practical to leave the bed open and simply use a picnic table for eating.
Tips for Packing an RV for A Family
Matt & Diana shared a few tips for efficiently packing an RV:
Use storage bins in cupboards to maximize space.
Don't bring suitcases, as they just take up space.
Although companies try to sell you RV-specific everything, no special items are required.
Try to bring unbreakable items (glasses, plates, etc) so things don't break while in motion.
Consider using disposable plates and cups to cut down on dishes.
How can I carry 4+ bikes with an RV?
If you want to take 4+ bikes with you while you're towing a trailer, here are some options:
Put the bikes inside the RV while traveling.
Put the bikes inside the bed of the truck, if you're towing with a pickup.
Use a car-top bike carrier to put them on top of the tow vehicle.
Use a tow hitch bike trailer to put them on the back of the RV trailer (but be cautious about weighing down the back too much)
RV Travel Safety
Do I need to worry about people breaking into the camper?
If you're boondocking in the middle of nowhere, there are no people are around, so crime is not a worry!
If you're in a campground, you'll find that most people are friendly and crime is not generally a problem.
The most common thefts are valuable items that are not attached to the RV. For example, Matt recommended that you put a lock on things like:
Detached solar panels
Generators
Bikes or other large recreational items
What do you do about severe weather like tornadoes and hurricanes while RVing?
Hurricanes are easy to deal with – you know it's coming and your home has wheels. You can pick up and leave!
Tornadoes are a bit more unpredictable. In areas prone to tornadoes, RV Parks or campgrounds have facilities designated as tornado shelters (restroom buildings, etc).
What Are Internet Options While RV Traveling?
Cell phone internet – If you don't expect to use a massive amount of data, your existing cell phone is probably enough. You may want to upgrade your plan to include device tethering (if you want to use a computer or tablet).
Free RV Park WiFi – Many parks offer free WiFi. Matt and Diana recommended that you NOT depend on the free WiFi as it tends to be so slow it's almost unusable.
Paid Campground WiFi – Some parks offer paid WiFi for a few dollars per day. This is often much better than any free WiFi and worth the small price, if you want more reliable internet access.
How Many Days of Food Can You Pack In an RV?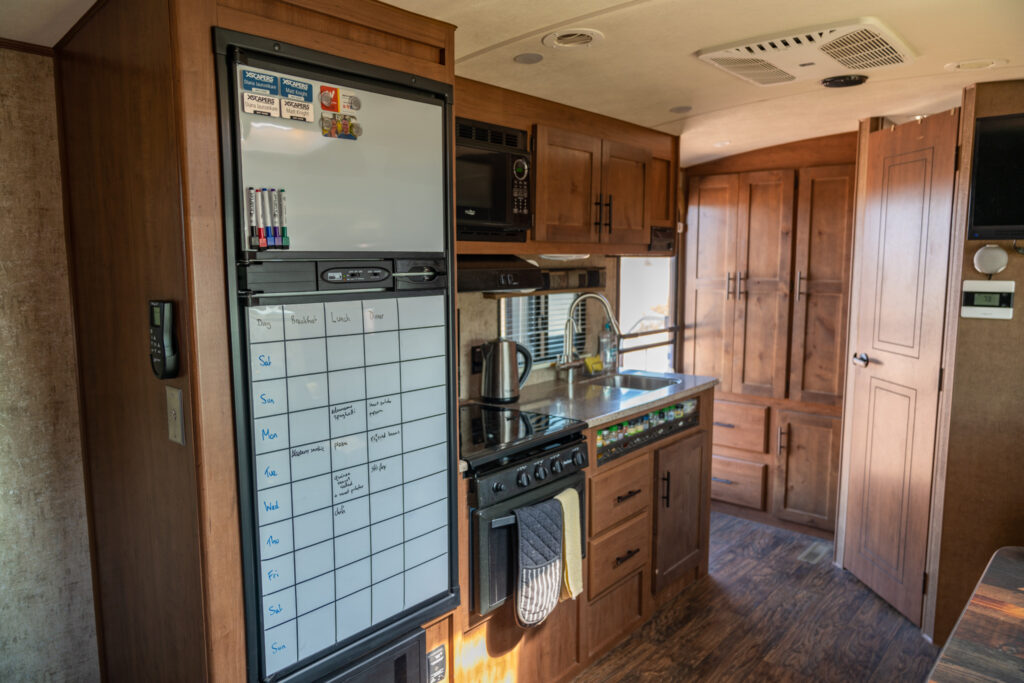 Just like at home, how many days you can last on your food completely depends on how organized you are with your meal planning and shopping. Matt and Diana have found it's easy for them to store 2 weeks of food in their RV and during the pandemic, they have been only grocery shopping once per month.
A typical family should have no trouble packing a week's worth and could definitely last 2+ weeks with some planning.
A Note About RV Refrigerators
Most RV fridges are dual fuel type, which means they can run on electricity (when hooked up in an RV park) or on propane when you are somewhere else. Dual fuel fridges are slower to cool down than regular fridges. So that means you need to:
Run them for at least 24 hours before loading them with food.
Avoid opening them too often so they don't have cool down again.
Pandemic RV Travel: Bringing Pets Along?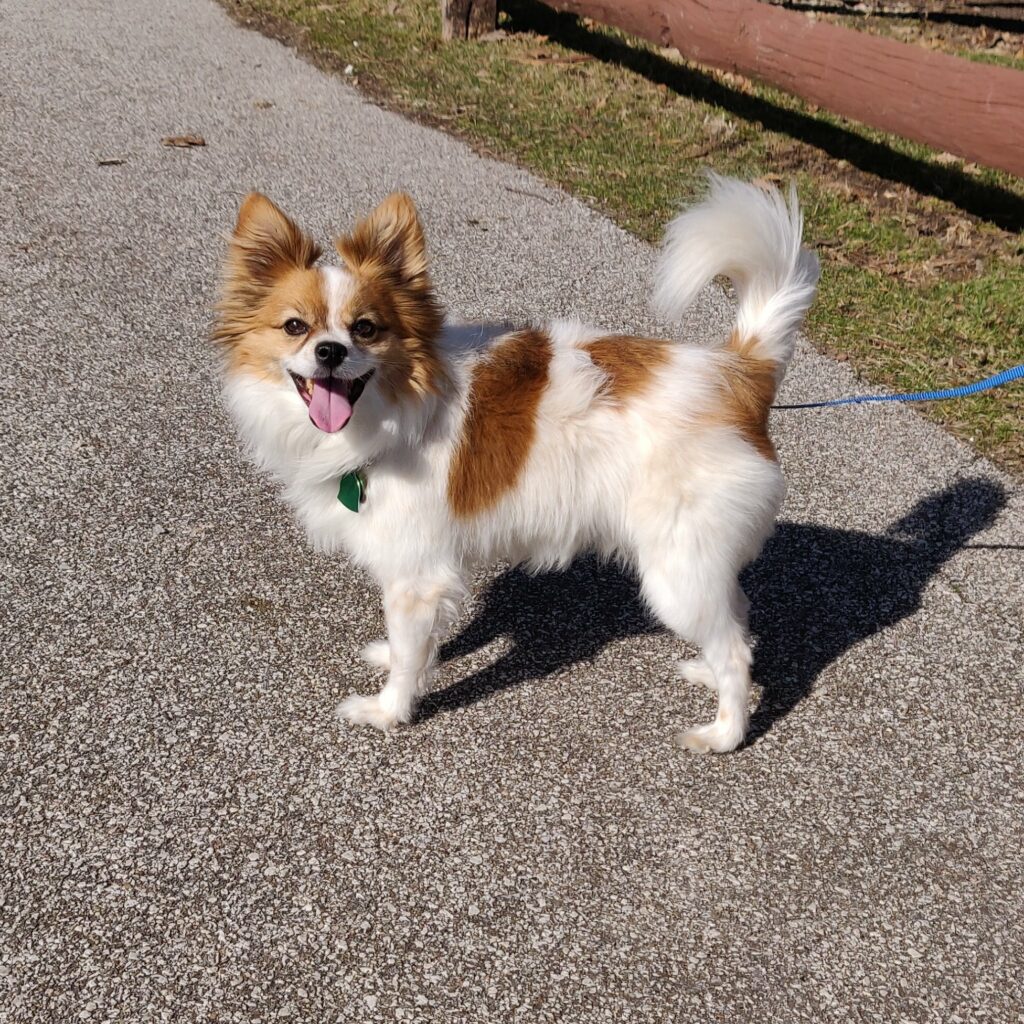 Can I bring a dog in an RV?
Many RVers travel with dogs and they are welcome in most campgrounds. Be aware that dogs are often not welcome on trails in state and national parks. There may be some designated dog trails or areas.
Also, be sure to check your campgrounds rules about leash lengths, as some have rules about how long the leash can be.
Can I bring a cat in an RV?
Plenty of RVers have cats. You'll need to bring a litterbox and remember that cats are generally expected to be leashed outside in campgrounds.
Can I leave a pet in an RV when we go out during the day?
The most difficult part of being able to leave a pet is controlling the temperature while you're gone. If you're hooked up to electricity, you can run an air conditioner. Without an electrical hook-up, you are unlikely to be able to run A/C, so keeping a dog cool enough could be a challenge.
Some ideas if you leave a pet in an RV:
Leave a note on the door with your phone number so someone could call you if there's an emergency with your pet.
Use a remote thermometer or wifi camera to keep an eye on the RV with a thermometer in view so you can watch the temperature.
Social Distancing in an RV?
If you're trying to social distance while RV traveling, here are a few things you might think about:
How far can I drive before stopping for gas?
Motor homes or tow vehicles require a lot more fuel than typical vehicles so be aware that fuel stops will be frequent. Matt mentioned that their Ford F-150 gets 20 mpg normally, but can get as low as 6 mpg while towing through difficult terrain. This means stopping about every 2 hours for gas.
Restroom stops while traveling with an RV during a pandemic
If you'd normally stop at rest areas or restaurants to use a bathroom, you may want to use your RV bathroom while traveling instead. If this is your plan, you'll want to make sure that you can get through the RV at your travel stops (don't pack too much in the center of your RV).
Can I avoid people while checking in to a campground?
Many campgrounds are encouraging online check-in and other "no touch" methods.
How infrequently can I go to the grocery store?
As discussed above, a family in an RV should be able to go at least 1 week without grocery shopping, but 2+ weeks is completely possible with planning.
Some RVs have a clothes washer in them. If you don't have a washer, you could:
Hand wash some clothing items in the RV.
Bring enough clothes to last until you get home.
Wash clothes less often and embrace your natural odor. 🙂
Pandemic RV Travel: What Would It Cost?
How much does it cost to buy an RV?
While motor homes can easily cost over $100,000, travel trailers start at around $15,000 new. There are plenty of nice, used trailers that would fit a family that cost around $5,000, though, so they don't have to be too expensive.
If you are considering purchasing an RV, you do need to think about where you'll store it in the offseason. Many cities or HOAs do not allow RV storage, so you may have to pay to store the RV, which adds up.
RVer Pro Tip
If you want to rent an RV, rent one near where you're going, not near your home, so you don't have to transport it so far! This saves on gas too.
Where can you rent an RV?
There are two main places where you can rent an RV:
A major RV rental chain – Cruise America is the most popular
The peer-to-peer networks tend to be a bit cheaper and they usually come with a fully stocked RV. Of course, the downside is that the quality can be variable.
How much does it cost to rent an RV?
Rental prices for RVs can range from $50/night for an older trailer to $400+/night for a high end motor home. For an average figure, a range of $100-200/night is pretty typical.
How much does gas for an RV cost?
At fuel efficiency as low as 6mpg, fuel costs for RVing can be significant. One small advantage of a pandemic is that fuel prices are ridiculously low right now, though! (A "pro" to a pandemic?)
How much does an RV campsite cost?
Camp site prices vary by the amenities offered:
High end resorts: $100+/night
Typical campground with hookups: $30/night
State park: less than $20/night
Boondocking on public land: $0/night
Waste dumping cost
Here some some typical waste disposal costs:
At a camp site with hookups: Included
Some gas stations or truck stops: $0
At a camp ground if you're not staying there: Around $10
What would a week of RVing cost?
Weeklong RV Trip Cost Estimate
A typical RVing trip budget for a family might look like this:
RV Rental: $1000
Gas: $200
Campsite cost: $200
Food: $200
Total: $1600 for a week long trip.
Pandemic RV Travel: What Are Your Questions?
Do you have any other questions about pandemic RV travel? Did we cover them all? Will your family go RVing during COVID19? Please comment below!