Note: This post may contains affiliate links. That means that if you click on them and buy anything at all, I'll get a small commission from the sale (at no additional cost to you). For more information, read my disclosure policy.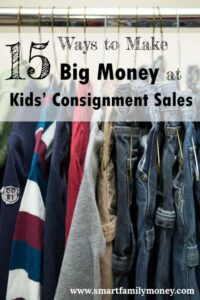 It's fall consignment season! Kids' consignment sales can be an excellent way to both make some money from the clothes that your kids have outgrown AND buy what they need for the upcoming season. In this post, I'll discuss some tips I've learned about how to make money from consignment sales. Next week, I'll discuss how to get the most out of shopping at the sales.
This will be my eighth time selling in my local kids' consignment sale. My sell-rates have averaged around 90-95% of my items being sold. I usually make around $150-$300 per sale, allowing me to buy the majority of my kids' clothing for the upcoming season with the proceeds (much of it bought from the same sale).
Here are some tricks I've learned over the years of selling that can help you maximize your earnings.
Sell only the good stuff. If it has holes, stains, or is out-dated, no one is going to buy it, so don't waste your time tagging it. Charities will usually take stained clothes to resell as rags or you may find a friend who'd be happy to take some of the "play condition" hand-me-downs for summer camps or other dirty activities. We're always looking for old clothes for trips to my in-law's farm or horseback-riding camp.
Check for safety recalls. Make sure that you're not reselling anything that has a safety recall, as selling recalled items is wrong and illegal. You can do an online search to check your items for recalls before tagging them. Also, check your sale's rules about what is allowed, especially for cribs and car seats.
Clean it up. No one wants to buy something dirty, so take a few minutes and clean up your items for sale. A quick wipe with a wet rag will make many toys look new again. If clothing has any dirt or stains, try washing it before tagging.
Price it CHEAPLY. You want to get rid of this stuff, right? Give it a good price that you'd be happy to pay yourself. If you're not sure what kinds of pricing to use, Consignment Mommies has a good guide. Consignment pricing is usually pretty close to the prices at children's resale shops, which is a bit higher than garage sales. A general rules of thumb is pricing around 25% of the original retail price.
Put outfits together. Plaid shorts or flowered skirts are adorable, but what do you wear with them? If you have an outfit that goes together (even if it's not an official matching set), sell it together! The next mom will be thrilled to not have to hunt for the perfect shirt to match.
Combine cheap items to sell as a bigger set. Many sales have a minimum item price of around $2, so combine things worth less to make a set. Things like onesies, undershirts, socks, and paperback books make sense in sets.
Be careful not to damage the items when you're tagging them. Put pins through clothing tags or seams instead of through the middle of the piece of clothing. With games, toys, and books, be cautious not to destroy the item with tape. No one wants to pull the decals off of a toy with the price tag and many people will avoid shirts with pin holes in the middle of the front.
Stay in season. Some consignment sales restrict the sale of out-of-season clothes, but even if your sale allows it, I would encourage you to stick with the current season of clothes. Save your bathing suits for the spring and snow pants for the fall. Even things like t-shirts CAN be used for any season, but they sell much better at spring sales than fall.
Attach your tags securely. If your tags don't stay on your items, you're not going to get your money. Use heavy card stock for your tags (paper rips too easily) and attach them with quality safety pins or a tagging gun. I know a lot of consignors love their tagging guns, but I'm still working through the same box of pins I bought over 3 years ago. However you attach them, imagine a toddler is shaking your item all around. Will it all stay together? If not, make it more secure.
Fill out the description line of the tag thoroughly. If a tag does come off, the sales workers will try to reunite it, but if the description is blank or says something generic like "shirt" or "pants", they're never going to get the tag back together with the item. "Green Lands End Fleece Hoodie" or "Brown Gap Cargo Pants" would be better descriptions.
Remember the toys and gear. Toys and baby gear sell very well at consignment sales. I actually don't think I've ever had a toy NOT sell! Before you finish tagging, clean out your closets, toy room, and kitchen cupboards to look for other kid-related things you could sell.
Mark everything to be discounted. Most sales have a half-price day and it is your choice whether you'd like your items discounted. If the item hasn't sold by the last day, the price is probably too high, so why not discount it? Wouldn't you rather get half price than nothing for the item?
Make sure your "red" dots are actually red. If your sale uses red dots to mark the discounted items, make sure your dots are colored red. Many people print tags on black & white printers and end up with gray dots. This confuses the customers and they might pass up your item, thinking it's not really discounted. If you're using a black & white printer, just color the dots in with a red marker (this can also be a fun way to get the kids involved).
Volunteer at the sale. Usually sale volunteers have reduced fees or earn a higher percentage of the sale price. Volunteering can be fun and increase your profits. Volunteers also get early access to the sale for shopping, which I'll talk more about next week.
Iron or steam ALL of your clothing. Yes, I mean ALL OF IT! I believe this is the #1 reason I've had such a great sell rate on my consignment items. I steam all of my items, and the difference between a wrinkled t-shirt or pajama set and a steamed one is incredible. Sometimes, I price the items before steaming them and then after steaming, I think, "Wow, I could have put a higher price on that!" I probably wouldn't buy a steamer just for consigning, but we use our steamer daily for my husband's dress shirts. We started with a portable steamer and loved it so much that we upgraded to a full-size. If you don't have a steamer, borrow one, use an iron, or even try wrinkle-release spray. However you do it, GET THOSE WRINKLES OUT!
I hope my tips help you to make top dollar for your outgrown kids clothes. After you've used all of these tips to make some good money, what do you do with it? I usually buy more kids' clothes to replace the ones I just sold! At least with buying mostly used and then reselling, I can keep the costs low, while still keeping my kids well-dressed. Come back next week for my post about how to get the best deals when shopping at consignment sales!
If you're in the Columbus area and looking for a consignment sale, I'd highly recommend Three Bags Full. I've loved consigning with them for the last 4 years!
Cindy is a number-loving, money-saving expert. She pulled her own family out of debt. Now, she cuts through the nonsense and crunches numbers to find you the greatest value. When you
join the Smart Family Money community
, you'll get the tools you need to take control of your money. You will gain confidence in your financial future and freedom to spend your time on the things that matter most to you today.
Latest posts by Cindy Scott (see all)