Note: This post may contain affiliate links. That means that if you click on them and buy anything at all, I'll get a small commission from the sale (at no additional cost to you). For more information, read my disclosure policy.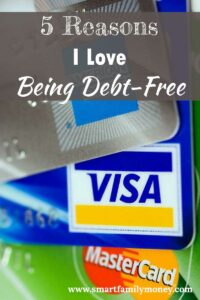 I've heard the arguments why living debt-free isn't a good goal. It's better to leverage the bank's money or we could earn great credit card rewards or we could beat the returns of paying off low-interest debt by investing that money instead. I do see the merit in those arguments from an intellectual standpoint, but I think there's so much more to money than knowledge. Money involves a lot of psychology, emotions, and relationships. I certainly feel that my life is better now than it was when I had consumer debt.
Here are the reasons I love being debt-free:
Easier to live within my means. When borrowing is no longer considered an option, it's kind of impossible NOT to live within my means. If I don't have cash to pay for something, I don't buy it. Simple as that. It makes decisions easier.
Loss of income is less scary. Since I don't have a lot of monthly debt payments (only a mortgage), I could live on my emergency savings longer, in the case of a job loss or significant reduction in income. The thought of a loss of income was a lot scarier when I had a mortgage plus 2 car payments and multiple student loans.
Healthier marriage. The stress from debt can be tough on a marriage. In fact, money is the leading cause of stress in marriages so anything I can do to reduce those money concerns is bound to help my marriage.
More freedom. Since my money doesn't need to be used to pay monthly debt obligations, I have more freedom to do whatever I want with that money. I could spend it, save it, or give it away. I get to give every dollar a job in my budget because that dollar isn't already committed into the slavery of debt.
Better sleep. I think this is the biggest reason I love being debt-free. It's so much easier to sleep knowing that my finances are secure and I have the flexibility in my budget to handle whatever life throws my way. There are no credit card rewards that could beat that feeling!
What about you? Are you debt-free or working towards it? If not, what are your reasons? Comment below.
Cindy is a number-loving, money-saving expert. She pulled her own family out of debt. Now, she cuts through the nonsense and crunches numbers to find you the greatest value. When you
join the Smart Family Money community
, you'll get the tools you need to take control of your money. You will gain confidence in your financial future and freedom to spend your time on the things that matter most to you today.
Latest posts by Cindy Scott (see all)