Note: This post may contain affiliate links. That means that if you click on them and buy anything at all, I'll get a small commission from the sale (at no additional cost). As an Amazon Associate, I earn from qualifying purchases. For more information, read my disclosure policy.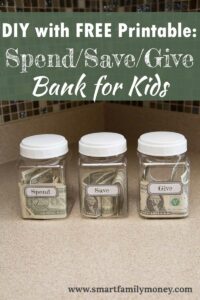 In my post about how I handle allowance for my kids (currently ages 7 and 8), I mentioned that they have a money storage system. When we started the allowance, I wanted to teach the kids about the different ways money can be used: spend it, save it, and give it. While we could have set up a budget system on paper or electronically, I felt that a physical bank would be a better visual for young kids. I figured I could just purchase a Spend/Save/Give bank for each of my kids, but I was shocked to see how much the commercially available banks cost. That was more than I wanted to spend from my own "spend jar"!
What does a frugal gal do when faced with something that is too expensive? Make my own, of course! To make it easier for you, I'll share a tutorial on how I did it.
Supplies Needed:
3 plastic jars
Printable labels or Paper
Heavy Duty Packing Tape
Permanent Marker
Printer
Instructions:
Gather Your Supplies. The most difficult thing to find is the plastic jars at a reasonable price. I was thrilled to find ours at the Dollar Tree for only $1 each. They sell them in packs of 24 on their web site, but you can probably find the single containers in a local store. Glass jars seem to be easier to find, but I felt glass was too much of a safety hazard in our house.
Print out the Labels. If you'd like to use my label design, you can download a Word document of the Smart Family Money Spend Save Give Labels. I printed them on Avery 48863 2″x4″ mailing labels because I had some leftover from another project. If you don't have any labels, you can print them on paper and then use packing tape to secure them to the jars.
Cut out the labels. I carefully cut around the labels so they'd have a cute banner shape to them.
Attach labels to the jars. Stick the labels on the jars, or if you used paper, use the packing tape to secure them. Even if you used labels, I would recommend covering the labels with packing tape to make them more durable and protected from scribbling. The packing tape can also help the edges from rolling up over time. I love the Scotch heavy duty packing tape for these kinds of projects.
Label the bottoms of the jars with a marker. I recommend writing the child's name and the jar label (spend or save or give) on the bottom of the jar with permanent marker. If you're making these for multiple children this will be extra important so you know who it belongs to, but it's a good idea to have a non-removable label just in case.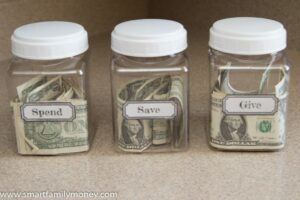 Since I used mostly supplies we had around the house, this project cost me around $3 per child. We've been using them for 8 months now and they're working out wonderfully.
Our Household Guidelines for Spend/Save/Give:
To help the kids learn money concepts, we've set up some basic guidelines for them:
It is their choice how much money to put into each jar each week. Of course, I give encouragement for saving and giving.
I encourage them to make goals. They are both planning to use their SAVE money for a car someday and planning to use their GIVE money to each buy a gift for a needy child this Christmas.
Once money goes into SAVE or GIVE, it does not come out to go into SPEND.
SPEND money is allowed to be moved into SAVE or GIVE if they want.
SAVE money stays in the jar until we go to the bank to put it into their savings account. We go once every few months and usually take the SAVE jar with us to the credit union.
SPEND money can be spent on anything they want, within reason. I also encourage them to have goals for spending, like saving up for a desired toy. They usually take the money out of the SPEND jar and put it in their wallet when they want to spend it at a store.
This system could work for any child from about age 5 until they're old enough to start handling their own bank account and have a more grown-up budget.
How do you teach children about how to use money? Please comment below.