Note: This post may contains affiliate links. That means that if you click on them and buy anything at all, I'll get a small commission from the sale (at no additional cost to you). For more information, read my disclosure policy.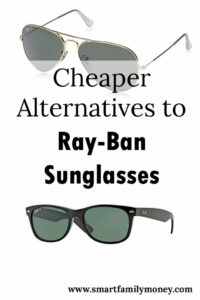 This is the next post in my wildly popular "cheaper alternatives" series. In this series, I look at popular brands and find cheaper alternatives. Today's topic is cheaper alternatives to Ray-Ban sunglasses. Ray-Bans have become so common that people often have trouble even thinking of any other sunglass brand! I'll look at alternatives (or some people might say Ray-Ban dupes, Ray-Ban lookalikes, or Ray-Ban knockoffs) of the four most popular styles: Aviator, Wayfarer, Clubmaster, and Caravan.
Cheaper Alternatives to Ray-Ban Sunglasses
I looked for cheaper sunglasses that look like Ray-Bans that had:
High review ratings from customers that check out with Fakespot. There are many sunglasses with fake reviews, so be careful!
UVA/UVB protection
Polarized lenses
There are plenty of great sunglasses that are MUCH cheaper than Ray-Ban's price of $150+.
Cheaper Alternatives to Ray-Ban Wayfarer
When most people think of Ray-Bans, they think of Wayfarers. They're classically cool and they've been around for a very long time. Fortunately, there MANY choices of cheaper wayfarer sunglasses.
Cheaper Alternatives to Ray-Ban Aviator Sunglasses
Aviator sunglasses have come back in a big way! Here are some cheaper aviator sunglasses:
Cheaper Alternatives to Ray-Ban Clubmaster
Cheaper Alternatives to Ray-Ban Caravan
Caravans have a more squarish frame than the Ray-Ban Aviators. They're a popular choice, and thankfully you can get the look, even on a tiny budget! Here are some cheaper versions of caravan sunglasses:
More "Cheaper Alternatives"
If you enjoyed this post, check out my other cheaper alternatives posts:
Cindy is a number-loving, money-saving expert. She pulled her own family out of debt. Now, she cuts through the nonsense and crunches numbers to find you the greatest value. When you
join the Smart Family Money community
, you'll get the tools you need to take control of your money. You will gain confidence in your financial future and freedom to spend your time on the things that matter most to you today.
Latest posts by Cindy Scott (see all)