Note: This post may contains affiliate links. That means that if you click on them and buy anything at all, I'll get a small commission from the sale (at no additional cost to you). For more information, read my disclosure policy.
Does anyone else dream of shoes as comfortable as sneakers, but appropriate for work?
I'm a very casual person. A "fancy day" for me is skinny jeans and sneakers. I'm happy to be fully dressed in non-pajama clothing by the time I'm dropping the kids off at school. Am I right, mamas?
Unfortunately, the world sometimes requires me to step it up a notch with my clothes and shoes. Last year, I was headed to a professional conference and I wanted to look my best.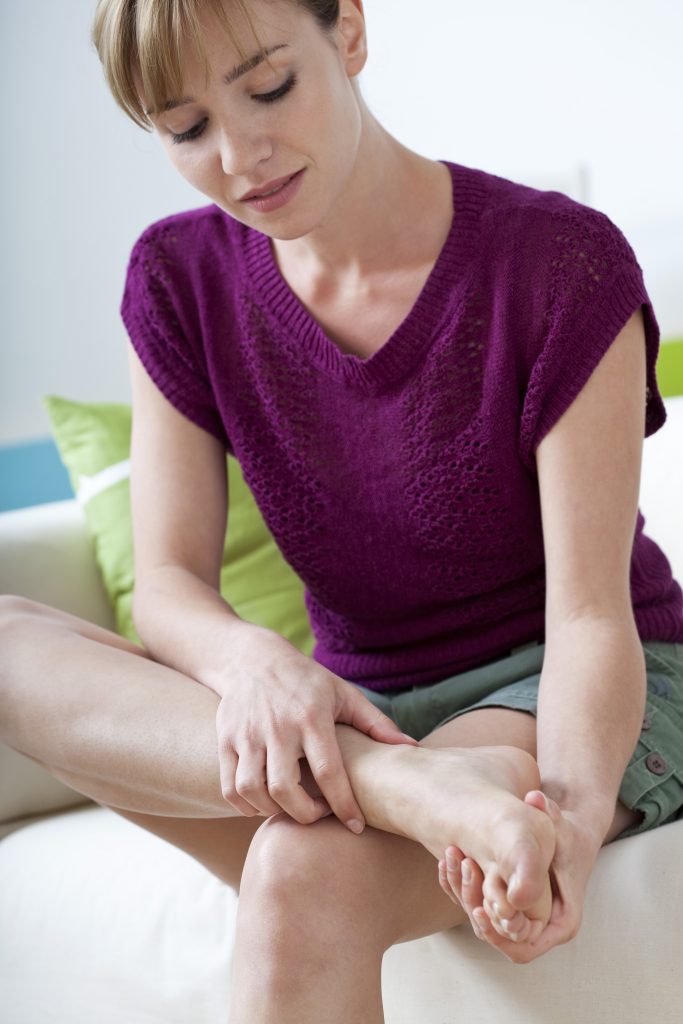 I also have to watch out for shoes that might hurt my body. I've had a variety of foot and back problems, especially post-babies.
It's a good thing I love those tiny humans I created… because they sure did a number on my body. I'm sure the other moms can relate!
In my quest for super comfortable, but stylish shoes, I kept running across ads for Tieks and Rothy's ballet flats.
I think Pinterest especially targetted me as a 30-something woman who might enjoy some comfy flats. Have you seen those ads?
At $125-295, there's no way those brands would fit into my conference-prep budget! I went searching for cheaper alternatives to Tieks and Rothy's.
These aren't Tieks or Rothy's knock-offs or dupes. They're just shoes with similar qualities at a lower price.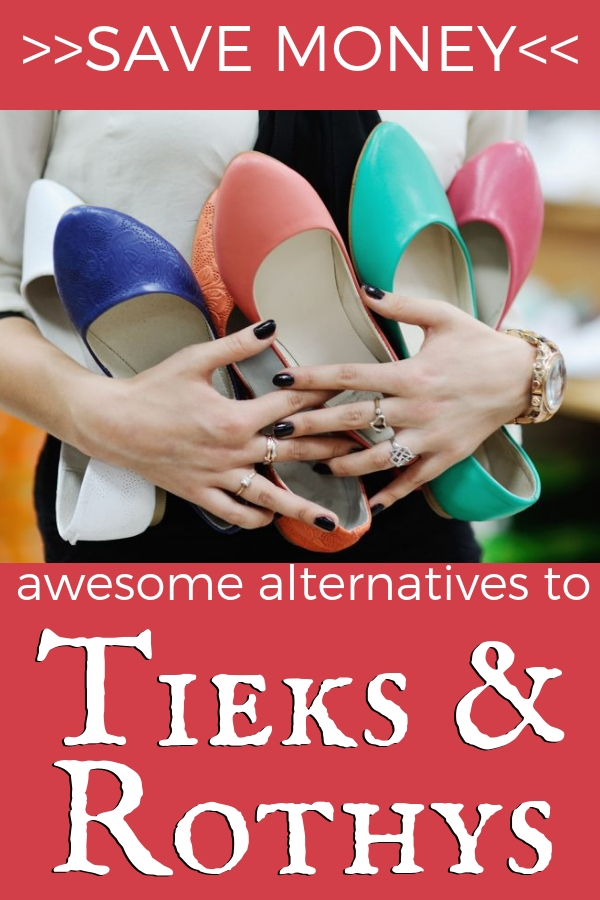 What are Tieks Shoes?
Tieks are high-end ballet flat shoes that cost $175-295. Most are made of soft leather. They have a split rubber sole and a cushioned insole.
Before I discuss cheaper alternatives to Tieks ballet flats, let's look at the qualities that people like about Tieks:
High-quality materials. Most models are made of high-quality leather.
Cushioned insoles. Tieks have a cushioned insole for comfort.
Durable. They hold up a very long time.
Flexible & Packable. The sole folds in half for comfort and carrying in a purse or suitcase.
There are a few downsides to Tieks ballet flats that often get mentioned:
Takes time to break in. While most people say they're comfortable, they can be painful during the break-in period.
Little arch support.
Teal soles and back stripe. While some people like this, others would prefer a completely neutral shoe.
Although they are foldable, many folks complain that they're still pretty bulky to take in a purse.
What Are Rothy's Flats?
Rothy's are a different type of ballet flat that cost $125-145. They're made of recycled water bottles with a rubber sole. Here are their main features:
Made from recycled materials
Rubber sole
Upper is seamless knit
Available in round toe or pointed
Machine washable
Very durable
Knit fabric look
Tieks Alternative:
Yosi Samra Women's Samara
Yosi Samra Samara ballet flat is probably the most similar alternative to Tieks that I could find.
Similarities Between Yosi Samra Samara Ballet Flats and Tieks:
Real leather
Cushioned insoles
Durable
Flexible & Packable – folds in half just like Tieks
Differences Between Yosi Samra Samara Ballet Flats and Tieks:
Elastic around the top edge
No teal blue soles or stripe
Not available in as many colors
1/2 to 1/3 of the price of Tieks
Although the Yosi Samra Samara ballet flats are not cheap, they're MUCH less expensive than Tieks and seem to be pretty comparable.
They have excellent reviews. For 1/3 to 1/2 the price of Tieks, they seem like a sensible alternative:
Tieks Alternative:
Ollio Comfort Ballet Flat
The Ollio comfort ballet flat was the least expensive alternative to Tieks that I found, but there are obvious differences in quality.
On the plus side, the Ollio flats have a lot of good reviews and women seem to find them very comfortable. You could buy 7-12 pairs of Ollio flats for the price of one pair of Tieks!
Similarities Between Ollio Comfort Ballet Flats and Tieks:
Cushioned insoles
Flexible design
Differences Between Ollio Comfort Ballet Flats and Tieks:
All synthetic materials vs leather
Elastic around the top edge
No teal blue soles or stripe
Not available in as many colors
1/7 to 1/12 of the price of Tieks
At such a low price with so many good reviews, I think the Ollio Comfort Ballet Flats are worth considering:
Tieks Alternative:
Lucky Brand Emmie
While searching for recommended flats, I saw many devoted fans of the Lucky Brand Emmie Ballet Flat. It seems to be the standard flat that everyone loves.
It's not completely the same style as Tieks, but I felt it deserved a mention as a high-quality, inexpensive flat.
It's available in a variety of colors and materials and retails for around $60. It can be found on sale often in the range of $30-50, making them 1/3 to 1/6 of the price of the least expensive Tieks.
Similarities Between Lucky Brand Emmie and Tieks:
Available in real leather
Available in a wide range of colors and materials
Cushioned insoles
Similar top edge
Differences Between Lucky Brand Emmie and Tieks:
Doesn't have a foldable sole
No teal blue soles or stripe
1/3 to 1/6 of the price of Tieks
If you're looking for a quality flat a decent price, the Lucky Brand Emmie Ballet Flat is a great option:
Rothy's Alternative: Skechers Cleo
This Sketchers brand shoe has a cute design that is similar to Rothy's. It features:
Flat knit upper
Rubber sole
Stretch fit
Vegan materials (all man-made)
Many reviewers mentioned that it RUNS SMALL so it's recommended to order at least a half size up
Sketchers Cleo comes in a few different versions, so I linked to several below.
More Supportive Ballet Flat Options
Personally, I usually wear orthotic-type insoles most of the time. I could never wear any of the above flats for very long because of their lack of support. Do you get sore feet too?
I continued my search for professional conference shoes. I was looking for flats that were supportive or could fit my inserts. I checked out some options at a local comfort shoe store.
Vionic Spark Minna Ballet Flat
Most people seem to agree that the Vionic Spark Minna Ballet Flat is one of the most supportive flats available.
It's not quite as comfortable as wearing sneakers, but I think it's as close as you can get in flats. It is so cute and comes in a ton of colors!
Rockport Cobb Hill Emma Ballet Flat
The Rockport Cobb Hill Emma Ballet Flat was on clearance in my size at the local shoe store. I was very impressed with how comfortable they were! And cute too!
Sock Liners for Ballet Flats
No matter which kind of flats you get, sock liners can make them a little comfier. I tried these liners in the shoe store. They were comfortable but hung out of the flats and looked silly.
To get some truly hidden ones, I ordered these liners and I'm thrilled with them. Very comfortable and totally hidden in most flats.
They aren't likely to fit if you have large feet, though. I wear an 8.5 and they're quite snug.
Which Flats Did I Choose?
I bought the Rockport Cobb Hill Emma Ballet Flat for my professional conference. I broke them in by walking my kids a mile to school. No blisters or sore feet!
I also added the Vionic Spark Minna Ballet Flat to my Christmas list. My mother-in-law got them for me. I have to say… they're the most comfortable dress shoes I've ever owned.
Neither shoes are as comfortable as sneakers, but they're a good choice for looking professional without hurting my feet.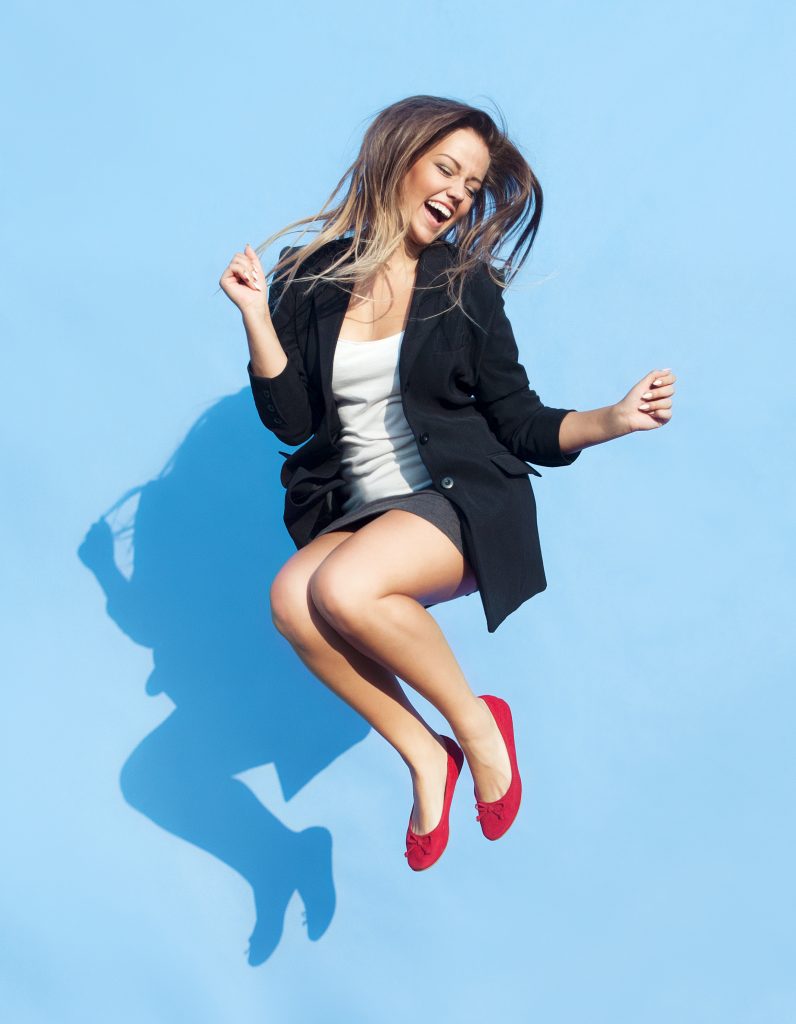 Other Awesome Cheaper Shoes
If you enjoyed this post, you might like to read some of my other cheaper alternatives posts. Check out the awesome shoes in the posts about cheaper alternatives to Sperry boat shoes and cheaper alternatives to LL Bean duck boots.
Have You Tried Any of These Tieks or Rothy's Lookalikes?
Have you tried Tieks or Rothy's ballet flats or any of the Tieks or Rothy's alternatives I suggested? I'd love to hear your comments below!
Cindy is a number-loving, money-saving expert. She pulled her own family out of debt. Now, she cuts through the nonsense and crunches numbers to find you the greatest value. When you
join the Smart Family Money community
, you'll get the tools you need to take control of your money. You will gain confidence in your financial future and freedom to spend your time on the things that matter most to you today.
Latest posts by Cindy Scott (see all)