Do you have a 10-year-old boy in your life you love, but who is very hard to buy gifts for? Ten is a tough age… They're not little kids anymore but they're not teens either. Check out this list of coolest gifts for 10 year old boys that will help you choose the perfect gift (within your budget) that he will love!
The list of gift ideas is separated into 3 budget categories: budget gifts, mid-range gifts, and splurge gifts.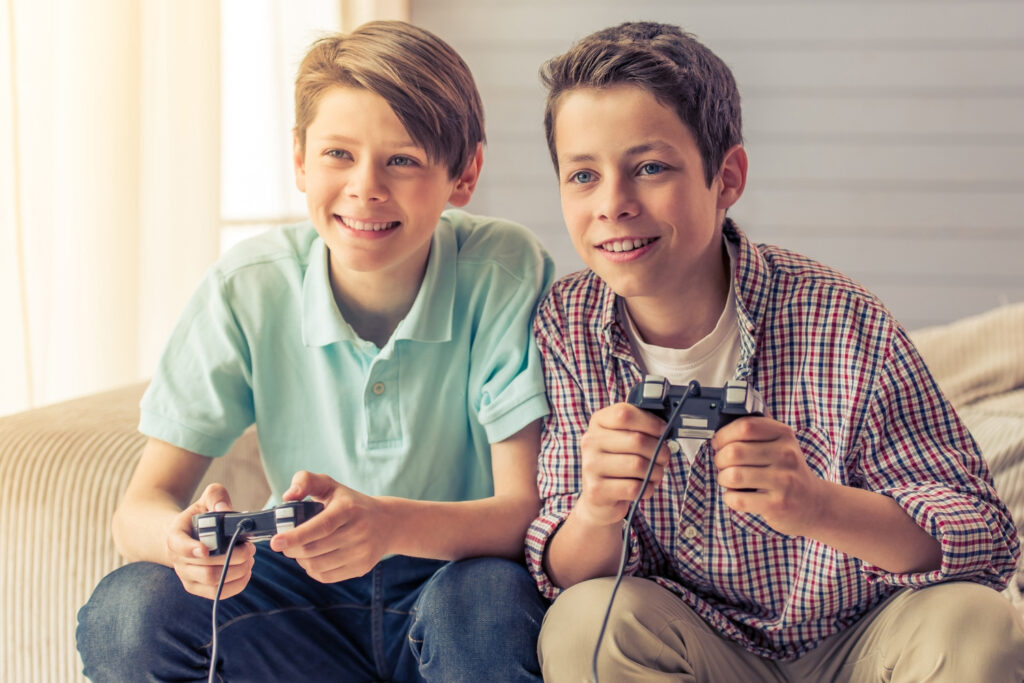 Summary: Coolest Gifts for 10 Year Old Boys
If you want to skip to the links, here's a quick summary box for you:
Best Budget gifts for 10 year old boys
Small Lego sets
Lego sets are always a great choice and there are plenty of really cool smaller sets that can fit any budget. This Lego Creator dinosaur set has a lot of play options for a small price.
Sport Socks
Boys this age love cool sport socks! Any 10-year-old boy would enjoy these nice socks from Under Armour.
Handheld Puzzles
Handheld puzzle games (in the style of Rubik's cube) are fun and there are so many different ones out there. My son has a few and his favorite is this Gearball. It's so fun that even adults like to play with it.
Water Guns
What 10-year-old boy doesn't love a good water gun? For the most awesome combo ever, check out this Fortnite themed water gun.
Accessories for Electronics
While a new phone or tablet may be out of your budget, there are plenty of fun electronics accessories that are budget-friendly, like multi-port wall chargers, portable batteries, or this adorable Fortnite Pop Socket.
Nerf Guns
Check out the post about cheap Nerf guns. They're an excellent choice for a 10-year-old boy. As a great all-around choice, I'd recommend the N-Strike Elite Disrupter.
Mid-range priced gifts for 10 year old boys
Logic Games
Single-player logic games are fun as a game or just to play around with. We have a number of them and Gravity Maze is definitely our favorite.
Walkie talkies
Doesn't every 10-year-old boy imagine that he's a fearless adventurer? A fun set of 2-way radios can let him communicate with his friends on his awesome adventures. This set of 3 is reasonably priced and sturdy.
Wireless Earbuds
Wireless earbuds are definitely a hot item for tweens right now. This pair comes with a handy charging box.
Books
Does the 10-year-old boy in your life like to read? Many boys this age love whacky non-fiction books and adventure/fantasy stories. One of our favorites is the Percy Jackson series.
Insulated Cup
Reusable, insulated cups can be a fun "grown-up" gift for a 10-year-old. While Yeti cups are the most well-known, this Beast brand cup comes with all the accessories for a lower price. My husband has one of these for work and loves it.
Stem Exploration toys
Toys that allow learning about electronics, science, and engineering are a hit with the tween boy crowd. We love our Snap Circuits sets and this classic set is a great starter.
Grabbing Tool
A mobility device for a kid? Trust me… kids think these are the best! We got my son this grabbing tool for Christmas last year and he has used it constantly.
Sometimes, he uses it for a practical reason like getting the socks from under his bed and sometimes, he does something odd like fill a glass of water with it. Either way, it's endless goofy fun.
Sports Hoodies
If there is one clothing item that almost every 10-year-old boy would love to receive, it's a nice hooded sweatshirt. Any of the major sports clothing brands are nice. My son's favorite is the Under Armour storm hoodie. They are warm and water resistant (so they can be worn instead of a coat too).
Size youth large or extra large is good for most 10-year-olds but always choose on the larger side for sweatshirts.
splurge gifts for 10 year old boys
Drone with Camera
If you have a larger budget, a drone is an awesome gift for a 10-year-old boy. Bonus: it gets them outside! This one is highly rated for as a great one for beginners.
Electric Scooter
It's easy to imagine why boys love electric scooters. Who wouldn't want to tool around the neighborhood on one of these?
Epic Lego Sets
If you really want to win "coolest gift of the year", consider some of the giant Lego sets. My kids have been drooling over the Hogwarts castle set. Or there's the always drool-worthy Lego Death Star.
What about Video Games?
Video games are probably the most obvious gift for 10-year-old boys, but I didn't include them in this list. Why? Because unless you know specifically which game or game system he wants (or already has), it's hard to guess what would be a good purchase. You don't want to waste your money on an expensive gift that won't get used.
If you want to buy video games, either ask him (or his mom) what he specifically wants or buy a gift card. Amazon gift cards are always good, or a game system specific gift card like an Xbox gift card or Nintendo gift card can work if you know which system he has.
Summary: Best Gifts for 10 Year Old Boys
gift ideas for a 10-year-old boy
What do you think are the best gifts for 10 year old boys? Did I miss anything? Please comment below!