Note: This post may contain affiliate links. That means that if you click on them and buy anything at all, I'll get a small commission from the sale (at no additional cost to you). For more information, read my disclosure policy.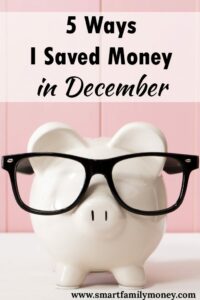 This recurring feature on the blog is a place to talk about the little things I did last month to save money. Hopefully, this will give you some ideas of things you can do in your own life. I often write about the big ways to save money, but the little ways certainly add up. Here are some ways I was able to save money in December:
5 Ways I Saved Money in December
1. Bought Fewer Christmas Presents
You know those people that are impossible to buy Christmas presents for? They're usually the adults in the family that already have everything they want in life. Even if they wanted something, they could easily buy it themselves. This year, I decided that I would stop buying presents for almost all of the adults in my life. I was a little nervous to talk it over with them, but you know what? It was fine! Actually, I think everyone involved was a bit relieved. They all know we love them and would do anything for them… except buy them presents that they don't want!
2. Watched for Deals on Christmas Gifts
For the gifts I did buy, I watched out for deals. For example, before buying things on Amazon, I always try to check CamelCamelCamel to make sure I'm getting a good price. If the current price isn't very good, I set up a price alert and wait.
3. Stayed Home Over Break
My kids were out of school for a full two weeks for winter break. While many families were running around going to restaurants, movies, and trampoline parks nearly every day, we mostly stayed home. We did go to one movie and a couple restaurants, but for the most part, we did a lot of chilling out in our pajamas. It not only saved money, but allowed us a much-needed rest from "real life".
4. Bought a Reusable Travel Mug
I have been drinking more hot tea lately since the weather has been cold. I wanted to take my tea with me while I walk my kids to school or drive to do errands, but I didn't have a travel mug. Starbucks drive-through is an option, but it would have cost around $2 each time for hot tea. Instead, I bought a stainless steel travel mug for $7. Since making tea at home costs less than $0.20 each time, I broke even on my cup purchase after 4 cups of tea compared to Starbucks. I could have saved even more if I'd bought a mug from the thrift store. I've seen many for less than $1.
5. Celebrated New Year's Eve with Friends
While there were plenty of options around our city for family-friendly (and expensive) New Year's Eve activities, we celebrated at a friends' home. We had plenty of food, drinks, and silly games all night long. We all had a lot of fun and spent very little.
How did you save money in December? I'd love to hear in the comments below!
Cindy is a number-loving, money-saving expert. She pulled her own family out of debt. Now, she cuts through the nonsense and crunches numbers to find you the greatest value. When you
join the Smart Family Money community
, you'll get the tools you need to take control of your money. You will gain confidence in your financial future and freedom to spend your time on the things that matter most to you today.
Latest posts by Cindy Scott (see all)