Note: This post may contain affiliate links. That means that if you click on them and buy anything at all, I'll get a small commission from the sale (at no additional cost to you). For more information, read my disclosure policy.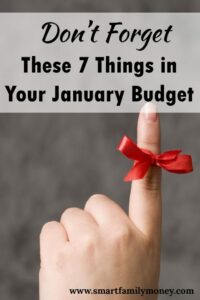 It's the final week of December, which means it's time to make your January budget! Every month is different and your budget is probably a little different each month, too. Here are some things you may have forgotten to include in your January budget:
January Budget Items
1. Winter Clearance
January is a great time to stock up on winter essentials on clearance. If you know that your child will need a coat or boots for next year, keep an eye out for good bargains. Just make sure you budget for it! A little extra in the clothing budget could help.
2. Fitness Equipment or Gym Memberships
January is the best time for sales on fitness equipment and gym memberships, because of everyone's New Year's resolutions. Even if you're been an avid fitness buff for years, it's smart to keep an eye on the sales.
3. Summer Activity & Preschool Deposits
I'm sure it's not this way everywhere, but around here, January is registration time for preschools and summer activities. Our city's recreation department opens registration for summer day camps and swim lessons in late January. They require full payment up front and the registration fills up the first day for many of the activities. I use a sinking fund to prepare for this yearly expense. Pools often offer a cheaper pre-season rate on memberships during the winter months too.
4. Christmas Clearance
If you know you'll want more Christmas items for next year, it's a good idea to buy them on Christmas clearance instead of full-price. You'll thank yourself next year!
5. Income Tax Software or Services
Often, the best deals on tax software and services are for the "early birds" in late January or early February. Plan ahead for this expense!
6. Next Year's Christmas Savings
Add up your spending through the last holiday season. Divide that number by 12 and put that amount in your Christmas sinking fund during January. The best time to start saving for the holiday season is right after the last one ended!
7. Financial Goals
Does your New Year's resolution involve getting a better handle on your finances? Do you want to pay off debt, give more, start some sinking funds, or save for the kids' college? Whatever your money-related goals are, make sure you include them in your January budget.
Did I forget anything from this list? Comment below!
***
Cindy is a number-loving, money-saving expert. She pulled her own family out of debt. Now, she cuts through the nonsense and crunches numbers to find you the greatest value. When you
join the Smart Family Money community
, you'll get the tools you need to take control of your money. You will gain confidence in your financial future and freedom to spend your time on the things that matter most to you today.
Latest posts by Cindy Scott (see all)