Note: This post contains affiliate links. That means that if you click on them and buy anything at all, I'll get a small commission from the sale (at no additional cost to you). For more information, read my disclosure policy.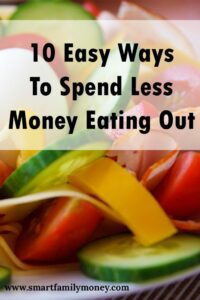 The most common budget category for my family to overspend is eating out. I've talked to a lot of people about their budgets, and I've learned that we're not alone. Food seems to be most people's biggest budget struggle, and especially eating out. Most of our lives are busy and hectic, and it's so easy to just go to a drive through or head to a restaurant for dinner. It seems harmless enough until you realize that the food spending is what's stopping you from doing the really good things with your money like paying off debt, saving for retirement, paying for education, or giving to charity. What can we do about it? Here are some ways I've found to spend less money eating out:  
10 Easy Ways to Spend Less Money on Eating Out
Have tasty food on hand. It's a lot easier to avoid eating out when you already have delicious food at home. Of course, this only happens if you take time to grocery shop!
Cook double. When you make a dinner, make double (or more) of what you'd usually use so that you can eat the leftovers another day. If you won't need it the same week, freeze it for a quick meal on a future busy night.
Keep easy food around. Find some frozen, canned, or quick-prep foods that you can keep around as your back-up plan. When you're too busy or tired to cook, you can fall back on your easy meals instead of eating out.
Make breakfast for dinner. Our fallback on hectic nights is breakfast foods. Who says you can't have eggs or oatmeal for dinner? Breakfast foods are generally very quick and easy to prepare. They're also inexpensive!
Meal plan. If you have a plan, you're much less likely to be unprepared for dinner. A meal plan doesn't have to be complicated. It can just be quick list of meals that you can make that week with the food you have on hand.
Lower your standards. I don't mean you should eat in an unhealthful way! I'm just saying that dinner doesn't have to always be fancy. Like having breakfast for dinner, there's no rule that you can't eat a healthy bowl of soup or a plate full of fruits, vegetables, and hummus.
Use a slow cooker or Instant Pot. If you have some yummy chili or stew simmering in your crock pot at home, you're pretty unlikely to want to go out to eat. Crock pot cooking can be very easy and cost-effective. An Instant Pot offers many of the same advantages of a crock pot, but in quicker time. I haven't tried an instant pot yet, but it's on my Christmas wish list! (Hint to my wonderful family!)
Plan ahead for travel or time away from home. Have a long drive ahead? Buy some snacks at the grocery store to avoid the convenience store prices. Heading to the park for the day? Pack a lunch! Having easily packable items on hand helps to avoid eating out. Even if you spend a bit more at the grocery store and pre-packaged foods, it will be less expensive than eating out.
Use a budget. If you have a budget for eating out, you can keep an eye on your spending and know when to stop. It's hard to control the spending if you don't track it!
Have financial goals. What do financial goals have to do with eating out? Eating out is easy and enjoyable, so it's understandable that many people struggle with doing too much of it. The way to fight it is to know what you're working towards. Is going out to eat more important to you than your retirement? Or college savings? Or down payment on a house? Having a budget can help you see these trade-offs more clearly.
How has your family been able to reduce spending on eating out? Comment below with your ideas!
Cindy is a number-loving, money-saving expert. She pulled her own family out of debt. Now, she cuts through the nonsense and crunches numbers to find you the greatest value.
Join her email list
and receive savvy savings straight to your inbox!
Latest posts by Cindy Scott (see all)