Note: This post may contain affiliate links. That means that if you click on them and buy anything at all, I'll get a small commission from the sale (at no additional cost to you). For more information, read my disclosure policy.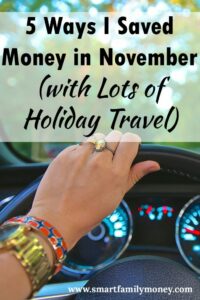 This new recurring feature on the blog is a place to talk about the little things I did last month to save money. Hopefully, this will give you some ideas of things you can do in your own life. I often write about the big ways to save money, but the little ways certainly add up. Here are some ways I was able to save money in November:

5 Ways I Saved Money in November
1. Brought My Own Travel Snacks
My family does a LOT of traveling around Thanksgiving. The food costs of traveling with young kids can add up quickly. We budgeted for and ate one meal on the road, but thankfully we managed to not buy any snacks on the road. We avoided this cost by taking some with us. One trick that helps is always having some plastic cups in the car for easy snack holders. Snacks like big bags of nuts, pretzels, or cereal are much easier to handle when each person can have their own cup. The Solo-style cups fit very well in car seat cup holders!
2. Took My First Uber Ride with a Coupon
I feel so young and modern now that I have tried Uber! When my husband and I were going out with friends, we needed a ride downtown. We decided to give Uber a try and used a coupon to reduce our fare to only $1! Our driver told great stories about his adventures in the city, and we had a wonderful time. If you want to give it a try, feel free to use my referral code for a free ride ($15 off).
3. Stuck to My Budget
Despite all the crazy travel last month, we were able to stick to our monthly budget. Having our budget on our phones allowed us to check in frequently to remind ourselves stay on plan. We did play a bit of "whack-a-mole" with our budget as we moved money between categories. We spent more on gas for the car (due to all the traveling) but less on groceries (due to staying with Grandma!), so it all balanced out. Overall, the budget helped us save money by reminding us when to stop spending.
4. Paid for Car Registration in Advance
My car registration expires on my birthday in January. It has frequently been difficult to find the money for it during all of the holiday madness. This year, I was better prepared with a car insurance and registration sinking fund. I was able to pay for three years of registration in advance, saving me time and a small amount of money (on yearly postage fees). This could also save me money by avoiding a traffic ticket if I forgot to renew (which is totally possible during the holidays!).
5. Used Gift Cards from the Grocery Store to Earn Fuel Points
Many grocery stores offer fuel savings for the purchase of gift cards. We try to remember to use our local Giant Eagle to buy gift cards for money we're already going to spend. We used gift cards for some of our Christmas shopping and were able to save about $40 in gas, which was very handy during our travels!
How did you save money in November? I'd love to hear in the comments below!
Cindy is a number-loving, money-saving expert. She pulled her own family out of debt. Now, she cuts through the nonsense and crunches numbers to find you the greatest value. When you
join the Smart Family Money community
, you'll get the tools you need to take control of your money. You will gain confidence in your financial future and freedom to spend your time on the things that matter most to you today.
Latest posts by Cindy Scott (see all)