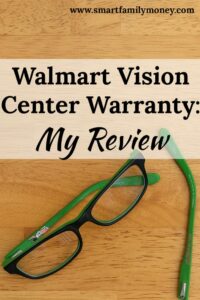 I wrote before about our experiences shopping for my son's first pair of glasses. I compared the options for glasses at Walmart Vision vs Target vs Costco. After we got his first two pairs, I compared the quality of glasses from Walmart vs Zenni. My son loves his Walmart glasses and wears them every day. We never have to argue with him to wear them! Unfortunately, although he loves his glasses, he's not the most careful with them. He's a rough-and-tumble 7-year-old boy! As I feared, we've had to deal with scratched lenses and broken frames, both within the first 6 months. Thankfully, I had anticipated this and chose Walmart Vision, mostly for the Walmart Vision Center 12-month Replacement Guarantee. So how did it go with the Walmart Vision Center Warranty?
Note: This post contains affiliate links. That means that if you click on them and buy anything at all, I'll get a small commission from the sale (at no additional cost to you). For more information, read my disclosure policy.
Walmart Vision Center Warranty for "Deep Scratches"
A few months ago, we had our first incident with my son's glasses. Somehow through rough playground playing, he got some deep scratches on the lenses. They were deep enough that you could feel the scratches and obviously see them. Since I knew the Walmart Vision Center 12-month Replacement Guarantee covered deep scratches, I confidently took them to my local Walmart for lens replacement.
The technician took a look at the lenses and agreed that they scratches were deep, but questioned whether they were in the "field of vision" because they were slightly off to the side. She explained to me that she may get in trouble for replacing them if they're not "bad enough". She said I could come back the next day to talk to the manager OR she suggested that if they were to suddenly become worse, she could replace them. She was really suggesting that I take them out to the parking lot and step on them. I did not feel comfortable doing something dishonest! I also didn't want to completely destroy my son's glasses when he'd prefer to wear them, even with the scratches.
Instead of following the "smash them in the parking lot" suggestion, I decided to drive to another Walmart that was 10 minutes away. The vision technician there had no problems ordering new lenses and took care of it right away. She told me to expect the lenses in a week, but they were ready in 2 days! They popped the new lenses into his frames and we were on our way. No cost!
Overall, I felt that Walmart gave me a little more hassle than was necessary, but they still followed through, and I was satisfied in the end.
Walmart Vision Center Warranty for Broken Frames
A few weeks ago, my son came to me with his glasses looking like this! He said he just went to put them on and they fell apart. While I'm sure constant rough treatment over time didn't help, there wasn't a specific incident that caused them to break. The ear piece just came off. One could argue that in this case, it was the low quality of the frames that caused them to break. I honestly feel like the frames are not low quality, though. They feel very sturdy to me.
My son reluctantly wore his Zenni frames while I took his broken glasses to Walmart (the 2nd Walmart in the story above). I expected the replacement to take a few days. I was shocked when the technician told me that as long as they have the frames in stock, he can replace it immediately. He pulled an identical pair of frames from the display shelf, popped my son's lenses in and handed me the fixed glasses! We had brand new frames in 15 minutes!
Walmart Vision Center Warranty: My Review
Overall, I am thrilled with our experience with the Walmart Vision Center 12-month Replacement Guarantee. I doubt many adults would have a reason to use it, but for young kids, it's a wonderful service. I had hoped I'd be wrong about needing replacements, but unfortunately, I wasn't. I am so glad I chose Walmart over Target or Costco for my son's glasses. I don't think I'll be shopping anywhere else for his glasses.
If you buy glasses from Walmart, here are some tips for utilizing their warranty:
Pay attention to the date of purchase. You have exactly 12 months to use the warranty, so if you're getting close to that date and might qualify for a replacement, don't delay. Also, this date does not reset after a replacement. My son's warranty expires in October 2017 because we purchased the glasses in October 2016, even though his frames were replaced in April 2017. It doesn't extend the warranty to April 2018.
If they say no, try another Walmart. I don't know about you, but I literally have FIVE Walmarts withing 10 miles of my house. If one says no, try another!
The reason for breakage doesn't matter. Walmart doesn't care how the glasses broke. I'm not suggesting you should stomp on them on purpose… but don't feel bad asking for a replacement if the breakage was your fault. The reason doesn't matter.
Have you used the Walmart Vision Center 12-month Replacement Guarantee? How was your experience? Please comment below!