Note: This post may contain affiliate links. That means that if you click on them and buy anything at all, I'll get a small commission from the sale (at no additional cost to you). For more information, read my disclosure policy.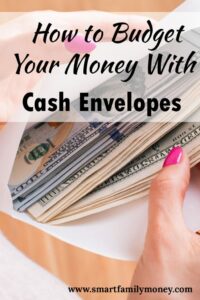 Have you heard about using cash envelopes for budgeting? Have you wondered if it's REALLY necessary? Who uses cash anymore, right? You might want to give it a try, especially if you're new to budgeting. This post tells you why and helps you work out how to use cash envelopes for your budget.

Why Do You Need To Use Cash Envelopes?
1. Reconnect with reality
When you're only using credit and debit cards to spend money, it's very easy to disconnect with the reality of money. You may not even look at the total on the register before swiping your card. Holding on to crisp, hard cash can definitely remind you that the money is real!
2. People spend less with cash than cards
Many studies have shown that people really do spend less money when they hand over cash instead of a card. If you'd like to reduce your spending, at least give cash a try!
3. Easy to visualize the budget
When you put your $200 of food money into your food envelope, it's very easy to see how much money you have. It's also easy to see how much you DON'T have when that envelope is empty! Having the physical, visual reminder of your budget in front of you can be a very powerful tool.
Budget Categories to Use with Cash Envelopes
I know there are some folks who use cash for literally every budget category, but that seems a bit extreme to me. I'm not going to pay cash for my electric bill! I'm also not going to stop using pay-at-the-pump when I'm filling up my car. Monthly bills and gas don't make much sense as cash categories. Those are also unlikely to be the categories that get frequently overspent.
Categories that makes sense for cash envelopes are:
Budget categories that are spent a small amounts at a time
Things that are frequent (daily or weekly)
Categories that are often overspent due to lack of attention
Some examples of categories that are good fits for cash are:
Groceries
Eating out
Entertainment
Clothing
Types of Envelopes for Cash Envelopes
Organizing cash envelopes is one of the reasons that people resist using them. Here are some ideas for envelopes:
Use paper envelopes and replace them frequently. Even the best paper envelopes will fall apart fairly quickly. Here are sources for free envelopes:

Use the return envelopes from your bills (if you're already paying bills online).
Request money envelopes when you withdraw cash at the bank.
Re-use manila mailing envelopes.

Purchase poly zippered envelopes. I used ones like these for a long time. They are nice because they are slim and color-coded, but the zippers do tend to break over time.
Use zippered deposit bags. These are fantastic for durability but rather bulky for carrying around. I have one like this for storing allowance cash for my kids. I love it, but it's not something I carry around with me. These seem a little less bulky for carrying in a purse.
Buy a pre-made cash envelope system. If you're going to use cash envelopes long term, there are plenty of fancier systems available. There are even pretty ones or systems with removable envelopes.  Crafty sites like Etsy also have lots of great handmade cash envelope systems.
How to Share Cash Envelopes
Sharing cash envelopes between multiple adults can be a bit of a challenge. Here are some ideas for managing cash envelopes in a multi-adult household:
Assign particular envelopes to be managed by one adult. For example, if the wife does all the grocery shopping, then she could be in charge of the grocery envelope. Her wallet could even BE the grocery envelope.
Leave envelopes at home. The cash envelopes can be stored at home, with someone taking the envelope (or cash out of the envelope) before leaving the house.
Have divided envelopes. You could have two entertainment envelopes, representing one entertainment budget. Each adult would get their own envelope, starting with half of the money, with the understanding that money can be swapped between the envelopes as needed. This could get a bit messy and it might make sense to just divide the budget categories. For example, have "his entertainment" and "her entertainment" if you'd prefer it to be divided.
What about Theft?
Safety is the number one reason I hear that people don't want to try using cash. While I understand the concern, let's be realistic. Have you personally had your wallet stolen? How many times has it happened to you? It has never happened to me personally. If it has happened to you multiple times, then maybe worry about this and find a more secure way to carry your wallet (with cash or not!). Otherwise, quit worrying about things that are rare! Some basic safety considerations:
Don't carry ALL your cash around. You probably don't need your clothing envelope when you're going to the gas station. You also probably don't need an entire month's worth of grocery money with you to go buy only eggs at the store. Be sensible with how much cash you carry at once.
Don't flash your cash. Don't pull out a clear envelope with $500 cash in the checkout lane. I always kept the envelopes inside my purse and unzipped them to discreetly grab the amount I needed.
Use common sense at banks and ATMs. If you're withdrawing a large amount of cash, do it in a well-lit, safe area.
Never fight a thief. Your life is worth way more than a few hundred dollars! Let them take the money.
Although there is some danger in carrying cash, I would argue that there is much more danger to your finances by not learning good financial skills. If cash envelopes help you to learn how to manage your finances better, it's worth it, even if a small amount gets stolen.
Does Everyone Need to Use Cash Envelopes?
No, I don't think they do. Personally, we used cash envelopes for many years. Now that we're more experienced and disciplined with our money, we use only an electronic budgeting system. Cash can work together with an electronic budgeting system (look for a post about that soon!), and we do still use some cash. Our budget is just not cash envelope based anymore.
If you're struggling with your finances and new to budgeting, I think you owe it to yourself to give cash envelopes a try. It's not the only way to budget, but it is definitely a useful tool. It certainly helped us reconnect with the reality of our money and get a handle on over-spending.
Do you use cash envelopes? Why or why not? Comment below!
Cindy is a number-loving, money-saving expert. She pulled her own family out of debt. Now, she cuts through the nonsense and crunches numbers to find you the greatest value. When you
join the Smart Family Money community
, you'll get the tools you need to take control of your money. You will gain confidence in your financial future and freedom to spend your time on the things that matter most to you today.
Latest posts by Cindy Scott (see all)