Note: This post may contain affiliate links. That means that if you click on them and buy anything at all, I'll get a small commission from the sale (at no additional cost). As an Amazon Associate, I earn from qualifying purchases. For more information, read my disclosure policy.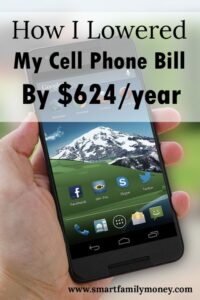 While wireless phone service could be defined as a "want" and not a "need", in today's world it can certainly feel like a necessity. I know that I'm not the only one who is willing to give up cable TV and other luxuries before I would ever consider cutting my wireless service. The good news is that there are ways to significantly reduce the cost of wireless service without making compromises.
There are three phones on my wireless plan and I've had service with AT&T Wireless for many years. I've been paying about $142/month after a corporate discount of $17 (so it would have been approximately $160 without the discount). Our plan included 15GB of shared data, although we only typically use about 1 to 2GB of data per phone.
Although I've spent a lot of time optimizing our bills, the wireless bill was one of the last I tackled. I knew that for a major carrier, our price wasn't too bad. I've heard of people paying around $100/month for one phone so $142 for three phones sounded OK. When looking at lower cost carriers like Straight Talk Wireless, service on a single smart phone costs around $45/month with no multi-phone discounts. Since $45×3=$135, I didn't feel like I could save much by switching.
AT&T vs Cricket Wireless
Then I heard about Cricket Wireless. Cricket is the prepaid "value" version of AT&T. It's owned by AT&T and runs on AT&T towers, but it costs almost HALF of what service with AT&T costs! AND unlike Straight Talk, Cricket has multi-phone discounts! For us, the "basic" plan made sense because it offers 2.5GB of data per phone for $40/month, with the option of adding more data for $10/month.
Cricket Wireless Family Plans
The most important reason that I was interested in Cricket is that they offer family plans. A second phone on Cricket gets a $10/month discount, a third gets a $20/month discount, a fourth gets a $30/month discount, and a fifth phone gets a $40/month discount. Cricket's prices also include ALL taxes and fees so the price you see on the web site is really the price you pay.
We were paying $142/month with AT&T for three phones. With Cricket, we could get our same three phones for $90/month or get up to five phones for $100/month. So we could add two more phones to our plan and STILL SAVE  A LOT OF MONEY!
What's the catch?
I'm sure you're thinking what I was thinking… what's the catch? The only real "catch" is that Cricket caps the data speed at 8 Mbps. If you're in an area that has towers capable of higher speeds (we've seen up to 25 Mbps in our neighborhood), you'll only get 8 Mbps speed instead. Are you going to notice? Probably not, unless you're doing some kind of intense computing on your phone. 8 Mbps is plenty fast enough to download files, stream music, and surf the web. If you're anything like us, you're probably using WiFi at home or work for most of your data usage anyway.
Which phones will work?
Cricket works on most GSM phones, which are phones compatible with AT&T or T-Mobile. It does not work on most Sprint or Verizon phones because those are CDMA. We transferred our two Google Nexus phones and replaced an ancient phone with a new BLU R1 HD phone. I would highly recommend  the BLU R1 HD if you are looking for a cheap, high-quality smart phone (great 1st smart phone for a teen or Grandma). Cricket also sells a good selection of phones, starting as cheap as FREE after rebate.
The switching process
There are Cricket stores where you can have your phones switched over by an associate, but they will charge an activation fee. If you buy the SIMs and do the activation yourself, you just have to pay for the cost of the SIMs. The Cricket website walks you through the process and it's really simple for someone who is comfortable with technology. It took me about 15-30 minutes per phone, but most of that time was spent physically wrestling with the phone SIM slots. I was even able to transfer our phone numbers from AT&T to Cricket seamlessly. The Cricket starter package with the SIM is conveniently available on Amazon and some local stores.

Bottom line
My wireless bill has gone from $142/month (or around $160/month if we didn't have the corporate discount) to $90/month for similar service on the same phones, using the same towers. That's a 35-45% reduction in our bill with essentially no changes in service. I've saved us $52/month or $624/year with one change that took a couple of hours of work. My only regret is that we didn't do it a long time ago! If you're interested in switching to Cricket Wireless, you can get $25 off by using my referral link.
How much are you paying for wireless service? Comment below.