DISCLOSURE: This post may contain affiliate links, meaning when you click the links and make a purchase, we receive a commission. Also an Amazon Associate, I earn from qualifying purchases. DISCLAIMER: The information and opinions within this content are for information purposes only. Guidance is based on personal interpretations and in no way, represents legal or financial advice. For more information, read my disclosure policy.
I've been using microfiber cleaning cloths for years as a chemical-free, low waste, low-cost cleaning option. I love my microfiber and tell everyone about it! Years ago, I also wrote a very popular post called cheaper alternatives to Norwex.
E-cloth is definitely cheaper than Norwex, but are you compromising on quality and cleaning ability with E-cloth? This is my in-depth, non-nonsense E-cloth vs Norwex comparison!
E-Cloth vs Norwex: What's the difference?
E-cloth and Norwex are equally high-quality microfiber cleaning cloths that clean well with only water. The main differences are that Norwex cloths are softer feeling and contain silver, while E-cloths have been scientifically proven and are much less expensive than Norwex cloths.
Here's a chart that breaks down the main differences and similarities between E-cloth and Norwex cloths:
| | Norwex | E-cloth |
| --- | --- | --- |
| Fabric contents | 70% Polyester 30% Polyamide | 80% Polyester 20% Polyamide |
| Cloth Size | 13.78″ x 13.78″ | 12.5″ x 12.5″ |
| Fiber size | 1/200 human hair | 1/200 human hair |
| Contains Silver | Yes | No |
| Scientifically Proven | No | Yes |
| Company Founded | 1994 in Norway | 1995 in Sweden |
| Located In USA since | 2011 | 2008 |
| Made In | China | Indonesia, Vietnam |
| Warranty | 2 year | 300 washes (over 5 years if washed weekly) |
| Where to Buy | Independent Consultants | Local Stores, Amazon.com, E-cloth online |
| Cost (1 cloth) | $18.99 | $7.99 |
| Shipping Cost | Min. $6.95 shipping fee | Free on orders $20+ |
Are E-cloths as good as Norwex?
E-cloth and Norwex are made of the same materials and both clean well, removing over 99% of bacteria from surfaces. There are no major differences in their cleaning abilities.
If you want to read more about my favorite (and least favorite) e-cloth products, check out my full e-cloth review.
If you want to see my real-world comparison of an E-cloth and Norwex Enviro cloth, check out my video below. The short answer is yes, E-cloths are just as good as Norwex cloths at a MUCH lower price.
E-cloth vs Norwex - Is E-cloth general purpose cloth a good alternative to Norwex Envirocloth?
Does E-cloth carry all the same products as Norwex?
E-cloth carries exclusively microfiber items while Norwex also has other items like detergents, toothpaste, and bed sheets.
Below is a chart of some of Norwex's most popular products and E-cloth's equivalent product.
| Purpose | Norwex | E-cloth | Amazon Link |
| --- | --- | --- | --- |
| General cleaning | Envirocloth | General purpose cloth | |
| Windows | Window cloth | Window Cleaning Set | |
| Polishing | Window cloth | Glass & Polishing cloth | |
| Dusting | Dusting Mitt | Dusting Glove | |
| Mopping | Superior Mop System | Deep Clean Mop System | |
| Dish scrubbing | Spirisponge | Non-scratch scrubbing pads | |
| Stainless steel | Stainless steel cloth | Stainless Steel Cleaning Pack | |
What makes E-cloth and Norwex different from cheap microfiber cloths?
E-cloth and Norwex microfiber cloths are made of higher quality materials and denser fibers than cheap microfiber cloths.
E-cloth is made of 80% polyester and 20% polyamide (nylon). Norwex is made of 70% polyester and 30% polyamide. Some cheap cloths are made of 100% polyester (because it's less expensive) and don't work nearly as well because of the type of fabric.
Higher quality microfiber cloths have millions of fibers per square inch, while cheap ones may only have thousands per square inch.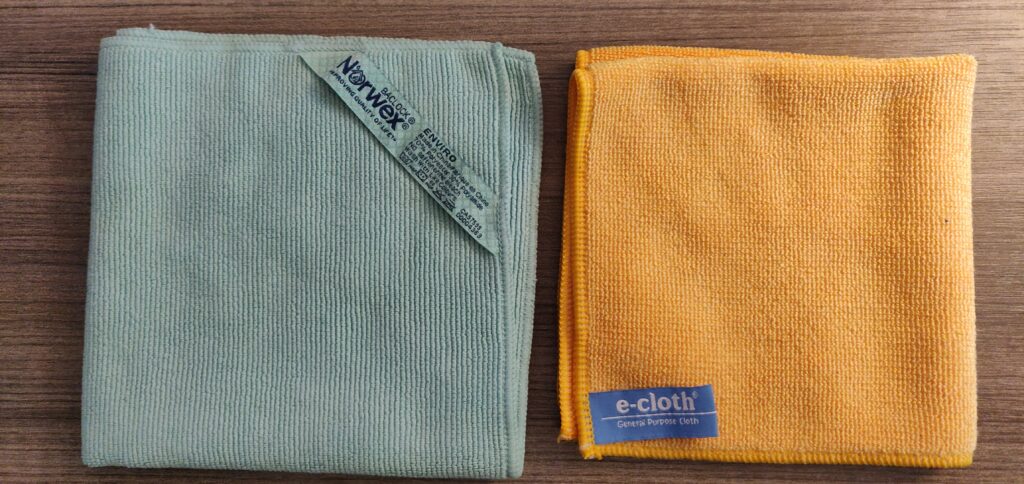 Are E-cloth and Norwex the same company?
Although E-cloth and Norwex sell similar high-quality microfiber products, they are not the same company. E-cloth started in 1995 in Sweden and then was headquartered in the UK. Norwex began in 1994 in Norway.
What is the size of Norwex microfiber?
Norwex has stated that their microfibers are 1/200 the size of a human hair, which would make each microfiber around 0.375 microns in diameter.
What is the size of an E-cloth microfiber?
E-cloth has made various statements about the size of their microfibers, but it is hard to put an exact size on it. E-cloth has said their fibers are:
1/200 the size of a human hair (about 0.375 microns)
1000x finer than a fiber of cotton (about 0.02 microns)
1.6 million fibers per square inch
Whichever number you go by, it's clear that the E-cloth microfibers are very small.
Do Norwex or E-cloths kill bacteria?
Both E-cloth and Norwex pick up over 99% of the bacteria on a surface but they do not kill the bacteria. The bacteria is trapped in the cloth and then can be mostly rinsed out.
Norwex cloths contain "Baclock" technology which some people think kills bacteria. In fact, Norwex itself states that Baclock is "an antibacterial agent for self cleansing purposes only. The agent is solely designed to inhibit bacterial odor, mold and mildew growth within the product."
The material that microfiber cloths are made of do not encourage bacterial growth and Norwex and E-cloth perform similarly on testing. Since there is still some bacteria in a dirty cloth, the cloths should be washed often.
Do Norwex Envirocloths or E-cloths pick up viruses?
Norwex and E-cloths may be able to pick up some viruses, but some viruses may be too small to be picked up by the microfiber. Microfiber can pick up particles that are larger than the microfibers. Almost all bacteria are larger than the high-quality microfibers, but many viruses are smaller. Therefore, microfiber cloths are unlikely to be able to pick up many viruses.
Some relative sizes to compare:
Human hair: 70 microns
Cotton fiber: 20 microns
Low quality microfiber: 4 microns
Bacteria: 0.3-5 microns
High Quality microfiber: 0.3 microns
Virus: .004 to 0.1 microns
Below is a graphic demonstrating these relative sizes.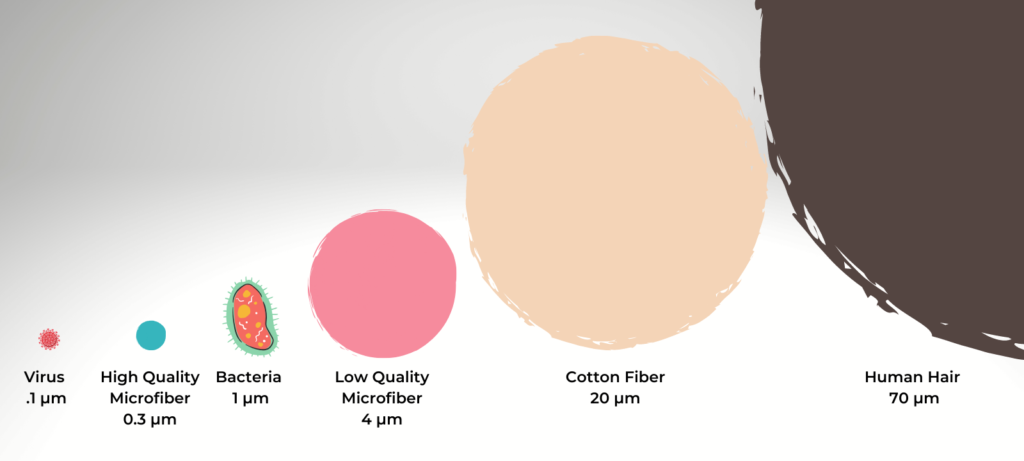 Do E-cloths really work?
E-cloths really do work. They have been scientifically proven to remove over 99% of bacteria from surfaces. Norwex makes similar claims but does not have any scientific studies to back it up.
How much do E-cloth and Norwex cloths cost?
Norwex Envirocloths are $18.99 per cloth. E-cloth general purpose cloths are $7.99 for one or as little as $4 when you buy larger packs.
Do E cloths and Norwex have the same warranty?
Norwex offers a 2-year warranty on their microfiber cloths. E-cloth offers a warranty for 300 washes. If you washed them once per week, they would be 5.7 years, so the E-cloth warranty seems better.
What are Norwex cloths are made of?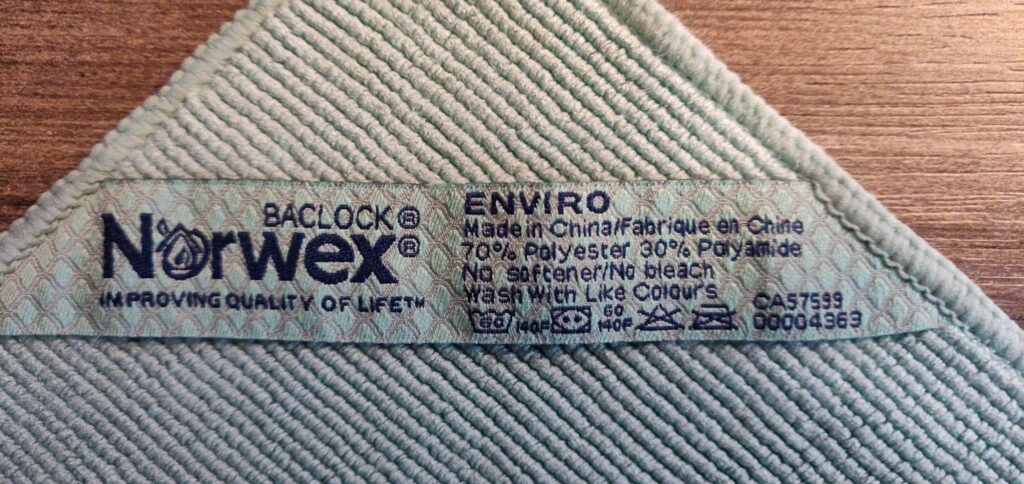 Norwex clothes are made of 70% polyester and 30% polyamide (nylon). They are also made from 70% recycled materials.
What are E-cloths make of?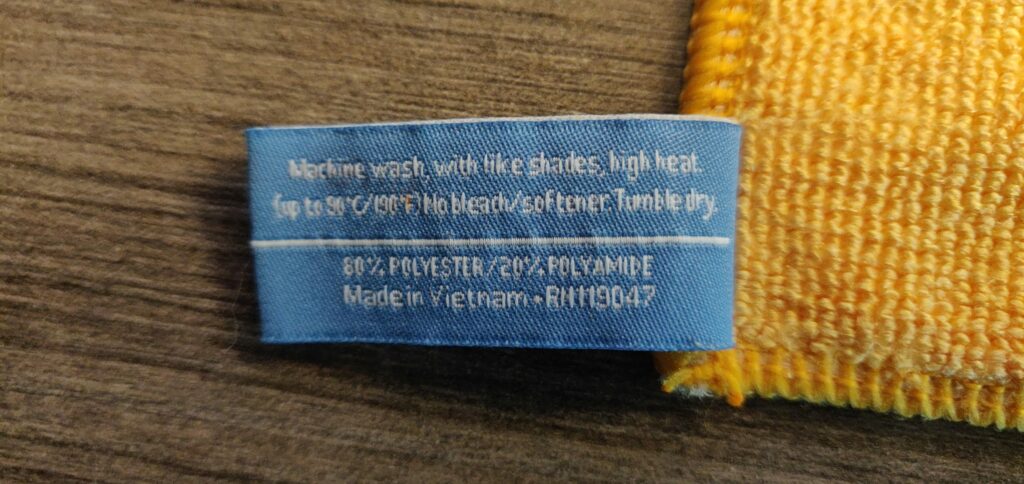 E-cloths are made of 80% polyester and 20% polyamide (nylon).
Where are Norwex product made?
Norwex products are made in China.
Where are E-cloths made?
E-cloths are made in Indonesia and Vietnam.
Where can I buy E-cloth?
You can purchase E-cloth at local stores, Amazon.com, and e-cloth.com.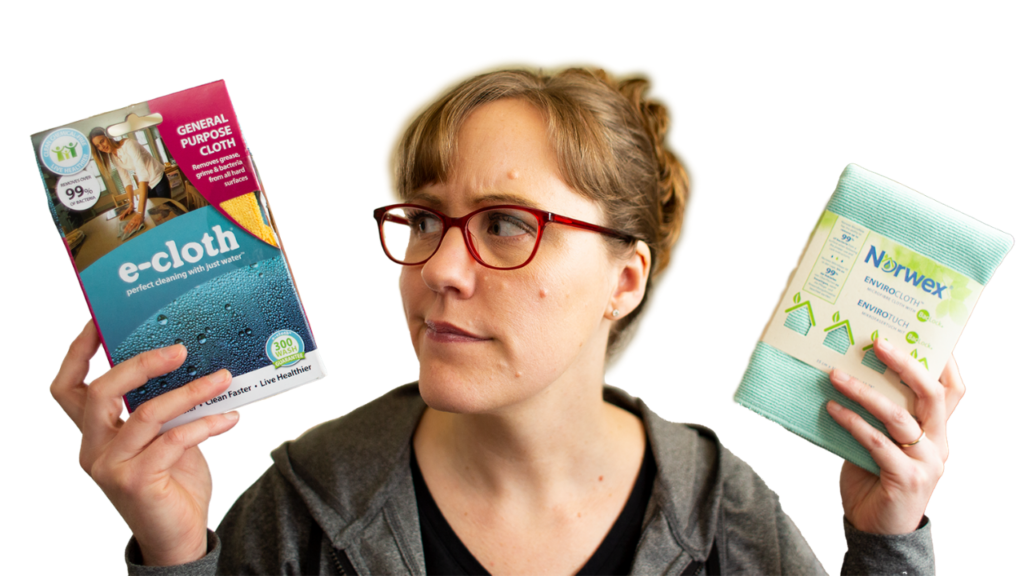 E-cloth vs Norwex: Summary
To sum everything up in this E-cloth vs Norwex review:
Norwex and E-cloth are equally good high-quality microfiber cleaning cloths.
Both Norwex and E-cloth don't require additional cleaning products.
While Norwex might argue that their Baclock technology sets them apart, it makes no real difference in cleaning.
E-cloth is MUCH less expensive than Norwex.
Both Norwex and E-cloth offer warrantees, but E-cloths might be a bit better.
You can buy E-cloth at a variety of stores, as opposed to through Norwex consultants
I hope you found this comparison helpful! Please let me know your reviews of Norwex and E-cloth below!