Three-year-old boys are a ball of energy and can find fun anywhere. They're not babies anymore, but not quite big kids. Shopping for gifts for 3-year-old boys can be a little tricky!
You want to pick fun things, but need to be careful to choose age-appropriate toys that won't frustrate them. Check out this list below for the best gifts for 3-year-old boys. At the end, you will find an easy summary with all of the links. If you're looking for more options, also check out the list of best gifts for 2 year old boys and best gifts for 4 year old boys.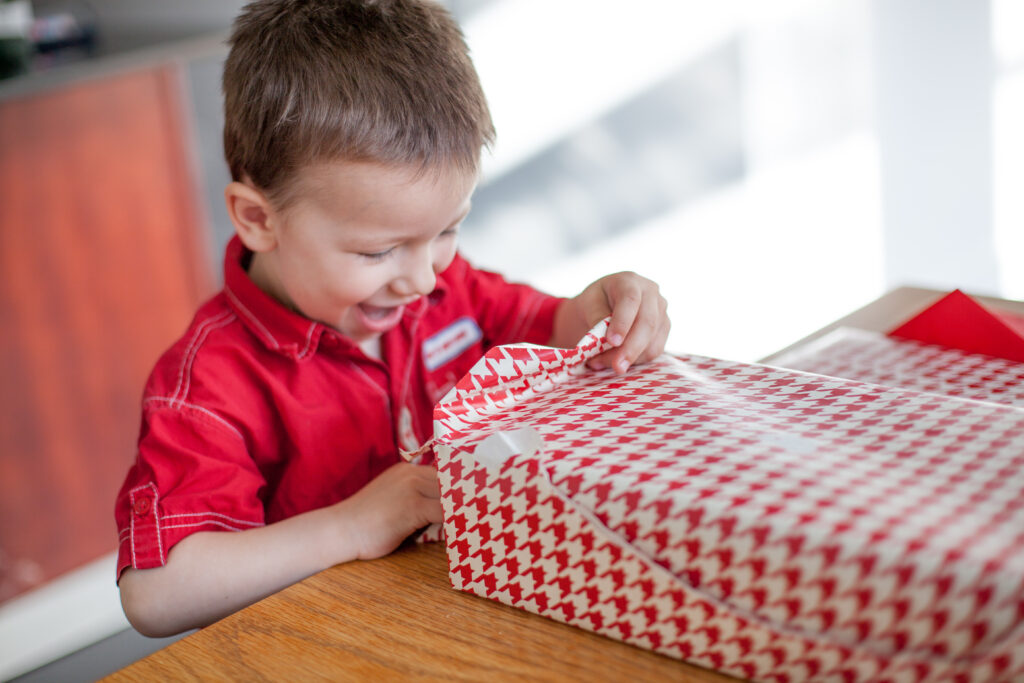 If you'd like to skip ahead to the links, here's a quick summary of the post:
Summary: Best Gifts for 3 Year Old Boys
Best Budget gifts for 3 year old boys
Megablocks or duplo sets
Age-appropriate building blocks are one of the best gifts to give a 3-year-old. Duplo and Megablocks are both great for this age. Fun sets like this can also be very easy on your budget.
Puzzles
Three-year-olds can start to do slightly more complicated puzzles. This inexpensive fun set has 4 puzzles together.
books
Books are always a wonderful gift! For 3-year-olds, it's best to choose sturdy board books since many kids this age can't handle paper pages well yet. This colorful book has a sweet message.
beginner board games
Three-year-olds can start to enjoy board games. Chutes and Ladders was always my favorite to play with the kids and this edition looks very nice (and affordable!).
Play Food
Kids love to play with food toys. This cookie set is sure to provide hours of fun!
Doctor's kit
My kids were obsessed with doctor's kits and had several. This one was definitely the best quality. Bonus: It's quite inexpensive!
Mid-range priced gifts for 3 year old boys
trucks
This exact dump truck was given to my son as a gift and it was one of our most loved toys. It's so sturdy that it can move rocks and be sat on.
latches board
This latches board is so much fun and great for fine motor development. My kids played with it daily!
Musical Instruments
Young kids love to make music! If you choose a high-quality set of instruments like this one, their music will sound much more musical than the pots and pans they'd otherwise use.
sports toys
Little kids love to play sports like the big kids! This sturdy, adjustable basketball hoop is great for indoor or outdoor fun.
Magnatiles
If you've never heard of Magnatiles, you're missing out! They're super fun magnetic building toys. The more you have, the better, so go for the biggest set you can afford. This starter set is a good gift.
pretend play costumes
Three-year-olds loves to dress up and play pretend. This firefighter set is a lot of fun!
outdoor toys
If you're looking for a fun summertime toy, nothing beats a water table! This one is sturdy and will provide hours of fun.
Matchbox or hot wheels set
Everyone loves Matchbox or Hot Wheels cars, but they're even more fun when you have a play set to use them with. This Matchbox garage looks pretty amazing!
Play Doh
Play-Doh is the best! And you can never have too many tools for making fun shapes. A set like this is a great gift.
Easel
Easels are always a hit and this one offers a wide range of activities that you can do and works for 2 kids at once.
splurge gifts for 3 year old boys
train set with table
Have you ever seen a store or library with a train table set up? Have you seen the kids crowd around it? Yep, wooden trains are a kid magnet! A train table set like this one would be an excellent gift for a 3-year-old!
plasma car
A plasma car like this one is one of those awesome classic toys that never goes out of style. They're also a toy that is great for many ages so they last a long time.
play kitchen set
All young kids love play kitchens. I am so glad that there are so many more gender-neutral options these days. This one looks amazing!
mini trampoline
Indoor trampolines like this one are a great way to get out that 3-year-old boy energy!
Summary: Best Gifts for 3 Year Old Boys
gift ideas for a 3-year-old boy
What do you think are the best gifts for 3 year old boys? Did I miss anything? Please comment below!