Note: This post may contain affiliate links. That means that if you click on them and buy anything at all, I'll get a small commission from the sale (at no additional cost to you). For more information, read my disclosure policy.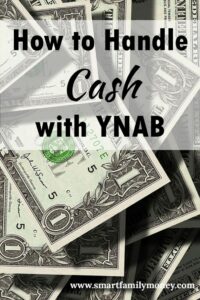 I've recommended the online budgeting tool YNAB before, but also recommended doing some budgeting with cash. I've often been asked, how can these two things work together? Quite well, actually! YNAB has two possible methods of dealing with cash and I'll explain them both. If you've never used YNAB (You Need a Budget), then you won't know what I'm talking about in this post. You should go check out YNAB, though! If you are already using YNAB, read on to understand how to handle cash with YNAB.
How to Handle Cash with YNAB
Option 1: Withdraw Cash as Immediately Spent
If you want to keep things simple, you can just withdraw cash from your account and call it spent immediately. You would do it like this:
Withdraw the cash from the ATM.
Record the bank account as the bank account you made the withdrawal from (checking or savings account).
Choose the payee in YNAB as either something general like "ATM" or more specific if you know what you're using it for like "babysitter" or "food carts."
Select the category in YNAB that fits where the money will be spent. It might be part of the eating out category, babysitting category, or a "pocket money" category.
The cash is then outside of the budget and you can spend it as needed. The problem comes in if you're not sure where that money will be spent. To keep your budget accurate, you might need to edit that withdrawal transaction to make it better fit reality. For example, it could be changed to a split category between grocery and babysitting.
This method works well if you don't spend cash very often or it's usually withdrawn for a specific purpose. If you want to more closely track your cash, use option 2.
Option 2: Create a Cash Account
If you'd like to keep closer tabs on where your cash is being spent, you should use a cash account in YNAB. To create a cash account:

In YNAB, click "add account"
Give the account a name that is meaningful to you like "His Wallet" or "Grocery Envelope".
Select Account Type –> Cash
Fill in the starting balance and click "Add Account."
Once the account is set up, you will see it as an option to spend from any time you enter a transaction. Spending from the cash account works exactly the same as spending from a bank account or credit card in YNAB.
Key Points About YNAB Cash Accounts
If withdraw money from the ATM, it should not be recorded as a transfer to the cash account. Transfers do not have a budget category associated with them.
You can have multiple cash accounts if you wish. You might want "his wallet" and "her wallet" or "grocery envelope" and "eating out envelope."
If you start using a cash account, you must record your transactions or it will throw off your budget.
Inflows of cash (being paid in cash, given a cash gift, or being reimbursed in cash) are handled just like deposits into bank accounts. If it's income, it should be recorded as "to be budgeted". If it's a reimbursement, it should be recorded an inflow straight into the budget category.
Which Option Should You Choose?
If you use cash rarely or only for very specific purposes, stick with option 1.
If you like to have cash on hand for a variety of purposes, option 2 is probably the better choice.
For budgeting with cash envelopes, you could do it either way. It just depends on how detailed you want to be in your tracking.
Can You Use Both Options to Handle Cash in YNAB?
Definitely! I personally like to combine both options. For my kids' allowance, I withdraw the cash (all in $1 bills) and the money is recorded as immediately spent (option 1). My husband and I also like to keep some cash in our wallets for random purchases. I track that money in a cash account called "our wallets" (option 2). I chose to just do one cash account because we frequently pass cash back and forth, depending on who needs it and didn't want to bother with having to record that as transfers.
How do you handle cash in YNAB? Do you have a cash account? Comment below!
Cindy is a number-loving, money-saving expert. She pulled her own family out of debt. Now, she cuts through the nonsense and crunches numbers to find you the greatest value. When you
join the Smart Family Money community
, you'll get the tools you need to take control of your money. You will gain confidence in your financial future and freedom to spend your time on the things that matter most to you today.
Latest posts by Cindy Scott (see all)