Note: This post may contain affiliate links. That means that if you click on them and buy anything at all, I'll get a small commission from the sale (at no additional cost to you). For more information, read my disclosure policy.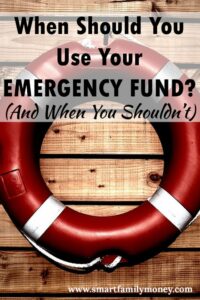 Some of the most common questions I hear from new budgeters are about emergency funds. Let's start with a look at when an emergency fund should be used. What counts as a financial emergency? What is NOT a financial emergency?
When Should You Use Your Emergency Fund?
For something to be a financial emergency, it should meet these criteria:
It could not have been easily predicted. It's not an expected, recurring expense.
The expense is something that is necessary for a safe, healthy, secure life. This is subject to your own values, of course.
It is not possible to hold off on the expense until you can save up for it. Make sure you think through this one carefully. Could it wait a few months?
Types of True Financial Emergencies
Generally, true financial emergencies fall into just a few categories:
Basic living expenses after a job loss or other major reduction in income. This would only include expenses like rent or mortgage, heat, water, basic food, and so on, during your time of reduced income. It would not include entertainment expenses, clothing beyond the bare essentials, or anything else that can be cut during this crisis period.
Health-related or living expenses after a major medical event. Keep in mind that only major, unexpected health expenses should be considered an emergency. Basic, routine medical care should be budgeted for with the use of a FSA, HSA, or health sinking fund.
Major, unexpected, necessary home repairs. If you have a hole in your roof or your furnace dies in the dead of winter, go ahead and use the emergency fund to fix it. Keep in mind, though, that this only includes things that are necessary for your family's immediate health and safety. A kitchen remodel is NOT an emergency!
Car repairs on a vehicle that is necessary for work. If your car is necessary for work, then car repairs that exceed your car repair sinking fund can be considered a financial emergency.
Bereavement expenses. Expenses related to the death of a loved one (travel, funeral costs, etc.) can be considered a financial emergency.
Examples of Non-emergencies
Pretty much everything else is NOT a true financial emergency. Some examples include:
A great deal! Whatever the once-in-a-lifetime deal is, it's not worth using up your emergency fund. There will be other opportunities that come along. I promise! If it's something you really want to buy, save up for it and you'll find another great deal later.
Amazing travel opportunities. I love to travel too and find it hard to pass up on an amazing offer. If you really want to go, you can figure out another way to pay for it besides dipping into your emergency fund. You can work extra hours, do a side job, or sell something. If that's not possible, then you need to pass. Start saving up a travel fund so you'll be ready for the next amazing opportunity!
Business or investment opportunities. No business or investment opportunities are zero risk, so you certainly shouldn't be using your financial reserves to get involved with them.
Non-essential home or car repairs. New carpet is definitely not an emergency. Is broken air conditioning an emergency? That might depend on the situation and can be more of a value judgement.
Gift-giving obligations. Gift-giving of any kind is never an emergency. You can skip the gift, give a less expensive present, make something yourself, find the funds elsewhere, or delay the gift.
Social obligations. A social event is never an emergency, despite what your friends might say. If they can't understand that you don't want to jeopardize your financial security to buy tickets to the big game, then they're not very good friends.
What About Predictable But Necessary Things?
If you're new to budgeting and you haven't set up a lot of sinking funds yet, you might have more "emergencies" than you should. You should have planned ahead for them, but you haven't had the time or money to do that yet. If you find yourself using your emergency fund for something that you know will happen routinely, you should use that as a sign to start planning ahead better. Some examples of expected, necessary things would include:
Routine car repairs. Cars need to have tires replaced. That should not be a surprise! Also, some random part will probably break every year, so you should be saving for basic repairs.
Expected health care costs. If you have kids, they will get sick and need a doctor! If you have teeth, you will likely need a dentist! Also, if anyone in your family has a chronic health condition, you should plan ahead accordingly.
Routine home repairs. Take a look around your home and think about the age of major, necessary items. If your water heater is 25 years old, you should be saving for a new one!
Normal income fluctuations. If you have a variable income because you work on commission, work for yourself, or have variable hours, you need to budget a little differently. Normal income fluctuations are not an emergency.
If one of these predictable things happen and you need to use your emergency fund, go ahead. The key is to learn from the situation and try to do better next time. Make a plan! Maybe you don't have enough money to set aside a home repair sinking fund right now, but keep that in mind for the next time you have some extra money. A bonus check or a tax refund can go a long way towards getting you better prepared for the next non-emergency.
What Do You Do After You Use Your Emergency Fund?
You repay it! If you're in the process of paying off debt, pause your debt snowball temporarily (and pay only minimum payments) until you build up your emergency fund again. You don't want to end up back in debt because you were unprepared for emergencies. Depending on how much you need to repay, you may need to find other sources of money like overtime hours, doing an extra side job, or selling something.
Next week, I'll be writing about how much money you should keep in your emergency fund.  Update 12/12/16: Not sure how much to save in your emergency fund? Take this quiz!
Have you had to use your emergency fund? Was it for a true emergency? Comment below!
Cindy is a number-loving, money-saving expert. She pulled her own family out of debt. Now, she cuts through the nonsense and crunches numbers to find you the greatest value. When you
join the Smart Family Money community
, you'll get the tools you need to take control of your money. You will gain confidence in your financial future and freedom to spend your time on the things that matter most to you today.
Latest posts by Cindy Scott (see all)