Note: This post may contain affiliate links. That means that if you click on them and buy anything at all, I'll get a small commission from the sale (at no additional cost to you). For more information, read my disclosure policy.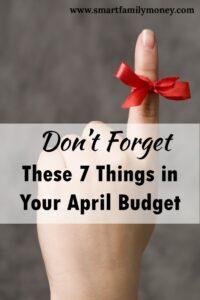 Have you made your April budget yet? It's not an April Fool's joke. It's already time! Here are some things you might be forgetting from your April budget:
April Budget Items
1. Quarterly Bills
April is the first month of the 2nd quarter of the year. If you pay any bills quarterly, they're likely to be due this month. Hopefully, you've been setting money aside for these sorts of irregular expenses already. If you haven't, be sure to start a budget line item to save for the next quarter!
2. Easter
April 16th is Easter. If your family celebrates, make sure you're budgeting enough for bunnies, eggs, fancy dresses, and family gatherings.
3. School Field Trips
April and May tend to be some of the most popular times for school field trips. Some of the trips can get a bit pricey, so make sure you're including them in your budget. My daughter is going on a long-distance field trip this year that costs $70/person (ouch!).
4. Income Taxes
If you owe taxes, you need to pay by April 15th to avoid interest charges or penalties. If you haven't filed yet (oops, I still haven't!), check out my FreeTaxUSA review for an economical option.
5. Summer Vacation
Summer vacation hotspots are booking up! If you're planning a trip, it's likely that you'll need to put down a deposit soon to reserve your trip.
6. Spring Clothes
I've been preparing for selling in the spring consignment sale. Every year, I'm shocked by how much my kids grow and how NOTHING fits from the year before. You think I'd learn, but I don't. I'm hoping I'll also find some great deals when I'm shopping at the consignment sale.
7. Home Repairs
During your spring cleaning, did you notice anything that needs to be repaired? If you have any summertime home repairs on the horizon, make sure you're saving for them. A sinking fund would be a great way to prepare.
What did I miss? What are you including in your April budget? Comment below!
Cindy is a number-loving, money-saving expert. She pulled her own family out of debt. Now, she cuts through the nonsense and crunches numbers to find you the greatest value. When you
join the Smart Family Money community
, you'll get the tools you need to take control of your money. You will gain confidence in your financial future and freedom to spend your time on the things that matter most to you today.
Latest posts by Cindy Scott (see all)