Note: This post may contain affiliate links. That means that if you click on them and buy anything at all, I'll get a small commission from the sale (at no additional cost to you). For more information, read my disclosure policy.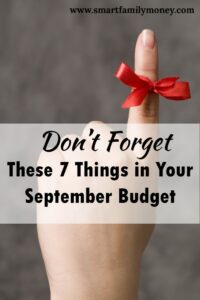 The kids are back in school and it's time get set up our September budget! Here are some things you might be forgetting from your September budget:
September Budget Items
1. School Fees
Many schools have school fees (or supply fees or technology fees…) that are due at the beginning of the year.
2. Labor Day
Are you traveling or having a barbeque for Labor Day? Make sure your budget can cover your plans. My family is headed to a "dime-a-dog" night baseball game. I will budget $1 for dinner. Ha!
3. School Lunches
Don't forget to plan for school lunches in your budget again. If you need some ideas, check out my post about how to pack a cheap and easy lunch.
4. Fall Clothing
Have your kids grown out of all of their pants over the summer like mine? Cooler weather will be here before we know it! Shopping at fall consignment sales is a great way to reduce this cost.
5. Quarterly Bills
Quarterly bills are often due on October 1st, so make sure you're ready for that. If you were caught unprepared, make a sinking fund so that you're ready next time.
6. Family Photos
Fall is the most popular time for family photos. It's a beautiful time of year, and many people are also planning ahead for Christmas cards. If you can't afford professional photos, use my tips for taking great Christmas card photos at home.
7. Fall Yard Care
Fall is a great time for planting trees, seeding lawns, and other outdoor projects. If you're planning any of these projects, make sure you're budgeting for it first!
What did I miss? What are you including in your September budget? Comment below!
Cindy is a number-loving, money-saving expert. She pulled her own family out of debt. Now, she cuts through the nonsense and crunches numbers to find you the greatest value. When you
join the Smart Family Money community
, you'll get the tools you need to take control of your money. You will gain confidence in your financial future and freedom to spend your time on the things that matter most to you today.
Latest posts by Cindy Scott (see all)