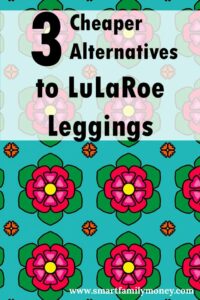 I recently wrote about why you should avoid home sales parties, mostly because they're bad for your budget. If you're in love with the products, you may be wondering if there are less expensive alternatives. No matter which company you're thinking about, there are cheaper options, even the much-beloved LuLaRoe leggings.

Note: This post contains affiliate links. That means that if you click on them and buy anything at all, I'll get a small commission from the sale (at no additional cost to you). For more information, read my disclosure policy.
Cheap Alternatives to LuLaRoe (LLR)
If you haven't heard of LuLaRoe (or LLR for short), it's a multi-level marketing (MLM) company that sells soft, stretchy clothing including dresses, tops, and their famous "buttery soft" leggings. The leggings are often printed with bright, zany patterns. The clothes are soft, comfy, fun, and forgiving, but the leggings are generally priced around $25 (plus shipping if bought online). What is a legging-loving lady on a budget supposed to do? Find cheaper alternatives! Some people might call them LuLaRoe knockoffs, but LuLaRoe is not the only company that can make soft leggings! Here are some leggings that have been reviewed to be as good as LuLaRoe leggings for half the price or less:
1. Cheaper Than LuLaRoe: Viv Collection Leggings
The most commonly mentioned alternative to LuLaRoe leggings is Viv Collection, available on Amazon. They come in regular size and plus size. Most reviewers say they're just as good as LuLaRoe, and you can pick your print & size without having to search all over town. Returns are free and if you have Amazon Prime, you can get them in 2 days. And the price? Less than half of the cost of LuLaRoe!
You know what the best part is? You can order PLAIN BLACK leggings in regular size or plus size without hunting all over town.

2. Cheaper Than LuLaRoe: Buttery-soft holiday leggings
Have you noticed how the LuLaRoe holiday-themed leggings are always so difficult to get your hands on? Well, there are other options that are much cheaper and easy to order!
Looking for some fun Christmas prints? Check out these:
3. Cheapest LuLaRoe Alternative: No Boundaries Sueded Jersey Leggings
Looking for something even cheaper? Many ladies swear that the No Boundaries sueded leggings from Walmart are just as soft and thick as LuLaRoe. For $5.88, they certainly seem worth a shot! You could buy FIVE pairs of these leggings for the same cost as ONE pair of LuLaRoe with shipping.
Cheaper Than LuLaRoe: Tops to pair with leggings
What about shirts? Tunic-style shirts are easy to find these days, but a lot of folks really like these tunics and they are also available in a 3-pack for even greater savings.
This top is very similar to the Irma top from LLR for less than half the price!

More "Cheaper Alternatives"
Do you want more tips on saving money? Check out my start here page or sign up for my newsletter to get new posts delivered to your inbox every week!
If you enjoyed this post, you might like to read some of my other "cheaper alternatives to…" posts:
Have you tried any of these "LuLaRoe knockoffs"? I'd love to hear your thoughts in the comments below!