Note: This post may contain affiliate links. That means that if you click on them and buy anything at all, I'll get a small commission from the sale (at no additional cost). As an Amazon Associate, I earn from qualifying purchases. For more information, read my disclosure policy.
I've been a stay-at-home mom (SAHM) in the suburbs of the Midwest for 10 years. Do you know what that means?
It means that nearly ALL of my peers are involved in some sort of MLM (multi-level marketing) "business."
You know what I'm talking about… I bet you also have a Facebook feed full of #momboss bragging and party invites to dodge.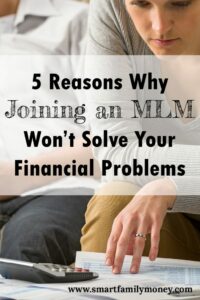 Why Moms Join MLMs
Because of what I do, many women have shared their true financial picture with me. Here's the story of a mom I know:
She was a stay-at-home mom who did some babysitting to make extra income. Her husband had a job that paid decently, but not great.
They had student loans from a degree that wasn't finished and some credit card debt from when life got tough. They were struggling to pay their bills and give their kids the lifestyle they wanted.
She heard about a great MLM "business opportunity." Everyone loved the product, and the company was growing like crazy. It felt like a great solution!
She put the start-up costs on her credit card and started hustling (and filling up my Facebook feed). Unfortunately, she was joining a chorus of MANY other new consultants at the same time.
While MLMs drive me crazy, I completely understand why moms join. They do it because:
They're struggling with making ends meet and think a little extra income will help.
Moms want an identity outside of wiping butts and making snacks.
They want to escape the 9-5 and stay home with their kids.
If they're a SAHM, they want to reduce the earning burden on their husbands.
They're sold on the dream of huge earnings, free vacations, and free cars.
I get it! I struggle with this stuff too! It's only human to want more money, a non-butt-wiping identity, and nice vacations!
But it's time for some truth-telling, mamas. Here's the cold, hard truth: Joining an MLM will NOT solve your financial problems.
I don't know your personal financial details, but I can almost guarantee this is true.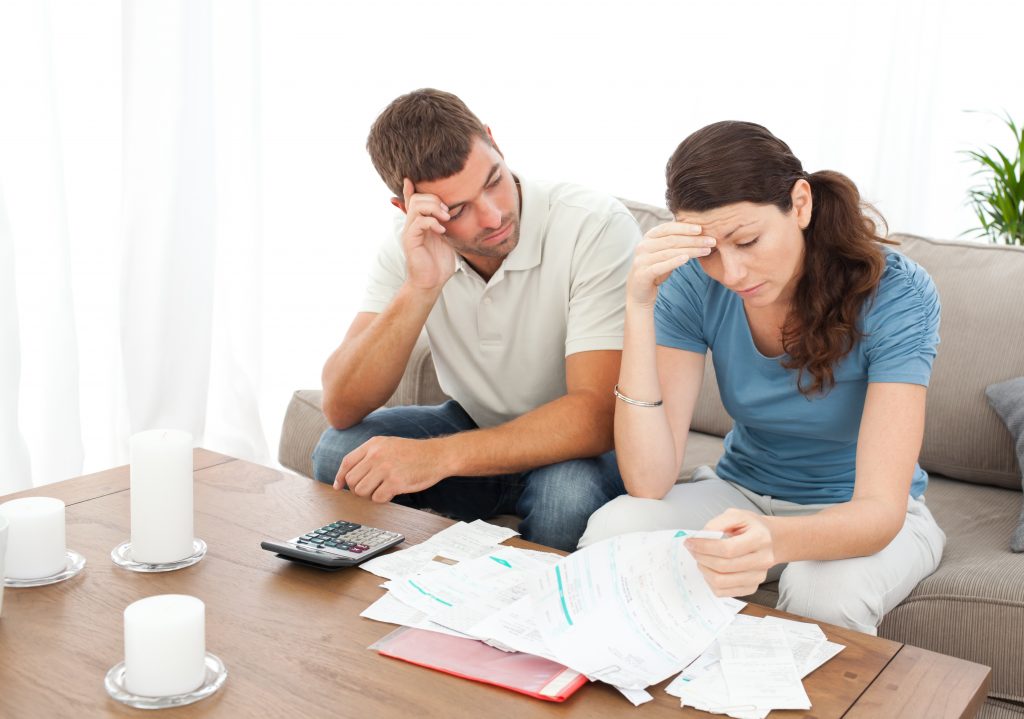 5 Reasons Why Joining an MLM Will NOT Solve Your Financial Problems
1. You Don't Really Know What Your Financial Problems Are
I know what you're thinking. Of course, I know what my financial problems are! I don't have enough money to do the things I want to do!
Pretty much every financial problem boils down to the fact that you have less money coming in than the amount of money you want going out (or going into savings).
Does that mean that every financial problem can be solved by higher income? If you answered yes, I'd like to present you with some cases of young athletes making millions of dollars per year and declaring bankruptcy.
You already know that all financial problems can't be solved by higher income. What about your situation? What exactly is your financial problem?
How to Figure Out What Your Financial Problems Really Are
I'll tell you the secret to figuring out your financial problems: track your spending and make a budget. I strongly recommend YNAB, but any budget that you actually use can work (Quicken, Excel, pen & paper, whatever!).
Follow that budget for several months to get a clearer picture of things. Then come back and answer these questions:
If you add up your rent or mortgage plus your other debt payments, is it more than half your take-home pay?
What is the total of your car payments? Would your budget look different if you could eliminate or reduce them?
How much are you spending on unnecessary things per month?
How much are you spending on eating out?
What is the total amount you're spending on child-related costs? Could this be changed?
How much are you spending on various entertainment subscriptions per month (Cable TV, Netflix, Spotify, etc)?
And here's the big question: What are the top 3 biggest items in your budget? Are those the MOST IMPORTANT 3 things in your life?
Tracking your spending and giving your budget a hard look will probably make it clear to you what your financial problems REALLY are.
But until you know the problem, you can't come up with a reasonable solution.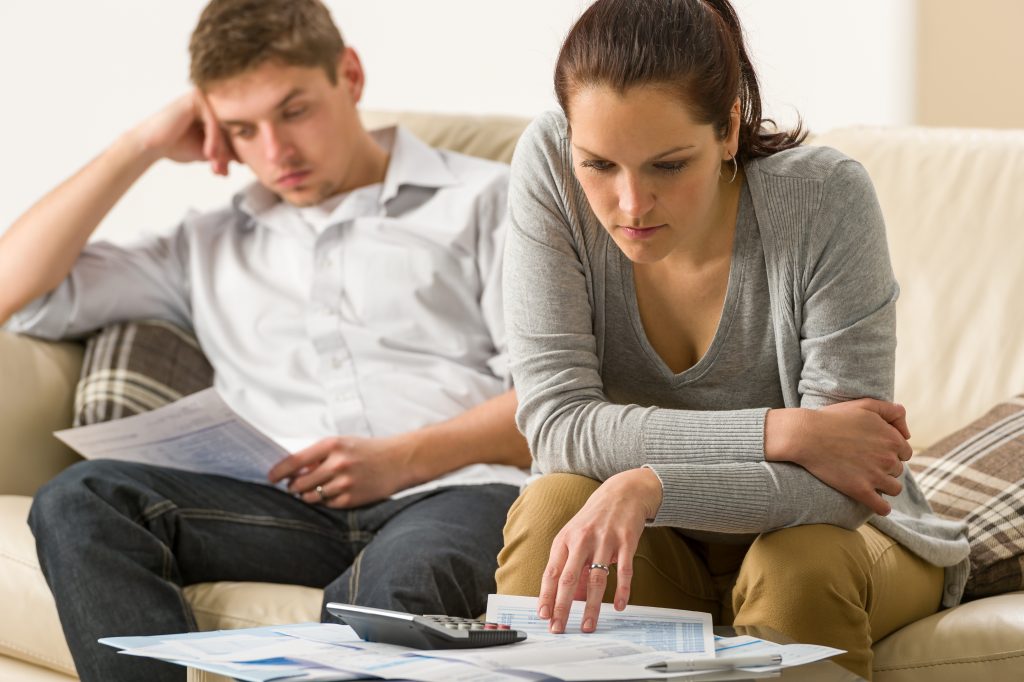 2. Lack of Income Is Probably NOT Your Financial Problem
How can I say this? Because most people considering joining an MLM are middle-class suburban moms. By definition, if you're middle-class, then you probably already have a decent household income.
Odds are, your family is bringing in plenty of money to meet your needs. There's just too much money going out every month.
The answer to your financial problems is much more likely to be cutting expenses than increasing income.
Now I hear what you're thinking. It's probably one of these things, right?
Sure, we have enough to pay our bills with two incomes. But I'd rather stay home and have the flexibility of an MLM.
We can keep a roof over our heads, but that's about it. We have no room in the budget for extras!
Our income would be ok if we could wipe out our massive debt. I need more income to pay off debt!
I hear you. More income and a flexible work environment WOULD help in those situations! Is joining an MLM the answer then? NO! Because…
3. Less than 1% of MLM Participants Make ANY MONEY After Expenses
This is not an opinion. This is a well-documented fact. Don't believe me? Take a look at the numbers from Jon Taylor, MBA, Ph.D., a top expert on MLM businesses.
Dr. Taylor has investigated over 500 MLMs. Here's a summary of his findings:
It's impossible to make money in MLM businesses without recruiting a large number of people. It's how the compensation plan is structured.
95% of MLM participants quit in less than 10 years.
When business expenses are factored in, less than 1% of participants in MLMs make a profit.
The less than 1% that make a profit are those that got in early and recruited a large number of people.
Studies investigating the tax returns of MLM participants have confirmed these findings.
FACT: Less than 1% of MLM Participants Make ANY MONEY After Expenses
Are you thinking that the MLM you're considering is different?
If the person recruiting you is explaining why their company is different, ask for proof. Ask to see their Schedule C (business income & loss) from their own tax returns as well as the Schedule Cs of their downline.
I've worked as a tax preparer. I've seen those tax forms… I can tell you that they usually show something like $500 in sales for the year and expenses far exceeding that.
You know what the IRS calls a "business" that doesn't make money after expenses are deducted for several years? A hobby. An expensive hobby at that.
4. Joining an MLM Often Creates More Debt
Debt is at the root of many family's financial problems. Contrary to popular opinion, often debt wasn't created by being irresponsible. It's debt like:
Massive student loan debt that everyone told you was "good debt" (but is now weighing heavily on your family).
Medical debt from an illness or injury outside your control.
Credit card debt created during a job loss or other family crisis.
You know what also creates debt? Joining an MLM.
A survey from Magnify Money found that more than half of MLM participants went into debt for the initial "investment": 31% put it on a credit card, 9% on a personal loan, and 20% borrowed from friends or family.
Did you know that you are more likely to make money gambling than making a profit in an MLM? Here are what your odds of making a profit look like:
Herbalife: 0.571% or 1 in 175
Tupperware: 0.285% or 1 in 351
Amway: 0.06% or 1 in 1,667
One spin of a Roulette wheel in Vegas: 2.6% or 1 in 37
You're 45 times more likely to make a profit from spinning a roulette wheel one time than by selling Amway.
Would you ever borrow money to gamble? Then why would you borrow for an even riskier venture?
5. Joining an MLM Hurts Relationships
You know the Facebook party invites that you were dodging? And the #momboss bragging you were annoyed by? That's not helping your relationships, is it?
Let's look at some of the ways that MLMs can hurt relationships:
If MLMs hurt relationships, what does that have to do with your financial problems?
Hurting your relationships with family and friends is bad for fixing your financial problems because:
You will need emotional support and encouragement to change your financial situation.
Making positive changes in your finances is easier when you do it alongside others.
You will need physical support (babysitting, etc) while you improve your finances.
Money is only a tool to use to create the life you want. Don't you want a life with strong relationships?
What Should You Do Instead of Joining an MLM?
I've explained why joining an MLM is never going to be the answer to your financial problems. What IS the answer to your financial problems?
I'm sorry to say that there's no quick fix. Here are some steps to get you started:
Track your spending and start a budget. Figure out where your money is really going.
Cut any unnecessary spending.
Take a very hard look at whether you can cut the big expenses (ie. housing, transportation, insurance, and food).
Figure out what to do about your biggest financial problems (high fixed expenses, excessive spending, or debt). Make a concrete plan to deal with them.
Many times, cutting expenses is enough. Sometimes, increasing income is necessary, though. This can especially be true for those digging out of debt.
If your plan requires that you increase your income NOW, consider these options:
Increase income at current employment: working towards a promotion, asking for a raise, working overtime, etc.
Add an additional regular job. If you need income immediately, a regular job is the safest, fastest answer.
Start a reliable side job. You already know the ways could you earn income right away: babysitting, lawn mowing, dog walking, etc.
Add freelance income. If you can add side income related to your career, that might be a good option.
If your financial situation allows you the time to increase your income in the LONG TERM, consider these options:
Changing or starting a career.
Going back to school for a career with good earning potential.
Starting a business (a REAL non-MLM business with a concrete business plan).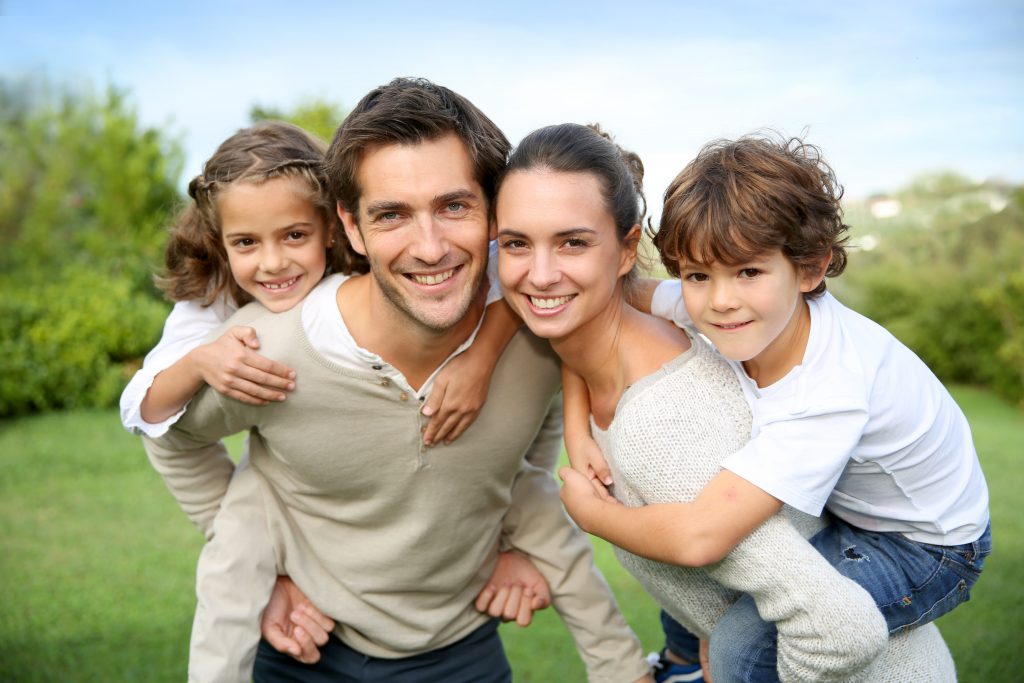 What If You Love the MLM Product?
Some people want to join an MLM just because they want a discount on the product. I'll be the first to agree that many MLMs have excellent products!
I've found, though, that every MLM's items are overpriced, usually by 50% of more of what the regular retail price would be.
I've written a series of posts about cheaper alternatives to MLM products. If you don't see your favorite one listed, please let me know. Here's what I have so far:
What Happened to My Friend?
Remember that mom from the beginning? Do you want to know what happened to her?
Honestly, I don't know for sure because she hasn't talked to me in a long time.
I can take some guesses based on what I've seen, though. Here's what I know:
All traces of her MLM business disappeared from her social media page.
The MLM she joined has since been sued by former consultants for unfair business practices.
She's advertising her babysitting services.
While I don't know for sure what happened with her finances, I know she's definitely not still participating in the MLM. If she was successful, wouldn't she still be doing it? I don't think she was part of the successful 1%.
Have you joined an MLM? Are you considering it? Do you think MLMs are the solution to or cause of money problems?